Trumpeter Dontae Winslow was searching for a sound. He knew it when he heard it—the cool coo of the unflappable Miles Davis in the 1960s, the brassy punches that Richard "Kush" Griffith peppered into the funk and soul of James Brown, George Clinton, the Jackson 5, and the Commodores. He just couldn't quite get it right.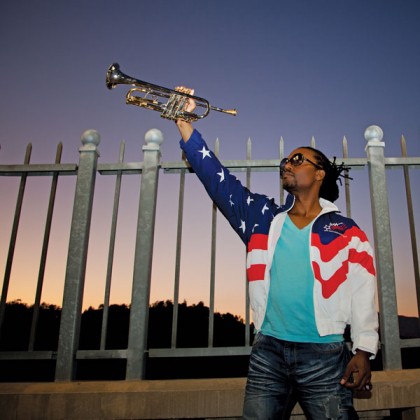 "I was looking for two things," says Winslow, Peab '97, '99 (MM), who is receiving the 2012 Peabody Conservatory Young Maestro Award this fall. "I was looking for something that would pop and was crisp on record when I'm playing behind these rap stars and R&B artists, and [something that would] sound vintage also."
Winslow is a West Baltimore native whose artistic tastes are as influenced by the gospel of his Baptist upbringing and the classical music of his Peabody training as they are by contemporary jazz, hip-hop, and R&B. As WinslowDynasty, he and his wife, Mashica, write, perform, and produce their own music. But Dontae also makes at least part of his living touring and recording with the likes of D'Angelo, Lauryn Hill, Dr. Dre, Beyoncé, and others.
"I love P-Funk horns," he says. "I love old James Brown horns. And a lot of times those guys played Conn instruments." He's talking about a small-bore trumpet manufactured by C.G. Conn Ltd., an American instrument maker founded in 1876 in Elkhart, Indiana. (The bore size refers to the diameter of the tubing that runs from the mouthpiece to the bell.) From the 1910s to the late 1940s Conn manufactured a professional-grade small-bore trumpet, in addition to a number of other brass and wind instruments, and became a favorite brand for a number of postwar jazz musicians. Conn began to focus on the public school band market in the late 1950s, which led to a decline in quality and reputation. The company changed hands several times from the 1970s onward and was eventually acquired by the Steinway Musical Instruments conglomerate. Over the years, medium- and large-bore trumpets became the industry standard, and Conn's schematics for its small-bore trumpets were lost in various ownership shuffles.
Winslow went looking for anybody who was making something similar today. "I was asking, 'Can you make a horn that's, like, vintage,'" he says. "I'm always trying to sound like a sample—like an old record. None of the horns they make today really speak to that."
Medium- and large-bore trumpets create a big, open sound, which is good for orchestral music and players who can produce a wealth of wind. "But small-bore trumpets, which was what mostly jazz people played back in the day—Dizzy, Miles, Clifford Brown, Lee Morgan, Freddie Hubbard—they are more efficient," Winslow says. "They use less air to get more notes and more sound. And when you push on it, it kind of has this compressed quality to it."
Winslow knew a Dutch instrument maker called Adams Musical Instruments because he used its flugelhorn for recording and touring. He got in touch with instrument designer Miel Adams; they discussed what he was looking for and started prototyping models. The first one didn't cut it, and while the second one was better, "it had some funky notes on it," Winslow says.
After another prototype, Adams nailed it with the fourth, and the Dontae Winslow Adams DW A6 trumpet made its debut in May at the 2012 International Trumpet Guild Conference in Columbus, Georgia. It's the trumpet Winslow played on American Idol and The Voice last season, and the trumpet he took on tour this summer with Jill Scott. On the side of the tube leading to the bell, etched into tubing is "WinslowDynasty."
"That's the only horn I play," he says. "I mean, I'm a guy from North Avenue. I would never have dreamed that I would grow up in Baltimore public schools and have a trumpet named after me."