Renowned cardiothoracic and heart-lung transplant surgeon Robert S.D. Higgins will become the new surgeon-in-chief of Johns Hopkins Medicine on July 1, when he assumes his role as the William Stewart Halsted Professor of Surgery and director of the Department of Surgery at the School of Medicine. Higgins comes to Johns Hopkins from the Ohio State University, where he is a professor and chairman of the Department of Surgery, as well as surgeon-in-chief and director of the Comprehensive Transplant Center at Wexner Medical Center.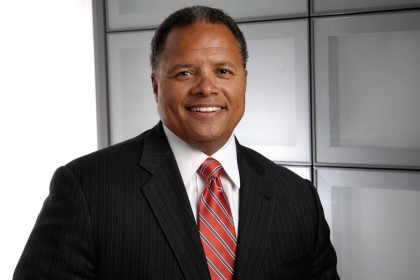 "Robert Higgins is not only a brilliant cardiothoracic surgeon and talented clinician but also a prolific researcher, educator, innovator, and transformative leader whose accomplishments render him a perfect fit for Johns Hopkins Medicine as we continue our quest to improve the health of people locally and globally, to transform medicine, and to push the boundaries of biomedical science," says Paul B. Rothman, dean of the medical faculty and CEO of Johns Hopkins Medicine.
Higgins is a leading authority in the field of heart and lung transplantation, minimally invasive cardiac surgery, and mechanical circulatory support. His scientific interests include the mechanisms of cell injury in failing hearts, health economics and policy, racial disparities in post-transplant outcomes, access to care, and improving outcomes among heart failure and cardiac surgery patients.
"The rapidly evolving dynamics of our health care system mandate creative leadership and bold vision, and Robert Higgins has both," says Ronald R. Peterson, president of the Johns Hopkins Hospital and Health System and executive vice president of Johns Hopkins Medicine. "His track record of achievement, innovation, and passion about the most burning issues in today's medicine—access to care, health care quality, disparities, and outcomes—make him the ideal choice to navigate this new territory."
"Becoming the Halstead Professor of Surgery at Johns Hopkins is the pinnacle of my career," Higgins says. "Being part of this venerable institution is a real privilege, but I do stand on the shoulders of many great people who have helped my career. My hope is that, at Johns Hopkins, I'll be able to pay it back by creating opportunities for the next generation of surgeons.
"Academic medicine," he continues, "is facing turbulent times as established surgeons and trainees alike must deal with the ever-growing pressures of research innovation, clinical care, and training and education. My job is to ensure that faculty and trainees are not only able to meet these demands but also grow, excel, and thrive. It's a challenge I very much look forward to."
Higgins' interest in medicine was sparked at a young age by his father, an internist and the first African-American physician to practice in Charleston, South Carolina, and who was killed in a car accident when Higgins was barely 5.
"Growing up, I always had this idea that my father had unfinished business and that if I pursued medicine, I'd be able to finish his work," Higgins says. "Fast forward 50 years, and I've been blessed with so many opportunities, and I've had the privilege to work with so many great people."
Following his father's death, Higgins and his two brothers were raised by his mother and maternal grandparents. "I was fortunate to have a mother and maternal grandparents who created extraordinary opportunities at considerable sacrifice so that my brothers and I could have the benefit of the finest educational training," he says. "Hopefully, I can offer some return on those investments by giving back to my discipline, my institution, and my community."
Higgins says he always knew he wanted to be a surgeon, and as a medical student, and later as a surgeon-in-training, he became enamored with heart and lung transplantation, a fascination that sealed his career choice and put him on track to become a leader in cardiopulmonary transplantation.
Higgins received his bachelor's degree from Dartmouth College, his medical degree from the Yale School of Medicine, and a master's degree in health services administration from Virginia Commonwealth University. He completed a residency in general surgery and served as chief resident at the University Hospitals of Pittsburgh, was a Winchester Scholar and fellow in cardiothoracic surgery at the Yale School of Medicine, and served as a senior registrar in transplantation at the renowned Papworth Hospital, the U.K.'s largest cardiothoracic surgical program and its main heart-lung transplant center. Before becoming chairman of Surgery at Ohio State, Higgins served as a professor and chief of the Division of Cardiac Surgery there and as executive director of the Richard M. Ross Heart Hospital. Before joining Ohio State, Higgins directed the thoracic surgery resident program in the Department of Cardiovascular-Thoracic Surgery at Rush Medical College in Chicago. As surgical director of thoracic organ transplantation at Detroit's Henry Ford Hospital, he led the surgical team that performed the first lung transplant in southeast Michigan. He also created a Medicare-approved lung transplant program and a pediatric heart transplant program in collaboration with the Children's Hospital of Michigan.
Higgins has held leadership positions at various organizations, including president of the United Network for Organ Sharing and of the Society of Black Academic Surgeons.