Independent no longer. In 2015, Johns Hopkins men's lacrosse competes as an affiliate member in the newly formed Big Ten lacrosse conference. President Ronald J. Daniels says the decision to join a conference "may represent the single greatest change in Johns Hopkins men's lacrosse in more than a century." In the Big Ten, the Jays will compete with Maryland, Michigan, Ohio State, Penn State, and Rutgers, and the conference champion automatically qualifies for the NCAA Tournament. The Jays' lacrosse season kicks off on Feb. 7 vs. UMBC, and its conference games begin in March. Here's a quick primer on all things Big Ten.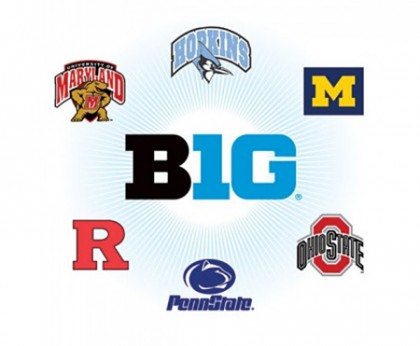 History:
The Big Ten traces its roots to the Palmer House hotel in Chicago, where on Jan. 11, 1895, Purdue President James H. Smart and leaders from the universities of Chicago, Illinois, Michigan, Minnesota, and Wisconsin and Northwestern University set out to organize, and develop principles for the regulation of intercollegiate athletics. One year later, the seven universities established what would later be known as the Intercollegiate Conference Athletic Association. After the addition of three other schools, the name "Big Ten" was coined in 1917 and officially adopted in 1987.
Commissioner:
James E. Delany, now in his 26th year as commissioner, has led the Big Ten conference (which now has 14 member institutions) through significant periods of growth. With a footprint that stretches from the Colorado border to the Chesapeake Bay, the Big Ten sponsors 28 official sports, more than every conference but the Ivy League.
The conference has seen unprecedented levels of national TV coverage during Delany's tenure, highlighted by the creation in 2007 of the Big Ten Network as a joint venture with FOX. Delany also has negotiated media agreements with ABC, CBS Sports, ESPN, and the NBC Sports Network. The 66-year-old Delany is a native of South Orange, New Jersey. He received his undergraduate degree in political science from the University of North Carolina in 1970 and juris doctor degree from the University of North Carolina School of Law in 1973.
The 2015 Big Ten Tournament
When: April 30–May 2
Where: University of Maryland, College Park
University of Maryland
Location: College Park, Maryland
Founded: 1856
Undergrads: 26,658
Miles from Baltimore: 35
Nickname: Terrapins
Varsity lacrosse started: 1924
Home field: Capital One Field at Byrd Stadium (54,000)
Head coach: John Tillman
NCAA appearances: 37
NCAA Tournament titles: 2
2015 matchup: April 26 at Maryland
University of Michigan
Location: Ann Arbor, Michigan
Founded: 1817
Undergrads: 28,283
Miles from Baltimore: 523
Nickname: Wolverines
Varsity lacrosse started: 2012
Home field: Michigan Stadium (109,901) or Oosterbaan Field House (500)
Head coach: John Paul
NCAA appearances: 0
2015 matchup: April 18 at JHU
Rutgers University
Location: New Brunswick, New Jersey
Founded: 1766
Undergrads: 45,000
Miles from Baltimore: 160
Nickname: Scarlet Knights
Varsity lacrosse started: 1887
Home field: Yurcak Field (5,000) or Rutgers Stadium Complex (52,454)
Head coach: Brian Brecht
NCAA appearances: 9
2015 matchup: March 28 at JHU
Penn State University
Location: State College, Pennsylvania
Founded: 1855
Undergrads: 40,085
Miles from Baltimore: 170
Nickname: Nittany Lions
Varsity lacrosse started: 1913
Home field: Penn State Lacrosse Field (1,000)
Head coach: Jeff Tambroni
NCAA appearances: 3
2015 matchup: April 11 at JHU
Ohio State University
Location: Columbus, Ohio
Founded: 1870
Undergrads: 44,201
Miles from Baltimore: 420
Nickname: Buckeyes
Varsity lacrosse started: 1953
Home field: Jesse Owens Memorial Stadium (10,000)
Head coach: Nick Myers
NCAA appearances: 4
2015 matchup: April 5 at Ohio State
Johns Hopkins University
Location: Baltimore
Founded: 1876
Undergrads: 5,125
Nickname: Blue Jays
Varsity lacrosse started: 1883
Home field: Homewood Field (8,500)
Head coach: Dave Pietramala
NCAA appearances: 42
NCAA Tournament titles: 9