Joshua M. Sharfstein, the secretary of the Maryland Department of Health and Mental Hygiene, will join the full-time faculty of the Johns Hopkins Bloomberg School of Public Health as the new associate dean for public health practice and training, effective Jan. 1, 2015. Sharfstein also will hold a faculty appointment in the Department of Health Policy and Management.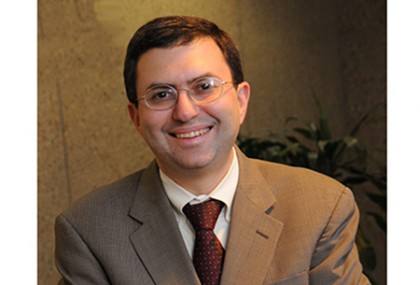 As secretary of DHMH, Sharfstein has led efforts to modernize Maryland's all-payer system for hospital payment. He also serves as a member of the editorial board of the Journal of the American Medical Association. Before joining the state, he was principal deputy commissioner of the U.S. Food and Drug Administration and, earlier, Baltimore City's commissioner of health. He began working on health and social policy matters as an adviser to longtime U.S. Rep. Henry A. Waxman of California, where he was responsible for projects related to public health.
"Josh Sharfstein has had a distinguished career in public health practice and policy, and we are delighted that he is joining the faculty of the Bloomberg School," says Michael J. Klag, dean of the school. "Josh will bring a wealth of experience and insights that will strengthen the practice, teaching, and research opportunities available to our faculty and students."
Sharfstein says that he looks forward to "joining a team of scholars that is making the world healthier, safer, and more sustainable."
"I will stay involved in my city of Baltimore and my state of Maryland as I engage with national and global health policy challenges and help train future public health leaders," he says.
As associate dean, Sharfstein succeeds Thomas Burke, who has held the position since September 2008. Burke has provided leadership in public health practice, created innovative programs, and strengthened ties to the practice community.
Burke is President Barack Obama's nominee to lead the Environmental Protection Agency's Office of Research and Development. He will serve in his current role as associate dean until Sharfstein joins the school; until his confirmation by the Senate, he will remain as director of the school's Risk Sciences and Public Policy Institute as well as a professor in the departments of Health Policy and Management and Environmental Health Sciences.
A Maryland native, Sharfstein is a graduate of Harvard College and Harvard Medical School and, during his training in pediatrics, worked with the Massachusetts Department of Public Health and the World Health Organization. He was a contributing editor at Public Health Reports and serves on the Board on Population Health and Public Health Practice of the Institute of Medicine. He continues to see pediatric outpatients.
"As a pediatrician and as a public servant, Josh Sharfstein has been committed to children, families, and improving people's lives," says Maryland Gov. Martin O'Malley. "As the secretary of health and mental hygiene, he's led the way as we have invested in public health and prevention, aligned the health care system to the vision of better health at lower cost, and expanded health care coverage to hundreds of thousands of Marylanders. As a Marylander, I'm thrilled that he's going to Johns Hopkins."
As a volunteer with the FDA, during medical school Sharfstein wrote and edited portions of the agency's legal argument to regulate tobacco as an addictive drug. As a policy adviser to Waxman, he helped write legislation requiring the FDA to regulate colored contact lenses as medical devices rather than as cosmetics.
As city health commissioner, Sharfstein led a campaign warning parents not to use over-the-counter cough and cold medications after the deaths of four city children under the age of 4. He later was the lead author of a petition to the FDA that led manufacturers to remove cold and cough medications for children under age 4 from the market.
"We already know Josh from his lectures at our school, his mentorship of our students, and our productive collaborations, and we look forward to his full-time presence and impact at the school," Klag says. "We know that he will build on the very strong foundation of practice and policy activities already here to create new synergies and increase the impact of our work."