No matter how gorgeous the quads and the buildings or how impressive the research facilities, it's human capital that sets a great university apart. Above all else, that's what makes Johns Hopkins special—the creative, curious people it attracts, and their shared love of discovery and desire to make a difference.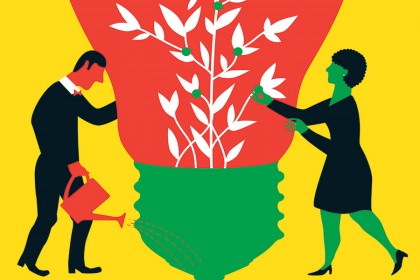 This people-first ethos is the defining characteristic of Rising to the Challenge, the largest fundraising campaign in the university's 138-year history. Announced just over a year ago, the campaign is already more than halfway to its $4.5 billion goal, with $2.44 billion raised to date, according to development officials.
Those funds are already flowing into all 10 of the university's divisions, supporting Johns Hopkins people by bolstering student aid, creating endowed professorships, funding graduate fellowships, financing research, and more.
"With three years to go in this campaign, we're already seeing the impact that private philanthropy is having on our university today—for students, for research, and for patient care," says university President Ronald J. Daniels.
Rising to the Challenge is not your standard-issue university capital campaign. In addition to the eye-popping goal, there's the fact that funding sought for new buildings makes up an uncommonly low 9 percent of the campaign. Rather, Rising is heavily weighted toward giving Johns Hopkins people the financial support they need to reach higher in their work and strive to make a bigger impact in their fields.
• $2.25 billion is earmarked for research and program support. Commitments and donations are in hand for 68 percent of this total, or $1.52 billion.
• $968.5 million will go to faculty support, including 300 endowed professorships. More than $337 million, 35 percent of that goal, is either in hand or committed. That's enough to create 107 professorships.
• $753 million is set aside for student aid, and $203 million of that is in hand or committed, 27 percent of the total.
Early on, during its "quiet phase" before the public announcement, Rising to the Challenge attracted the largest donation in Johns Hopkins history, a $350 million gift from alumnus, philanthropist, businessman, and former New York City Mayor Michael Bloomberg. His gift is divided between student aid and funding an endowment in support of 50 Bloomberg Distinguished Professorships.
The campaign to date is anything but a one-man show, however. More than 177,000 donors have made contributions as of the end of March, and more than 440,000 of their gifts have come in at levels of $5,000 or less.
A second distinguishing characteristic of the campaign is its ambitious reach. Rising aims not just to bolster Johns Hopkins' capabilities but to do so in a way that puts the university and its people in a stronger position to make a difference in the lives of many millions of people across the country and around the world.
Five "signature initiatives" [see sidebar, page 40] have been launched in the campaign. The initiatives arose through a three-year planning process that began when faculty leaders were asked to identify "big ideas" where private philanthropy could make a big difference.
"What's been interesting here is the extent to which these signature initiatives have helped us open up conversations with new people who may not have an existing connection to Hopkins," says Fritz Schroeder, vice president for development and alumni relations. "That's really important to our success because we can't just rely here on our existing donor base. We need to attract new people to the Hopkins family if we're going to reach these ambitious goals."
Following a Rising to the Challenge presentation last fall in Boston, Schroeder recalls, the parents of a current student returned home, jumped online, and made a $5,000 contribution to the American Cities initiative. "They had never made a donation before," he adds.
The campaign targets a combined total of $700 million toward these initiatives, and nearly one-third of that, or $216.7 million, has been raised. One key focus of the initiatives is to promote cross-disciplinary work that puts a premium on creative partnerships across departments and divisions.
"Increasingly, the most significant discoveries come not from a single lab," Daniels says, "but from experts across a wide range of fields, bringing their own perspectives and skills to a combined effort that is far more than the sum of its parts. That's the approach we are taking with these initiatives."
Looking forward, Schroeder identifies a pair of key priorities: boosting progress quickly toward the overall goals in both endowed professorships and student aid. They are both about a third of the way home, and campaign leaders would like to see these categories pick up more momentum.
"We have big goals in this campaign, and we have a lot of money that we still need to raise," says Heather H. Murren, a 1988 graduate and the campaign's co-chair along with Charles I. Clarvit, a 1978 graduate. "Overall, we're feeling good about where the campaign is and about the things the campaign is helping to do for the people of this institution."
On the following pages, we take a look at four areas where Rising to the Challenge dollars are already at work.
Understanding urban poverty
When sociologist Kathryn Edin thinks about the difference Rising to the Challenge makes in her work, she finds herself remembering a young woman named Ashley, whom she met while doing field research with young adults who'd grown up in public housing. "Ashley had this little baby, maybe 3 days old, and there was no formula in the house," Edin continues. "There was no cash, and there was just no way to get any cash."
Edin, one of the nation's top poverty researchers, was so struck by the scene that she returned a few days later to check on Ashley. She found that the $50 Ashley had received as a study participant had sparked a minitransformation in the young woman. "Not only did Ashley have formula now," Edin recalls, "but she'd gotten her hair done and she was getting ready to go out job hunting. It was so striking, the way that $50 left her so invigorated."
In recent years, Edin has started worrying that she's meeting too many people like Ashley who are living essentially cash-less lives. She began to dig a little deeper, co-authoring a policy brief for the National Poverty Center that used Census Bureau databases to measure how many people in this country might be getting by on less than $2 per person per day—the standard measure for poverty in the Third World.
The answer was astonishing: 1.5 million households with 2.8 million children.
All this work happened while Edin was on the faculty at Harvard. She arrived at Johns Hopkins last year and officially joined the faculty in January as one of the first three Bloomberg Distinguished Professors. Eventually, there will be 50 such positions, each funded through a donation by philanthropist and former New York City Mayor Michael Bloomberg.
The positions are endowed in a way that gives faculty access to a flexible pool of startup funds that can help them conduct research, hire fellows, or set up labs. That's the funding stream Edin is accessing now to conduct research into $2-a-day poverty. She already has stations set up in four major U.S. cities, the Mississippi Delta, and a Native American reservation.
"We want to really understand the forces that are driving entry into this $2-a-day poverty and also to understand where the opportunities are for people to exit this extreme deprivation," she says.
In the absence of Rising to the Challenge, Edin might well not be in a position to pursue these questions. Funding through traditional sources would take years to materialize, she says, while here she is moving on a timeline of weeks and months. She also has doubts about whether traditional sources would approve such a project in the end.
"In work like this, there's often a proof-of-concept problem," she says. "No one really believed our numbers when they first came out, so there's skepticism there. And there would be all kinds of technical questions about things like, Can you actually find people living lives like this?"
Edin is already discovering the answer to that one.
"We are working with nonprofits in these field sites," she reports, "and we are finding that it's alarmingly easy to identify these people."
Edin's specialty in research is digging beyond numbers and developing a rich array of qualitative and ethnographic insights into how poor people get by without any money, why and how they make key decisions in life, and what their goals and aspirations are.
She's written several books about single mothers living in poverty, each based on hundreds of in-depth interviews and each now regarded as an essential text in public policy and sociology circles. She already has a book contract lined up for this new project on the $2-a-day poor.
"What we're doing here is exactly what these funds are for, to allow us the flexibility to do exploratory work when an important opportunity arises," she says. "We're hoping the ethnographic data we gather can provide that proof of concept by showing that these people are out there and we can find them. That will put us in a position where going forward we will be able to get foundation and government support to build on what we learn here."
Learning about learning
It's one thing to see the stars. It's quite another to see the constellations.
That's one way of looking at the thinking behind the premium that the Rising to the Challenge campaign puts on working collaboratively across disciplines and divisions. In the highly specialized and subspecialized world of 21st-century science, that's the kind of work that puts researchers in a position to see new patterns emerging, find hidden connections, and discover new opportunities for advancing knowledge.
The new Johns Hopkins Science of Learning Institute is organized around the concept of seeking out those cross-disciplinary constellations. Headed by the cognitive scientist Barbara Landau, the institute is one of five signature initiatives in the Rising campaign [see sidebar], each organized around important issues facing U.S. and global societies.
"What's really fun and rewarding about this approach is that it has us thinking on such a big scale," says Landau, who is also the university's vice provost for faculty affairs. "It's encouraging us to go up to the most macro level and really look at this whole universe of all the different approaches that all these people in all these different disciplines use to try and understand how learning works and how we can help people become better learners."
All told, there are more than 500 neuroscientists, psychologists, cognitive scientists, engineers, neurologists, psychiatrists, educators, and other specialists who fit into what might be called the science of learning community at Johns Hopkins. This institute is a unique way of organizing the work of such a community—in fact, there is nothing else out there quite like it that's set within a single university, Landau says.
"That's a big part of what puts us in a position to break new ground here—it's a fresh way of looking at things," Landau says. "One of the goals we're looking at here is becoming a model for other universities that come to see the value of taking an approach like this."
Launched after receiving generous startup support from an anonymous donor, the Science of Learning Institute has been up and running for a year and a half now.
In January, the institute put on its first symposium, which beat expectations not only by drawing 450 on-site participants but also by having people in just about every U.S. state and 29 different countries watching online.
For its first round of research funding, the institute received 30 applications, and Landau speaks glowingly of the experience of reviewing so many proposals for new and creative collaborations across departments. Seven studies won financing. A second round of 27 applications is now being reviewed.
Under the leadership of Assistant Director Kelly Fisher, the institute has begun building out a website that Landau hopes will eventually become the go-to source for information about the science of learning—whether by researchers, policymakers, or the general public. The institute is also looking into the possible launch of a postdoctoral fellowship program that would build interdisciplinary expertise into the training of the next generation of scientists in these fields.
"Our ultimate focus here is on supporting really innovative research that has strong translational value, training young scientists, and being really good at getting scientific findings disseminated out into the world," Landau says. "If we do those things well, we'll be doing work that can really make a difference in this field."
Saving tiny lives
Some of the smallest and most fragile patients at the Johns Hopkins Children's Center are enjoying better odds of survival, thanks to an innovative new multidisciplinary approach to treating pediatric pulmonary hypertension.
Twins Mark and Isabella Stewart were both diagnosed with the condition in infancy. They'd been born at just 23 weeks gestation and weighed less than two pounds each. At first, they were given just a 5 percent chance of staying alive.
The Stewart twins are now 2 years old, and their remarkable progress against those odds is testament to the difference that private philanthropy can make at Johns Hopkins. Support from the nonprofit Eudowood board enabled the Children's Center to implement new protocols in treating a disease that pediatric pulmonologist J. Michael Collaco describes as "high blood pressure of the blood vessels in the lung."
Pediatric cardiologist John Coulson says the highly complex condition requires care from several different subspecialties. "The lung tissue of premature infants is not fully developed," he explains, "and consequently the right‑sided pumping chamber of the heart, which pumps the blood to the lungs, has to generate more pressure in order to force blood through the lungs. That pumping chamber is susceptible to failure."
Traditionally, the care of these patients has involved each different specialist coming in to work with patients in his own "siloed" field. But when the Stewart twins were transferred to the Johns Hopkins Children's Center, their care became the responsibility of an innovative cross-disciplinary working group employing a combined-clinic approach that involves shared databases and streamlined communication across disciplines.
Previously, the mortality rate among pediatric pulmonary hypertension patients was 20 percent. Preliminary findings indicate that the rate has dropped to between 12 and 15 percent since this new approach got up and running, Collaco says. Both he and Coulson credit philanthropy with helping to make this advance possible.
The results are "just astonishing and fill us with wonder," says Luke Marbury, president of the Eudowood board. The board has supported initiatives at Johns Hopkins in areas such as pediatric pulmonary medicine for the last 50 years.
The twins' mother, Courtney Stewart, describes herself as "forever grateful."
"There's no way that we would've progressed the way that we have had they not been working closely together," she says of Collaco and Coulson. "They saved my kids' lives."
Unburdening students
Like that of so many students at Johns Hopkins, Catherine Wilshusen's journey through her undergraduate years is a story of sorting through her multiple passions in life and trying to carve out a path toward her future.
She'll graduate this spring with a degree in applied mathematics from the Whiting School of Engineering and a fascination with the art of digital animation. She's also an accomplished young musician who studies clarinet at the Peabody Institute.
Wilshusen is completing her course work with support from the Macks Family, Bloomberg, and Class of 1950 scholarships. Bringing in more such aid is a top priority of the Rising to the Challenge campaign, which aims to raise $753 million for undergraduate student aid, graduate student fellowships, and continuing education.
"These are funds that will enable us to keep the cost of a Hopkins education more manageable for even more families than we can today, so that, of course, makes it very important," says David Phillips, vice provost for admissions and financial aid. "Another important part of the story here is the way student aid can help to enhance the experiences our students have while they're at college."
Facing less of a financial load, they may find new opportunities to pursue and choices to make, Phillips says. Perhaps they won't have to work part time and can choose instead to spend more time with clubs and sports. Perhaps they'll enjoy more opportunities to get connected with community organizations working in the urban neighborhoods around campus.
Financial aid also gives students more flexibility when the time comes to put their education to work after graduating, Phillips adds. With lower loan payments, perhaps a young graduate will be able to take the job she really wants, even if it does pay a little less. Lower debt loads can also make things like home ownership and retirement savings more achievable earlier in life.
The third thing that Phillips stresses when it comes to the importance of financial aid is the way it can help shape a student body that matches the institution's mission and goals in the 21st century.
"If you look at [university] President [Ronald J.] Daniels' Ten By Twenty goals, you'll see that we're working to deliver one of the top-10 student experiences in the nation," Phillips says. "Financial aid is a big part of that because it is one of the critical ways to foster the diversity of perspectives, cultures, and ideas that is such an important part of the Hopkins undergraduate experience. That kind of diversity enhances what students learn in and out of the classroom."
As she settled in at Hopkins, Wilshusen eventually made the choice to work part-time jobs as a tutor and a teaching assistant. In the end, she found those experiences so rewarding that she's now thinking about getting a master's degree in education.
"As a teacher I'm really hoping to encourage everyone, especially girls, to look more into the STEM fields," Wilshusen says, referring to science, technology, engineering, and math. "I'm also hoping to bring my music background to schools, particularly ones where the arts have been cut. I really want to work with students and try to help them get where they want to go."