Senior Andrew Carey won the 800-meter finals at the NCAA outdoor track & field championships with a time of 1:50.62, making him the first-ever NCAA champion in an individual event in the sport's history at Johns Hopkins. He also set the school record in the preliminaries, with a time of 1:49.67. Carey is the first-ever 2x All-American in men's track & field history.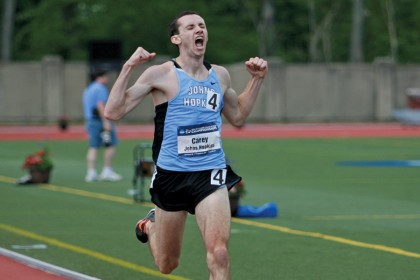 The new shielded Blue Jay logo was developed to align with the university identity.

2x All-American Taylor D'Amore finished her career at Hopkins as the women's lacrosse program's all-time leader in assists (161), draw controls (240), and games started (72) and was second all-time in career points (303). This season, she led the nation in points per game (5.25) and assists per game (2.65).

This spring, teams played in 14 states—California, Delaware, Florida, Georgia, Illinois, Indiana, Maryland, New Jersey, New York, North Carolina, Ohio, Pennsylvania, Tennessee, and Virginia—and Washington, D.C.

2,846 miles = Distance the JHU track team traveled to Palo Alto, Calif., in April for the Stanford Invitational.

9,553 = Attendance for the JHU vs. Maryland men's lacross game at Homewood Field [The season high]

Head baseball coach Bob Babb won his 1,000th game this season, against St. Joseph's Long Island.