Here's what's happening in the host country of the Winter Olympics, which open Feb. 6.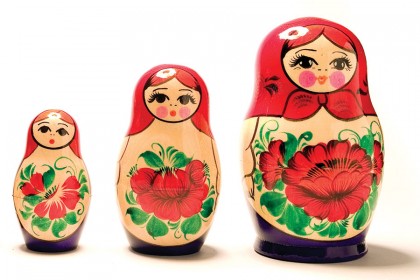 HIV and Human Rights: With Russian authorities' recent hardline stance against gay rights activism, Chris Beyrer says his NIH-funded study in the country has lost momentum and been forced to change course. "The work had been going well but now has become impossible to continue," says Beyrer, a professor of epidemiology in the Bloomberg School of Public Health and director of the Center for Public Health and Human Rights. Beyrer has been working with two in-country civil society organizations to provide HIV testing, counseling, and other services to gay men in Moscow. With the five-year study in its last year, Beyrer now plans to look at the impact of the new restrictions and "the very homophobic, anti-propaganda law on access to health care." As an example of what he's up against, Beyrer says the government shut down his team's website as it violated the new law against providing health and HIV information to the gay and bisexual population.
Cold War Partners: Russia has nearly the identical rate of chlamydia infection in young adults (5 percent) as the U.S. but has not implemented routine screening for this easily treated infection, according to a JHU study that looked at the rates of STDs in St. Petersburg. Thomas Quinn, a professor in Infectious Diseases and director of the Johns Hopkins Center for Global Health, is working with a Russian counterpart to develop a rapid test for laboratory diagnosis of human Chlamydia trachomatis, which causes one of the most commonly sexually transmitted diseases globally. The project is sponsored by Health and Human Services' Biotechnology Engagement Program, which pairs U.S. scientists with biological weapons scientists in the former Soviet Union to address high-priority public health problems.
Auto Safety: Some 1.3 million people die each year from road traffic crashes. If no action is taken, these injuries are predicted to become the fifth-leading cause of death globally by 2030. The Johns Hopkins International Injury Research Unit is working with a consortium of partners to evaluate and implement road safety solutions in 10 low- and middle-income countries, including Russia, where they are needed most. The five-year Road Safety in 10 Countries project draws on support from Bloomberg Philanthropies and WHO.
SAIS: SAIS has an institutional agreement with the Moscow State Institute of International Relations, known as MGIMO, whose students may apply for a semester of study at SAIS; in turn, SAIS students spend the summer in Moscow working in internships arranged by MGIMO. Also, the SAIS European and Eurasian Studies Program runs a seminar series in Bologna, Italy, and Washington, D.C., featuring guest speakers from the former Soviet Union. In April, the school will host former Russian foreign minister Igor Sergeyevich Ivanov in Washington.