One afternoon early in September, I click on a link on the Johns Hopkins Athletics website and download every fall sports team's schedule to my calendar app. As I look for the date of the first home football game, something catches my eye: During an eight-day stretch at the beginning of the month, with a little planning and 450 miles of driving, I could watch every one of Johns Hopkins' fall sports teams. I ponder this possibility. I like watching sports. I like to drive. I'm a Hopkins guy.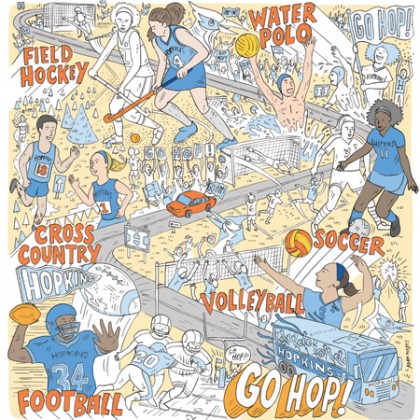 Yeah. I'm in.
Fueled by Dunkin' Donuts coffee and crullers, I enter the grounds of the U.S. Naval Academy in Annapolis looking for water polo. I'm not used to attending a sporting event at 8:30 on a Saturday morning, and I don't know my way around the academy, so I'm not what you'd call oriented. Fortunately, I spot a small clan of people wearing Johns Hopkins regalia, and follow them. I know I've made it to the right place when a door opens and I'm enveloped by humid, chlorine-scented air. A water polo mom looks at a water polo dad and says, "There's that smell."
Inside, parents greet and hug each other. This is the Jays' first match of the year, and many of these people have not seen each other since the end of the previous season. They are a small contingent, and when I look at the team's roster, I see why: Out of 19 Johns Hopkins players, 13 are from California, one is from Venezuela, and another is from Italy. The closest thing to a Baltimore homeboy is the well-named Wes Hopkins from Sinking Spring, Pa.
The referee blows his whistle and tosses the ball into the pool, and both teams swim madly toward it in water polo's equivalent of a kickoff. Hopkins is playing Iona College from New Rochelle, N.Y. Its players are the Gaels—the college is named for an island off Scotland—and they score first. Then they score eight more times to lead at the half, 9-6. The Hopkins attack is being thwarted by an excellent Iona goalie and a maddening inability to stop clanging shots off the goalposts and crossbar. At the end of the third quarter, the score is Iona 11, Hopkins 7, and the parents are getting restive. One mother exhorts the team in Spanish. But with less than seven minutes remaining, the Jays ignite a comeback. At 3:02, freshman Camden Schreeder ties the score—there are Hopkins moms dancing with excitement now—and with 19 seconds remaining, another freshman, Matt Fraser, flings the ball past the Iona goalie. Jays win.
No time to celebrate, though. I race back on I-97 to campus and trot to Homewood Field, where Hopkins is locked in a tense field hockey game with Denison University. The score is tied 1-1 and the teams are resting at halftime, so I scurry over to Goldfarb Gym for the start of the volleyball match versus Lynchburg College. Johns Hopkins is hosting the seven-team Greg Giovanazzi Memorial Tournament, and there are tall young women everywhere; three of the Jays top 6 feet in height. In the first set, Lynchburg stays even for the first few minutes but can't get enough spikes past the Jays' towering blockers and falls behind 8-4, then 13-4, then 17-8. I notice that nobody slaps hands during a game as often as volleyball players. After every point, every substitution, every ace they trade high-fives, mid-fives, low-fives. In short order, Hopkins has won two sets and slapped a lot of hands, and I head back outside to check on field hockey.
Where the score is again tied, 3-3 this time, and the match is headed for overtime. Twice Hopkins has led, twice Denison has come back to even the score, and the next goal wins. Goals in field hockey are hard-earned, and neither team earns one in the first 15-minute overtime. With five minutes to go in the second overtime, a Hopkins player with the wonderful name of Storm Kodde—she is a citizen of both Holland and Brazil—storms down the left sideline and launches what looks like the game winner. But the ball scoots just wide of the goal, and the second extra period ends. The game will be decided by a series of penalty shots, what field hockey calls a "stroke-off." When Denison's goalie, Laura Campbell, stops Hopkins' Allison Thompson, the Jays lose the match. I race back into the gym expecting more volleyball, but all those tall Hopkins women have been too fast for me. They've beaten Lynchburg in straight sets, and the players are headed for the locker room. Just like that my day's over.
The next evening could not be more gorgeous for watching men's soccer. Tonight's match is the last game of the Blue Jay Invitational tournament, Johns Hopkins versus Pennsylvania's Rosemont College Ravens. I have my pick of good seats; my count of attendance is 76, including two guys running stair laps at the far end of the grandstand and two dogs, one of them a little yapper in a bag at its owner's feet.
It's not unusual in soccer for a team to spend half the game or more figuring out how to break down a weaker opponent. Such is the case tonight. Hopkins is clearly the better side, controlling the ball and testing the Rosemont defense but unable to score. At halftime, head coach Craig Appleby tells his team that Rosemont keeps bringing its defense forward, which makes it vulnerable to a quick counterattack. He's right. The Jays are faster and start to race past Rosemont defenders and finally score in the 74th minute.
Five minutes later, sophomore Eric Buck steps up to a free kick about 25 yards from the Rosemont goal. He sends a beautiful curling shot around the right post and into the upper corner of the net. Perfect. A few rows over, the dog in the bag barks in approval as Buck turns to face his teammates and opens his arms as if to say, "You expected anything less?" Five minutes later, he is on the same spot, addressing another free kick. A comic in the stands shouts, "Bet you 10 bucks you can't do it again!" Buck boots the ball and comes within a few feet of winning the bet. (I think the comedian owes him at least a fiver.) The Jays go on to win, 4-0.
Three nights later, more soccer, which is fine by me, especially since this will be my first look at the Johns Hopkins women's team, which is undefeated, ranked second in the nation, and playing at home against local rival Stevenson University. This is also my first look at all-American Hannah Kronick, who last year scored 24 goals in 24 games and has been terrorizing opposing defenses again this year.
The game begins, Hopkins immediately looks dominant, and I concentrate on Kronick. She's calm and watchful until she spots a play, and then she accelerates like a sports car. In the 37th minute, there's a scrum in front of the Stevenson goal, and when the ball deflects to the left side, Kronick is right where she needs to be and slides the ball past the goalie. The Jays lead, 1-0. But overall Hopkins is not sharp—poor first touches, too many passes a few yards off, little forward momentum. Stevenson ties the score in the second half. Less than a minute later Hopkins goes back on top on a snappy strike by Maryalice McKenna. This is the sort of thing that can suck the life out of an underdog, but Stevenson is resilient and tenacious and within two minutes ties the score again. The game goes into overtime.
And then Kronick does what an all-American does. Midfielder Pamela Vranis heads the ball into her path, Kronick hits top speed in an instant, a Stevenson defender and the goalie converge on her but not fast enough, and she bangs a shot off the right post for the winning goal. Just another night at the office.
At various times in middle school and high school, I played football, basketball, and soccer, plus I ran track. By far the loosest team was track; even the football players who were our sprinters turned into flakes when they put on track uniforms. So I am not surprised to find that the annual Spiked Shoe Invitational cross country meet at Penn State University is a relaxed, shaggy affair that resembles a fair more than a sporting event. Throughout the afternoon 64 high school and college teams are competing. The races take place on a golf course, which is a much better use for it in my opinion. Some teams erect tents, some just find an open patch of grass and dump their stuff in a circle. I go looking for the Hopkins runners and know I've found them when I spot a clump of backpacks under a spruce tree and a couple of guys in black Hopkins warm-ups stretching next to a teammate who's doing neuroscience homework.
The women run first, which gives me a chance to see another all-American Hannah, sophomore Hannah Oneda, who was central to last year's cross-country national championship. Nine teams, including Division I squads from Penn State, West Virginia, Pitt, and Bucknell, line up across a fairway. The starter fires a gun and 146 runners surge forward. Soon they are out of sight on the 6-kilometer course. As spectator events, cross-country meets are odd. You watch the start, then trot to some point that allows you to glimpse the runners as they race past one mile marker or another. Then you sprint to the finish line, racing the racers to see how it all turns out. The first five runners to come into view at the finish are from Penn State, which is no surprise. But sixth, and hard on the heels of fifth place, is Oneda. Seven of the top 20 finishers are from Hopkins, and the team takes second place, a strong performance.
Thirty minutes later, 127 men dash off on their 5.2-mile race, and once again we spectators jog after them, gathering on a small hill that looks promising as a vantage. We know the leaders are coming when we spot the golf cart that precedes them making sure the course is clear. A Penn State kid named Robby Creese smokes the field, winning by 13 seconds. Hopkins' Max Robinson finishes a strong fourth, and the Jays take fourth in the men's team standings. All around me runners are coughing, spitting (you learn to watch your step at a cross-country meet; there's a lot of spitting), and putting their arms around each other for parents with cameras. It's fun to watch, but I can't linger. Football kicks off in 17 hours, and I've got a long drive home.
Day Eight of the Tour de Jays brings me back to Homewood Field for Johns Hopkins football versus Susquehanna University. The Jays have won four straight conference championships and last year made it to the second round of the NCAA Division III tournament. When I started working at Hopkins 20 years ago, football fans hoped for just a winning season. Now anything less than a conference championship will be a letdown.
Of the eight competitions I witness, this is the least inspiring. Hopkins doesn't pull away until the last quarter, but Susquehanna is so overmatched, a Jays victory just seems like a matter of time, and the game verges on workmanlike and dull. Still, it's a nice way to spend an autumn afternoon.
On my way home I tally it up: eight teams, six victories (the cross-country women beat all their Division III competitors, so I count the Penn State results as a win). I don't have time to follow so many teams—I barely have time to follow one—but now I find myself checking the calendar for the next home games in several sports. This could get out of hand.
Go Jays.