Johns Hopkins aims to advance human knowledge, solve global problems, and enhance the student experience with $4.5 billion to be raised in a new campaign announced this month.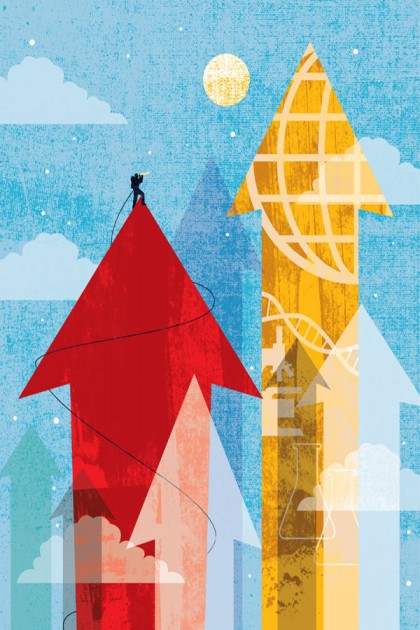 The joint fundraising effort by the university and health system—the institutions' largest ever—is called Rising to the Challenge: The Campaign for Johns Hopkins. It seeks to create as many as 300 endowed professorships and generate $753 million for financial aid and fellowships. It also will support interdisciplinary research teams seeking answers to vexing worldwide problems in areas such as health, education, water resources, and revitalization of cities.
The campaign has raised $1.94 billion, or 43 percent of the goal, since its "quiet phase" began in January 2010. Now that it has been publicly announced, the aim is to complete the effort in 2017.
"Humanity today confronts both age-old questions and burning new ones unlike any we have faced before," says university President Ronald J. Daniels. "Our job at Johns Hopkins is to rise to the challenge, to develop the tools and the talent, and to help humanity resolve those questions—on campus, in our communities, and around the world. That's what this campaign is about."
The campaign will be built on three pillars:
Advancing Discovery and Creativity. Since its founding in 1876 as America's first research university, Johns Hopkins has in many ways defined modern higher education, linking teaching and research in all disciplines, from the humanities and arts to public health and medicine to science and technology. Funds will be strategically invested in programs and activities that advance the university's core academic mission and allow it to embrace tomorrow's opportunities and meet its problems.

Enriching the Student Experience. Rising to the Challenge will strengthen financial aid in the form of scholarships and stipends, invest in inspirational spaces for collaborative learning and social interaction, build new programs that enrich the academic experience, ensure diversity, and strengthen connections between Johns Hopkins and its surrounding communities.

Solving Global Problems as One University. Complex social, political, economic, and environmental issues threaten the progress of nations and communities around the world. As a leader in creating the cross-disciplinary solutions such problems demand, Johns Hopkins will draw on its tradition of innovation to launch new "signature initiatives" in areas such as individualized health; the science of learning; "big data" for health, commerce, and other applications; the potential of our urban centers; the security of water and space; and global health.
A major milestone in the quiet phase of the campaign was the commitment in January of $350 million—the largest gift in Johns Hopkins history—by philanthropist and New York Mayor Michael R. Bloomberg, a 1964 graduate of Johns Hopkins. That gift is divided between student aid and endowment for 50 Bloomberg Distinguished Professors promoting collaboration across traditional academic disciplines.
"Mike Bloomberg's generosity and dedication to the Johns Hopkins mission are inspiring," says Jeffrey Aronson, who is leading the campaign and will serve as the next chair of the university's board of trustees. Aronson is a 1980 alumnus and parent of two current students. "I know that there are many thousands of alumni, parents, former patients, and other supporters who find our mission as compelling as Mike does," he says. "They will, just as he did, rise to the challenge."
The campaign's overall goal includes $2.4 billion for Johns Hopkins Medicine (the Johns Hopkins Health System and its six hospitals plus the university's School of Medicine). The rest of the university is seeking the remaining $2.1 billion.
"At Johns Hopkins, we are driven to discover," says Paul Rothman, the Frances Watt Baker, M.D., and Lenox D. Baker Jr., M.D., Dean of the Medical Faculty, vice president for medicine, and CEO of Johns Hopkins Medicine. "The formula for success is deceptively simple: Find the best faculty members, bring them together, surround them with the best students and staff, and give them the resources they need to unleash their imaginations and dare to discover. This campaign will enable us to do all that, and to do more for our patients and for the world than we ever have before."
Looked at another way, half the total campaign goal—$2.25 billion—is for research and program support. Another $968.5 million is for faculty support, including about 150 endowed professorships in the School of Medicine and 150 more throughout the rest of the university.
Another $753 million, 17 percent of the goal, is for undergraduate student aid, graduate student fellowships, and continuing education.
About 9 percent is for buildings and other capital needs, contrasting with 18 percent of the total that was raised in Knowledge for the World, a $3.741 billion Johns Hopkins campaign that ended in 2008. At the time, it was the second-largest completed campaign in U.S. university history.
"Rising to the Challenge is focused squarely on Johns Hopkins people," Daniels says. "We have done an amazing job over the past decade or so at building some of the best facilities in the world. This time, we are building support for the scholars, the mentors, and the learners who do some of the best work in the world."
There are, however, some critical facilities projects in the campaign plan, including new buildings for the Bloomberg School of Public Health and the School of Nursing, and renovations at the Paul H. Nitze School of Advanced International Studies.
Also included in the Rising to the Challenge goal is a total of $700 million for five "signature initiatives." These are universitywide efforts on societal issues identified by university deans and directors and President Daniels as ripe for interdisciplinary collaborations.
"Increasingly, the most significant discoveries come not from a single lab," Daniels says, "but from experts across a wide range of fields, bringing their own perspectives and skills to a combined effort that is far more than the sum of its parts. That's the approach we are taking with these initiatives."
The signature initiatives are:
The Johns Hopkins Institute for the American City ($100 million). Faculty from across the university—together with urban scholars and leaders from the private sector, foundations, and governments—will develop and test solutions for fostering economic growth, improving schools, reducing violence, addressing health issues, cultivating the arts, and revitalizing Baltimore and other U.S. cities.

The Johns Hopkins Global Health Initiative ($100 million). Experts from the fields of public health, medicine, nursing, engineering, economics, and public policy will build a "pipeline of discovery" to advance lifesaving international efforts in the areas of noncommunicable diseases, injuries, infectious diseases, nutrition (food and food security), and the health of women and children.

The Johns Hopkins Science of Learning Institute ($100 million). Neuroscientists, cognitive scientists, geneticists, computer scientists, and education experts will join forces to understand learning in all its phases; explore how genetics, environment, brain chemistry, and other factors foster or inhibit learning; develop technologies and programs to optimize and personalize learning; and help transform the American education system.

The Johns Hopkins Individualized Health Initiative ($300 million). Physicians, scientists, engineers, and information experts will help doctors customize treatment for each patient by connecting and analyzing huge databases of clinical information, plus new data sources such as DNA sequences, methylation analyses, RNA expression levels, protein structures, and high-tech images.

The Johns Hopkins Institute for Water ($100 million). Experts in public health, medicine, nursing, bioethics, engineering, economic development, and public policy will collaborate to protect our most precious natural resource by modernizing infrastructure, exploring water's complex role in the environment, improving the health of waterways, and sharpening responses to natural disasters.
Additional signature initiatives may be added during the campaign as new opportunities for interdisciplinary efforts arise.
For more about the Rising to the Challenge campaign, go to http://rising.jhu.edu.