Time magazine has named Johns Hopkins Children's Center HIV expert Deborah Persaud one of the world's 100 most influential people for 2013. A virologist and an infectious disease specialist, Persaud is being recognized for her research and clinical work in pediatric HIV and AIDS.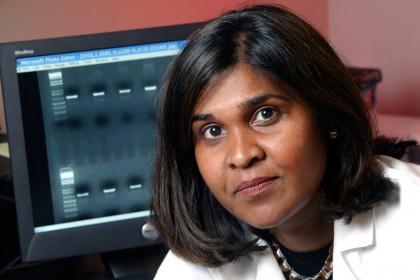 Time's annual list, now in its 10th year, honors scientists, writers, politicians, economists, activists, innovators, and artists whose work has inspired, changed, or challenged their fields, according to the magazine. Past honorees include President Barack Obama, Hillary Clinton, Johns Hopkins patient safety expert Peter Pronovost, Steve Jobs, and Stephen Colbert.
Persaud, who has been active in the field of pediatric HIV for nearly two decades, was propelled into the spotlight in March when she and colleagues Hanna Gay, of the University of Mississippi Medical Center, and Katherine Luzuriaga, of the University of Massachusetts Medical School, announced the first functional cure of HIV in an infant. While Persaud and her colleagues cautioned that the infant's unusual case requires further study and that people with HIV should not discontinue treatment, they also hailed it as a potential game-changer supporting the notion that very early treatment quashes the formation of the viral hideouts that make the virus impossible to clear.