The Homewood undergraduate schools historically attract a high caliber of student, the elite of go-getters. John Birney, senior associate director of Admissions for selection and constituent relations, says that Johns Hopkins might have outdone itself in recruiting the Class of 2016.
"This was arguably the most well-rounded, talented, and involved class we've ever brought in," says Birney, who joined the Admissions Office in 2000. "They are just incredible. We are extremely pleased that Johns Hopkins was their first choice."
The incoming 1,333 freshmen were drawn from a record-breaking 20,504 applicants. The large and diverse applicant pool allowed the Admissions Office to be more selective than ever, Birney says.
The group includes valedictorians, class presidents, star athletes, dancers, entrepreneurs, artists, and overachievers galore. "We've always looked for great students academically, but some years ago we changed how we looked at recruitment. We now look very closely at extracurricular activities, personality, character, and civic engagement, as well as being exceptionally strong in the classroom. These young people are leaders who have a drive to succeed."
Don't just take Birney's word for it; here's a look at five incoming freshmen ready to make their mark at Johns Hopkins.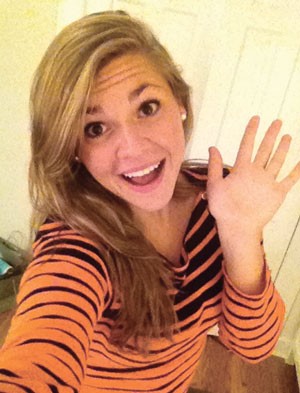 Buzzing Bees and Figure Eights
Elena Kuivila
Chagrin Falls, Ohio
Krieger School of Arts and Sciences
Psychology (intended)
Few people can put harpist, beekeeper, and competitive figure skater on their resume. Elena Kuivila can.
The small-town girl started skating in preschool. She quit after a year or two to take up gymnastics and ballet, but figure skating pulled her back at age 10. She competed individually on the junior level in statewide and regional competitions, skated internationally with a synchronized skate team and in theater-on-ice shows, and performed in the opening ceremonies of the 2009 USFSA National Championships, held in Cleveland.
A member of her high school's global studies program, Kuivila combined her passion for global environmental issues and skating by organizing a Skate for Haiti fundraiser: collection boxes at skating rinks and events for needed items (medical supplies, eyeglasses, toiletries, etc.) for the victims of the January 2010 earthquake.
A mission program through her church allowed her to conduct research in Haiti in fall 2010 and fall 2011 on the topic of improving the nation's water quality. Her research was accepted at the International Haiti Conference, held in Jamaica.
"My church has gone to Haiti for years, and I had been hearing about life there my entire childhood, so it was very important for me to finally see, meet, and give back to these people," she says.
Pushed by her mother to learn an instrument, she boldly chose the harp. "I loved it. But it's a lot harder than people think it is."
For her father's birthday one year, Kuivila and her siblings bought him a beehive. She wound up taking care of the bees and started a leisurely honey-making business.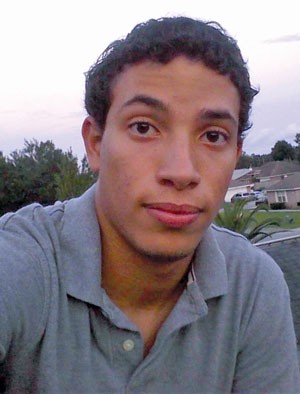 Might and Magic
Ronann Carrero
Milton, Florida
(Fajardo, Puerto Rico, native)
Whiting School of Engineering
Materials Science and Engineering
Ronann Carrero's background reads like the bubble gum card of a superhero. At age 13, he became the Caribbean's youngest black belt in the martial art of Koryo Gumdo, or Korean sword. He uses the sword to spar, perform synchronized movements, and inflict serious damage to bamboo (a favorite accuracy target of Koryo Gumdo practitioners). He's also adept at Taekwondo, a discipline he's studied since preschool, and he swam and pole-vaulted competitively in high school.
The martial arts have long fascinated Carrero, who moved from Puerto Rico to Florida at age 14.
"I've always looked up to Bruce Li—his movies, how he trained, his philosophy," Carrero says. "And I think the martial arts have helped me in many ways, teaching me respect and discipline, and about other cultures."
Carrero is also a member of the Society of American Magicians and won two statewide magic competitions as a teen. When Carrero's older brother joined the Air Force, he had left behind a little book on magic. Carrero literally learned every trick in the book.
In school, he excelled in math and science and won first place in the 2010 ION Mini-Urban Challenge, a national competition that invited high school students to design and operate a robotic car to autonomously navigate a model city.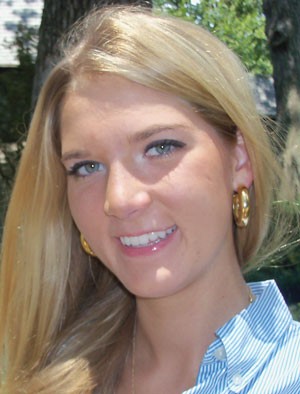 Words and Wide-Open Spaces
DeAnna Pope
Alton, Illinois
Krieger School of Arts and Sciences
Writing Seminars or International
Studies (intended)
DeAnna Pope grew up in a scenic small Midwestern town—famous as the hometown of the world's tallest man (8 feet, 11 inches)—located on the Mississippi River. Here, Pope fostered her love of nature as she played in the woods and on the bluffs of the Mississippi.
In high school, she founded the Great Rivers Land Trust, a teen-oriented nonprofit dedicated to the preservation and enhancement of natural resources in the Alton, Ill., and riverbend area. The organization protects more than 3,000 acres of open space and wildlife habitat through ownership or conservation easement and a variety of community initiatives, including wetland enhancement and reforestation projects. The organization's board has 15 students from five local high schools.
"I've always been a bit of a tree nerd, and I wanted to get other kids involved with land preservation and a love of the outdoors," she says.
Pope was asked to give a 90-minute presentation at the 2011 National Land Conservation Conference, held in Milwaukee. Since her appearance, three similar junior land trusts have been started, in California and Colorado. "Land conservation is something I'm very passionate about, and I was hoping to get other kids inspired," she says. "It worked." She's lined up to speak again at this year's conference, to be held in October in Salt Lake City.
A lover of the written word, Pope has written a monthly column called "The Poetry Corner" in her local paper, the Alton Telegraph, since May 2011, providing a venue for publishing pieces of poetry and letting readers into the inspiration process. She plans to continue to write her column, and conduct interviews with poets via Skype, during her time at Johns Hopkins.
Pope says that Johns Hopkins always topped her college wish list. Her older brother, Steven, is a senior public health major in the Krieger School, and her younger brother, Clayton, is enrolled in the Johns Hopkins Center for Talented Youth.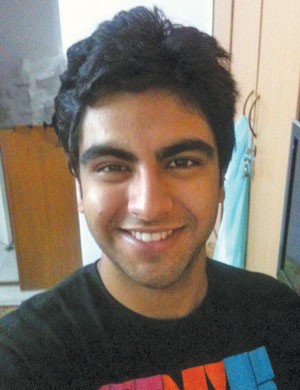 Volunteering Rock Star
Tushar Rawal
New Delhi, India
Krieger School of Arts and Sciences
Economics (intended)
Tushar Rawal is having a good 2012. Besides getting accepted at Johns Hopkins, Rawal, and his bandmates in Plok, had a breakthrough year. The genre-defying rock/alternative/funk/blues band—named after the sound of a bubble bursting—was featured in the Hindustan Times, The Times of India, and several other publications. The group played alongside one of India's hottest indie rock outfits, Them Clones, and twice took the stage at the Hard Rock Cafe in New Delhi. At press time, the band was putting finishing touches on a debut album and music video.
"Music has always been a big part of my life," says Rawal, the band's founder and guitarist. "And in this band we have no set sound. We just play what we like to play."
When not rocking, Rawal likes to give back. He spent a gap year in high school working for Model Rural Youth Development Organization, a nonprofit group he had joined his freshman year. He participated in health-screening centers, microfinance programs, and HIV-awareness campaigns. He also worked with WaterAid in India on a project to build hygienic public toilets in poverty-stricken areas.
"I started to give back at an early age. When you step out of your home and go to a village where people are struggling with access to necessities of life, it opens you up to a new perspective altogether," he says. "I wanted to do my bit in helping whenever I could."
A natural leader, Rawal served as president of the student government and debate society in high school, and chaired the crisis committee of the Model United Nations Society on a trip to Cambridge University in England.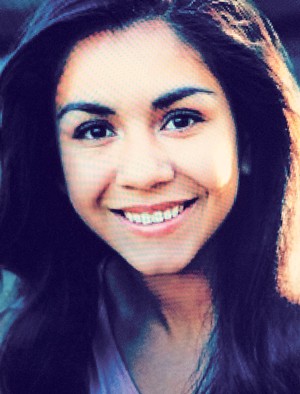 Beat of Her Drum
Gabriela Cabello
Indianapolis, Indiana
Krieger School of Arts and Sciences
Biology (intended)
Indiana residents take their marching bands seriously. To participate is an honor, and to lead a band is heady territory. Gabriela Cabello was for two consecutive years head drum major of her school's band, the Marching Giants, some 275 members strong.
With Cabello conducting the way, the band placed fourth in the state championships her senior year and represented Indiana at the Tournament of Roses Parade in Pasadena, Calif., and on the field for Super Bowl XLVI, held in Indianapolis. (This Colts fan got to hold the flags for the Patriots players to run through.) She also was interviewed for NBC's pre-game show for a segment on student volunteerism, as she was active in southern Indiana tornado relief efforts, among other projects.
"Representing the school at such big events was an awesome opportunity," says Cabello, who was class president her senior year. "Marching band is really competitive here and something that people care a lot about." Cabello also cares about fitness. She captained her varsity tennis team, and enjoys weightlifting and all manner of sports. She also stays in touch with her Latin roots; in particular, her love of Latin dance. "Bachata and cumbia are my favorites. Merengue is fun, but just plain exhausting!" she says.
Inspired by her older sister, who is attending medical school, and a BBC documentary on the Jarvik artificial heart, Cabello decided to pursue a premed track at Johns Hopkins and already has her sights set on a career in cardiology. In 2011, she interned at a molecular and cell proteomics research lab at Indiana University's School of Medicine. "I was able to get my feet wet and really make sure I wanted to pursue medicine," she says. "I can't wait to get to Johns Hopkins and start to learn more and take advantage of all the opportunities there."