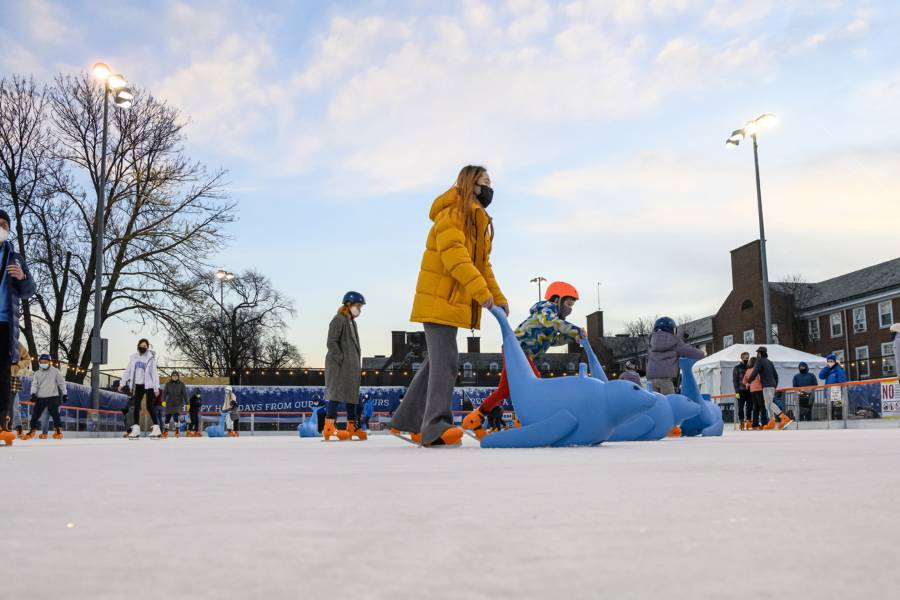 Later, skaters
As Johns Hopkins says goodbye to its temporary ice rink, look back at some of the good times the Hopkins community had on the ice
By Hub staff report
/
Published
Feb 28, 2022
This past weekend was the last for the Johns Hopkins Ice Rink, a temporary recreational installation on the university's Homewood campus. Since its opening on Jan. 18, more than 11,000 university affiliates and community members took to the ice—or cheered others on from the observation and rest area.
"I have had numerous community members express how wonderful the rink has been, especially because everything was provided at no cost," says Bill Harrington, senior associate director of athletics and director of recreation and facilities. "So many smiling faces (without masks) and bright eyes (with masks)."
The 6,000-square-foot rink was assembled on the university's tennis courts; the rink is now being disassembled and the courts restored in time for the women's tennis team's match against on Gettysburg on March 19.