Exteriors at Evergreen Series: Part I: Historic Gardens and Grounds
Who can attend?
General public
Faculty
Staff
Students
Contact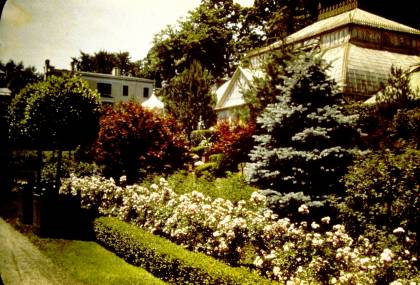 Description
This three-part, virtual lecture series will explore different facets of Evergreen Museum & Library's exterior, shedding light on how the house and its grounds changed over the course of a century. Originally constructed in 1858, the home was occupied by two generations of the wealthy Garrett family between 1878 and 1952. During its near 100 years as a private residence, the house expanded in size and scope to accommodate the needs of its residents and changing tastes in architectural and landscape design. Using photos and architectural drawings, these virtual presentations will explore those changes, the reasons for them, and their impact on the exterior aesthetics of Evergreen.
Part I: Historic Garden and Grounds
Explore the storied gardens and grounds of Evergreen, an exemplar of American landscape architecture at the turn of the 20th century. Lori Finkelstein, the director and curator of Evergreen Museum & Library, and April Oettinger, professor of art history at Goucher College, will guide you through the meandering paths, bubbling brooks, fountains, fragrant plantings, and exotic greenhouses that have welcomed generations to Evergreen. This presentation will illuminate the people, places, and garden history that shaped the extraordinary green spaces beyond the walls of this Gilded Age Baltimore mansion.
Learn more about the speakers online. This event is sponsored by the Arts, Entertainment, Media, and Entrepreneurship Affinity and Evergreen Museum & Library.
Please join the rest of the series:
Who can attend?
General public
Faculty
Staff
Students
Contact