The Johns Hopkins University annual staff appreciation event, Fall Fest @ the Zoo, will be held from 11 a.m. to 3 p.m. on Saturday, Sept. 9.
Employees and a maximum of four guests are invited to attend this free, fun-filled event, which will include lunch, the Miss Twist Ice Cream Truck, a DJ, and full access to the Maryland Zoo in Baltimore.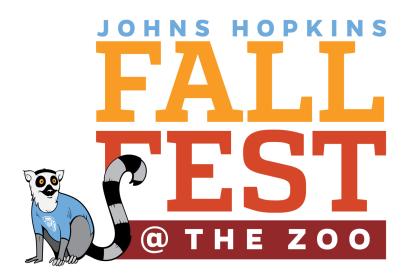 Tickets are required. They are first come, first served, and are available online here until event capacity is reached. Once capacity is reached, you can join the waitlist.
The zoo is located at 1 Safari Place, where parking is free. A shuttle will be available from Johns Hopkins at Eastern, running every 20 minutes.
If you have questions, see the FAQ on the Human Resources website or email benefits@jhu.edu with questions not answered there.
This event is for Johns Hopkins University employees only. JHH and JHHS have their own recognition events.