JHU offers you tax-advantaged spending accounts designed to help you stretch your paycheck and benefit from tax savings. As you get ready to sign up for your 2022 benefits during Annual Enrollment, consider the options available to you:
Health care and dependent care flexible spending accounts (FSAs)
Commuter benefits
The health savings account designed to work specifically with the high-deductible health plan (HDHP)
Comparing your health spending accounts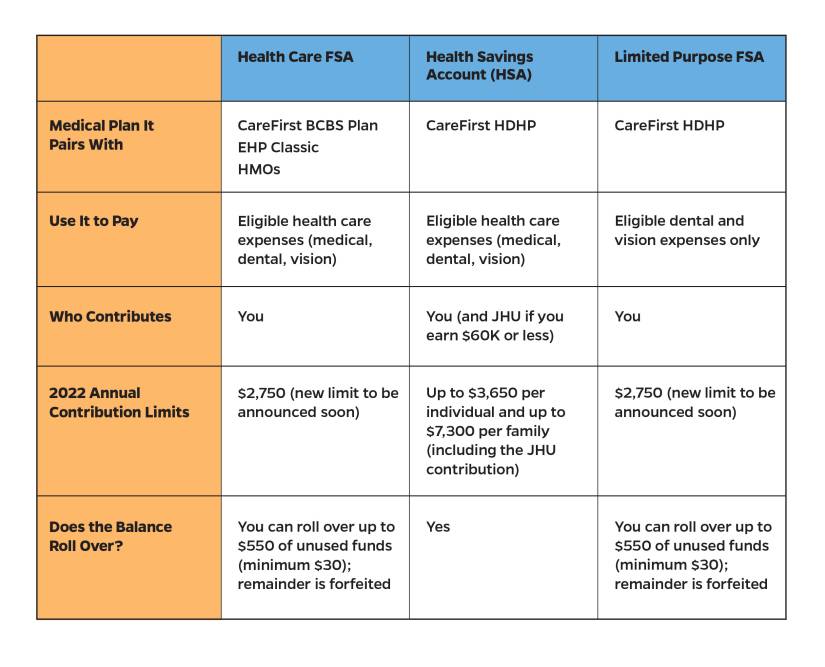 Important reminders
If you newly enroll in the FSAs or HSA for 2022, you will receive a welcome package from WEX (formerly Discovery Benefits) that includes a new debit card and important information about how to manage your account.
If you are participating in the FSAs for 2021, you can roll over up to $550 of your remaining health care FSA balance to your 2022 health care or limited purpose FSA with WEX. Any remaining dependent care FSA funds will be forfeited. It's a good idea to check your online account for any unsubstantiated FSA debit card claims before year-end. Note: If your debit card has any unsubstantiated claims as of Jan. 1, your debit card will not be reactivated for 2022.
Filing FSA claims. Remember that any FSA claims incurred during 2021 must be submitted to WEX by April 30, 2022.
Commuter benefits. For 2022, you will continue to make your monthly elections in the JHU Benefits & Worklife myChoices enrollment site at hr.jhu.edu/benefits-worklife. Transportation passes will be purchased online at wexinc.com.