The National Education Association's Read Across America Day is the nation's largest celebration of reading. The festivities of the Johns Hopkins child care center partners looked a little different on March 2 this year, as guest readers joined virtually instead of paying in-person visits.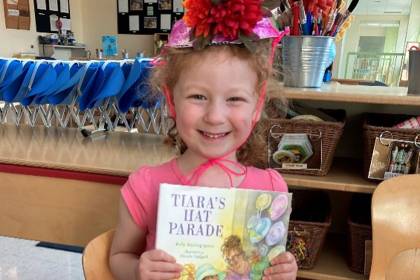 The Johns Hopkins Child Care and Early Learning Center (Bright Horizons) celebrated by listening together to a reading via Zoom of Tiara's Hat Parade. In preparation, families received supplies to create hats at home. On reading day, the children showed off their new hats—or favorite old ones—virtually to friends and family.
The Weinberg Early Childhood Center kicked off the day with Baltimore Mayor Brandon Scott reading one of his favorite children's books, The Champ: The Story of Muhammad Ali, in a recording. The administrators read books in the classrooms; parents read stories through Zoom; and Laura Weeldryer, executive director of Maryland Family Network, read one of her favorite books in a pre-recorded video. Other literacy activities took place throughout the week as well.
At the Homewood Early Learning Center, children picked out their favorite books and had a family member read it to the class through Zoom. Some of the books read were My Friend Rabbit, The True Story of the Three Little Pigs, and Dragons Love Tacos. The children created artwork throughout the week to tell their favorite stories.
To learn more about the three Johns Hopkins child care center partners, located on the East Baltimore and Homewood campuses, go here.