JHU offers you several tax-advantaged spending accounts designed to help you stretch your paycheck and benefit from tax savings. Before you enroll in your 2021 benefits, consider the following:
Health care and dependent care flexible spending accounts
Commuter benefits
The high-deductible health plan's health savings account, designed to work specifically with this type of medical plan
The HDHP's sidekick: the health savings account
While the high-deductible health plan works much like a traditional medical plan, the ability to participate in a health savings account, or HSA, makes it unique. If you choose the HDHP, you are eligible to participate in a special tax-advantaged HSA that allows you to set aside funds on a before-tax basis to help fund your out-of-pocket costs. If you earn $60,000 or less a year, JHU will add to your HSA. The amount of the annual contribution will depend on your pay band, as follows:
<$40K band: $500 single or $1,000 family
$40,001–$60K band: $250 single or $500 family
Unlike flexible spending accounts, funds in this HSA roll over from year to year, so you can spend them now or save them for later.
Pairing your HSA with the FSA
It's important to note that you cannot participate in both the HSA and a general-purpose health care flexible spending account, or FSA. However, HDHP participants can participate in a limited purpose FSA, which can be used for eligible dental and vision expenses only. The maximum contribution limit is the same as under the general purpose health care FSA limit (2021 limit to be announced soon). To maximize your savings and tax benefits, consider participating in both the HSA and limited purpose FSA.
Comparing spending accounts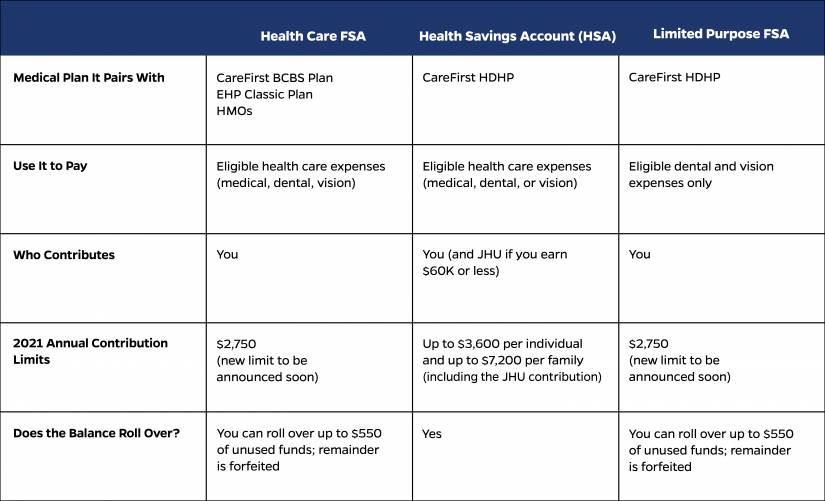 Important reminders
If you newly enroll for 2021 in the FSAs or HSA, you will receive a welcome package from Discovery Benefits that includes a new Discovery Benefits debit card and important information about how to manage your account.
If you are participating in FSAs for 2020, you can roll over up to $550 of your remaining health care FSA balance to your 2021 health care or limited purpose FSA with Discovery Benefits. Any remaining dependent care FSA funds will be forfeited.
Filing FSA claims. FSA claims incurred during 2020 must be submitted to Discovery Benefits by April 30, 2021.
Commuter benefits. For 2021, you will continue to make your monthly elections in the JHU Benefits & Worklife myChoices enrollment site. Transportation passes will be purchased online at discoverybenefits.com.
The Annual Enrollment period for 2021 benefits runs from Wednesday, Oct. 14, through Friday, Oct. 30.