In a matter of months, the global COVID-19 pandemic has rapidly and dramatically changed our lives. Now, more than ever, we should all take the appropriate steps to plan for the future. Just as Johns Hopkins has assessed the substantial financial challenges it is facing and begun undertaking measures to address them, it is important for you to review your current financial situation, including your retirement savings.
The JHU 403(b) 4/8 Plan and the JHU 403(b) 6/12 Plan
Despite the recent announcement of the suspension of university contributions to the JHU 403(b) 4/8 and the JHU 403(b) 6/12 plans, you can continue to make voluntary contributions to your account, effective July 1. These plans allow participants under age 50 in 2020 to contribute up to $19,500 this year, and for those 50 and over, up to $26,000.
To understand how different savings rates make a difference over time, see the chart below that tracks three cases. Jill contributes $100 per month for 20 years, resulting in savings of $45,565. Over the same period, Jeremy contributes $150 per month for a total of $68,345, and Elaine contributes $200, giving her $91,130.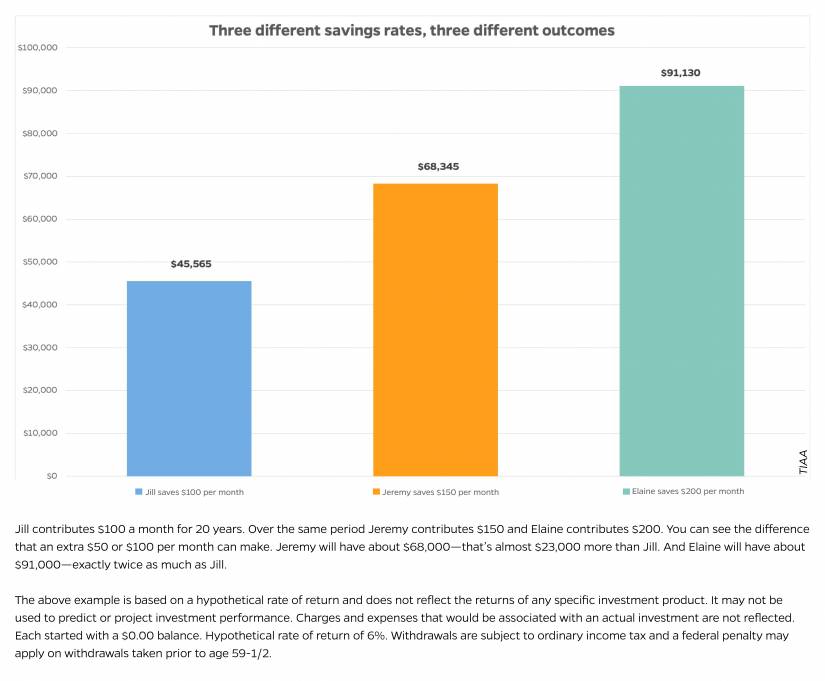 Staff Voluntary 403(b) Plan (paired with Pension Plan)
The university is still making contributions in the Staff Voluntary 403(b) Plan. After two years of full- or part-time service, you are eligible to receive matching university contributions of 20% on the first 3% of base salary that you contribute. Be sure you are contributing enough to get the full matching contribution.
For example, if an employee making $48,000 per year contributes 3% to the plan, this equates to $60 per pay; the university matches that at 20% by contributing $12 per pay. As seen in the illustration below, after 25 years, that employee would accumulate $19,113 more by getting the full employer match.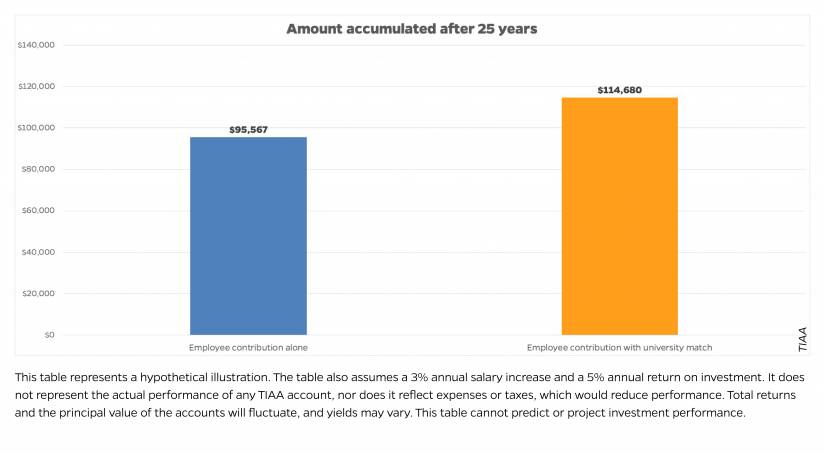 Advantages of saving through your plans
Although some of your short-term goals may have recently changed, the benefits of saving through your retirement plan(s) have not.
Tax advantages, both short- and long-term. Your voluntary contributions are made on a pretax basis, and no taxes are owed on your contributions or any earnings until you take money out of the plan at retirement.
Compounding. Your assets have the potential to grow through the power of compounding interest. As illustrated in the chart below, if you start with contributions even as small as $25 per month and increase that amount by $5 every year, your savings could add up to a big difference later. The hypothetical example shows a total of $7,365 savings in 10 years, $28,717 in 20 years, and $75,120 in 30 years.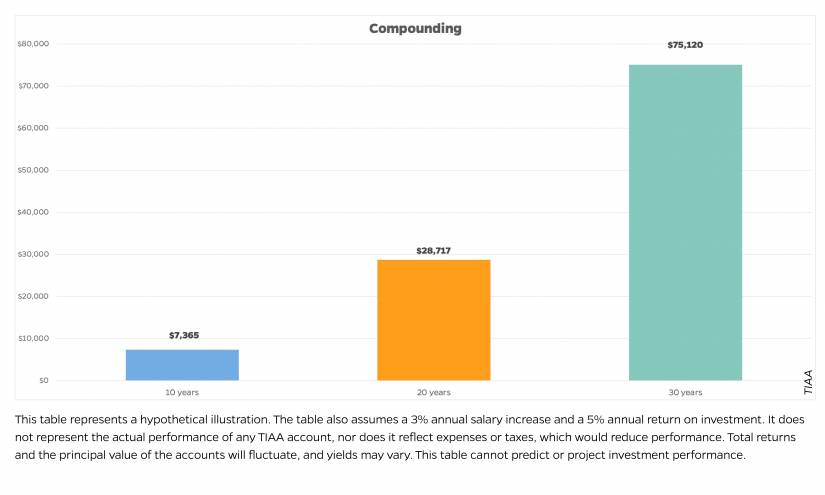 What you can do today
To enroll or make changes to your 403(b) plan contributions, visit the Retirement Choice portal on the Benefits & Worklife website.
Reach out to your 403(b) investment provider for a free one-on-one appointment, offered by phone or virtually. Given current market conditions, today is a good time to meet with a financial consultant to review your overall financial situation and plan for tomorrow. To schedule an appointment:
For general retirement plan questions, contact the JHU Benefits Service Center at 410-516-2000 or benefits@jhu.edu.
For online portal support, call the Johns Hopkins University Retirement Center at TIAA at 888-200-4074, 8 a.m. to 10 p.m. Monday to Friday and 9 a.m. to 6 p.m. on Saturday.