It's important for you to understand your benefits so you can make the right choices for yourself and your family. During this fall's Annual Enrollment for 2020 benefits, you will choose from the following medical plan options:
CareFirst BlueCross BlueShield Indemnity Plan
EHP Classic Point-of-Service (POS) Plan
A new CareFirst BlueCross BlueShield High-Deductible Health Plan (HDHP)
Kaiser Permanente Health Maintenance Organization (HMO)
In addition, the BlueChoice HMO continues to be available to current participants.
If you choose to waive medical coverage, you will be eligible for the annual waiver credit of either $800 (if your salary is $40,000 or less) or $500 (if your salary is more than $40,000).
Your medical plan options at a glance
With more choice and flexibility comes more responsibility to understand how each plan works. All the JHU medical options cover the same broad range of services, including preventive care at 100% (in-network). The plans differ in the way you access and pay for care. Here's an overview of the key differences: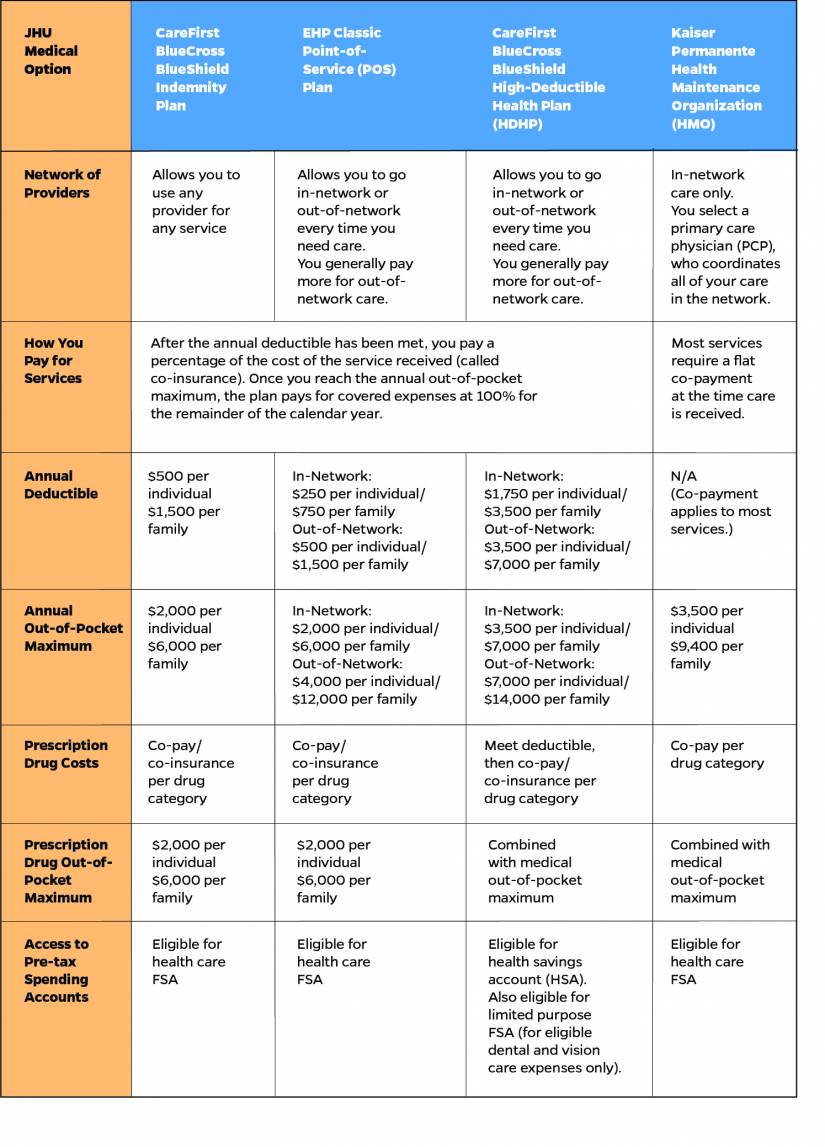 Meet ALEX
ALEX is a new, interactive decision support tool that acts as a virtual benefits counselor to help you learn more about your JHU benefits options, so you can choose what's best for you.
ALEX is easy to use—just click the ALEX link on the myChoices Annual Enrollment page to get started. ALEX will ask you a few short questions about your family status and health care usage, calculate your potential out-of-pocket costs under each plan, and make recommendations to help you pick the right plan for you. All your responses are completely confidential.