Effective Jan. 1, 2019, Delta Dental will replace CareFirst BlueCross BlueShield and Cigna as the university's dental provider. A leader in the oral health industry, Delta Dental offers quality, value-based dental benefits coverage and covers eight out of 10 providers in the country.
For 2019, your dental coverage options are:
Delta Dental Standard DPPO Plan. This lower-cost plan includes coverage for preventive/diagnostic services, with higher out-of-pocket costs for basic and major services and no orthodontia coverage.
Delta Dental Enhanced With Orthodontia DPPO Plan. This higher-cost plan is more generous than the current plans and includes enhanced basic and major services, as well as better orthodontia coverage.
United ConcordiaPLUS Dental HMO Plan (current participants only). This plan option will remain for current plan participants only, at the new plan rates, and will sunset after Dec. 31, 2019.
Compare your Delta Dental plans
This chart is a summary of the new Delta Dental plan options available to you: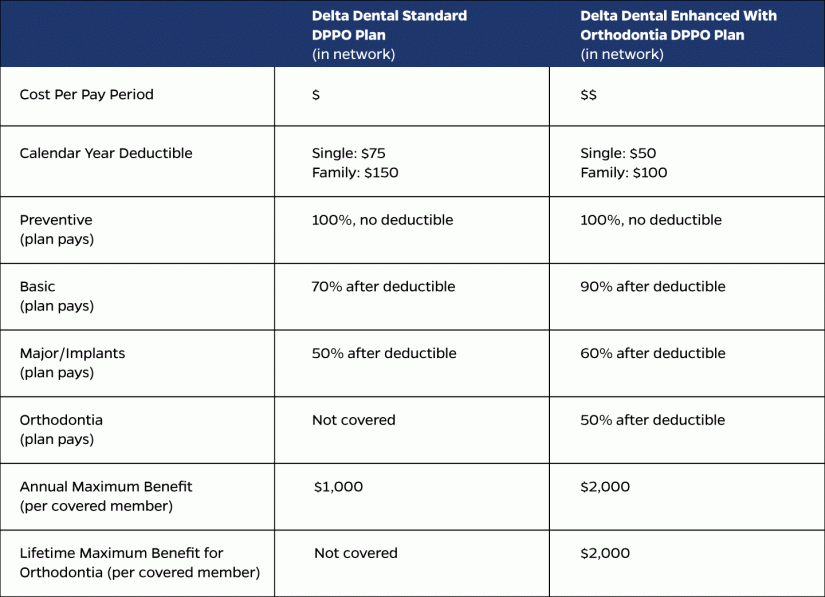 Make the best dental choice for you
Choosing a dental plan is more than just what comes out of each paycheck—it also includes considering the coverage you and your family may need. Let's take a look at how each Delta Dental plan might work for a few hypothetical university employees:
Meet Louis, age 32, single. Louis is relatively healthy and takes pride in flossing nightly. He tries to make an annual visit to his dentist and has never had a cavity. He doesn't have any plans for any major procedures in the near future. Plan choice: Standard DPPO Plan.
Meet Kajal, age 29, mother of three. Kajal covers her husband, with whom she has three young children. They are teaching their kids to brush before bed each night and breakfast each morning. Her husband has recently been informed by his dentist that he may require dental implants, which involves more extensive care for major dental services. Plan Choice: Enhanced with Orthodontia DPPO Plan.
Meet Alex, age 47, father of two. Alex covers his two children, both of whom are active athletes, and are getting to the age at which they could need braces. Plan Choice: Enhanced with Orthodontia DPPO Plan.
No matter your choice, be sure to select the plan that makes the most sense for you and your family. If you are currently enrolled in the CareFirst BlueCross BlueShield or Cigna Dental Plan and don't take action during Annual Enrollment, you will default to the new Delta Dental Standard DPPO Plan.
Find a dental provider
As the university transitions to Delta Dental, it is important to check whether your dental providers are in the new Delta Dental networks. Though you may use any dentist, you will generally pay less for in-network providers. And remember that preventive care is covered at 100 percent when you use a Delta Dental provider.
To view dental providers:
Go to deltadentalins.com.
Click the Find a Dentist tool on the right. Enter a location (address, ZIP code, or city and state).
Select either the Delta Dental PPO or Delta Dental Premier network from the drop-down menu. For a more targeted search, you can enter the name of your dentist or dental office below.
Click Search. From the results, browse Yelp reviews, check office hours, and see the address on a map.
Each time you need dental care, you have a choice: Use a Delta Dental PPO dentist, a Delta Dental Premier dentist, or a dentist outside the network—it's always your decision.
Delta Dental PPO: These dentists have agreed to reduced fees, so you won't get charged more than your expected share of the bill.
Delta Dental Premier: If you can't find a PPO dentist, Delta Dental Premier dentists offer the next best opportunity to save, as these dentists have agreed to set fees.
Whether or not you use a network dentist, the dental plan provides the same coverage at the same percentage. However, when you use network dentists, you'll pay less out of your own pocket because Delta Dental dentists have contracted with Delta Dental to reduce their fees.
Take a look at the networks available to you below: