Effective Jan. 1, 2019, Delta Dental will replace CareFirst BlueCross BlueShield and Cigna as the university's dental provider. Delta Dental is a leader in the oral health industry, offering quality, value-based dental benefits coverage. Delta Dental covers eight out of 10 providers in the country.
For 2019, your dental coverage options will include:
Delta Dental Enhanced With Orthodontia PPO Plan: This higher-cost plan is more generous than the current Cigna and CareFirst plans and includes enhanced basic and major services, as well as better orthodontia coverage.
Delta Dental Standard PPO Plan: This lower-cost plan includes coverage for preventive/diagnostic services, with higher cost share for basic and major services and no orthodontia coverage.
United ConcordiaPLUS Dental HMO Plan (current participants only): This plan option will remain for current plan participants only, at the new plan rates, and will end on Dec. 31, 2019.
The following is a summary of the new Delta Dental plan options available to you: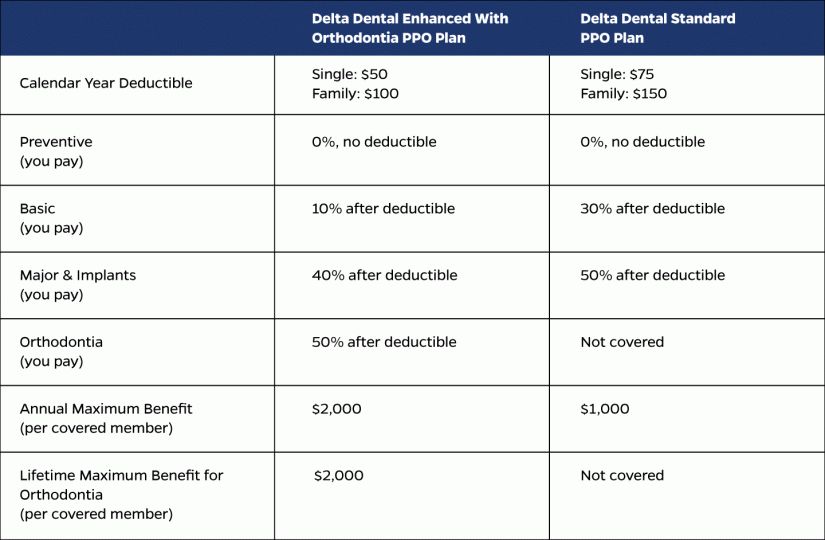 Finding a dental provider
It is important to check whether your dental providers are in the new Delta Dental network. You may use any dentist, but you will generally pay less for in-network providers. To view dental providers, go to deltadentalins.com. You will need to select either the "Delta Dental PPO" or "Delta Dental Premier" network.
With Delta Dental, dental preventive care is covered at 100 percent, regardless of whether you use the Delta Dental provider or out-of-network providers.
When you see a provider for nonpreventive care, you have a choice each time: Use a Delta Dental PPO dentist, a Delta Dental Premier dentist, or a dentist outside the network—it's always your decision.
Delta Dental PPO network ($): This network offers deeper discounts, and may offer lower out-of-pocket costs.
Delta Dental Premier network ($$): This larger network offers a greater choice of providers but may not offer discounts as deep as the Delta Dental PPO network.
Out of network ($$$): You may see a provider who is not in the Delta Dental PPO or Delta Dental Premier networks, but you will likely pay more out of pocket.
Whether or not you use a network dentist, the dental plan provides the same coverage at the same percentage. However, when you use network dentists, you'll pay less out of your own pocket because Delta Dental dentists have contracted with Delta Dental to reduce their fees.
For more information about the new dental program, visit myChoices in October and be sure to check out next month's HR NewsWire.