Patricia Charache, a distinguished professor emeritus of pathology, medicine, and oncology, and a world-renowned infectious diseases specialist and medical microbiologist who practiced at Johns Hopkins for more than 50 years, died on Sept. 12. She was 85.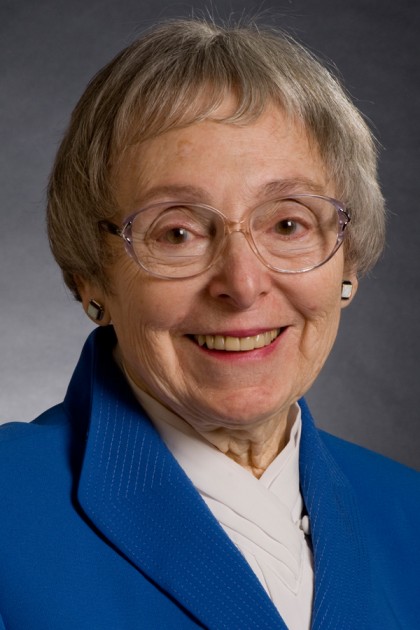 Charache, the daughter of two physicians, was born in Maplewood, New Jersey, on Dec. 26, 1929. At Oberlin College, she met and married Samuel Charache, and the newlyweds moved to New York, where she graduated in 1952 from Hunter College. In 1953, on the advice of her husband, Charache applied to and was accepted by the New York University School of Medicine and was awarded her MD in 1957.
During medical school, she began her lifelong love of microbiology spurred by research in Colin MacCleod's microbiology research laboratory. She did her internship in internal medicine at Baltimore City Hospitals (now Johns Hopkins Bayview Medical Center), followed by research and clinical fellowships at the University of Pennsylvania and the Johns Hopkins University School of Medicine's Division of Allergy and Infectious Diseases. More research training followed under the mentorship of Charles A. Janeway in the Department of Pediatrics at Harvard University Medical School, where she worked on the immunology of rheumatic fever.
Charache's career at Johns Hopkins began in 1964, when she was appointed an instructor in Infectious Diseases. From 1966 to 1969 she was also the assistant chief of medicine at Baltimore City Hospitals, with an academic appointment at the University of Maryland School of Medicine.
She persevered in a male-dominated work environment, taking jobs that were perceived as beneath the male faculty. No obstacle was insurmountable, and she was a catalyst for change. Her microbiology career paralleled her infectious diseases consultative practice, and as both departments grew, so did her responsibilities and contributions.
When Charache first arrived, the Microbiology Laboratory was part of the Department of Medicine, and she served as its medical director from 1967 to 1970. After the Division of Microbiology became part of the Department of Pathology, she served as director of the division and its laboratories for 20 years. As a result of her abundant energy and wise direction, the laboratories grew and obtained national recognition. She added faculty members and organizational structure, expanded services such as virology and molecular diagnostics, and launched an active applied research program.
Her early research interests involved the detection of genetic abnormalities using immunologic approaches, and later in her career her focus was on the development of new approaches to detecting microbial pathogens, including those that cause AIDS and tuberculosis. Her innovations included the development of a novel 19-test, agar-based, computer-assisted method of bacterial identification and susceptibility testing, which revolutionized testing and was in use in the clinical laboratory for 30 years. During her academic career she published over 100 peer-reviewed manuscripts and more than a dozen books or book chapters. In 1992, she became the 30th woman to be named a full professor in the School of Medicine.
In 1993, she stepped down as Microbiology director and became deputy director of Clinical Affairs, physician adviser, and director of Quality Improvement for the Department of Pathology. She also served as director of the Park Medical Laboratories and as director of the Department of Pathology, Zayed Military Hospital and associated hospitals, Abu Dhabi, United Arab Emirates. She was later the program director of Quality Assessment and Outcomes Research Programs.
For many years, she held a joint appointment in the Department of Molecular Microbiology and Immunology at the Johns Hopkins Bloomberg School of Public Health.
Charache served on more than two dozen committees, including the Medical Board and Medical Care Evaluation Committee, often taking on work that no one else wanted to tackle, in areas such as risk management and credentialing. She was chair of the department's Credentialing Committee for 17 years.
She worked tirelessly and courageously to advocate for professional development of all faculty, especially women. Her insightful dedication to mentorship launched the careers of many professionals. Some of her protégés became prestigious academicians and laboratory directors. An impressive 12 medical technologists in her laboratory obtained their PhDs, and another 30 individuals earned their master's degrees. Charache participated in formal teaching of medical students, graduate students, Pathology residents, and fellows in Infectious Diseases and Microbiology. In recent years, she was a member of five thesis committees for PhD candidates, chairing two of them.
Ever the patient advocate, she did not hesitate to promote patient safety and quality. "Dr. Pat," as she was often called, had a tenacity that compelled her to revisit issues that concerned her until matters were resolved to her satisfaction. Such dedication to patient care and quality and her excellence as a microbiologist were recognized by many professional organizations. She served on advisory boards and scientific committees to the FDA, NIH, CDC, Clinical Laboratory Improvement Advisory Committee, and American Society for Microbiology. In 2003 she was honored by the CDC for leadership contributions to its initiatives including the Clinical Laboratory Improvement Act and CLIAC. In 2007, she was selected by the Joint Commission on Accreditation of Hospitals to chair the newly developed Pathology Advisory Council. Her national activities included service on two quality-associated committees that reported directly to the Secretary of Health and Human Services.
Charache served on the editorial boards of several microbiology and pathology journals and as a reviewer for more than a dozen other journals. She was president of the Maryland branch of the American Society for Microbiology and on more than a dozen committees for the national organization, most recently as chair of its Center for the History of Microbiology. For her outstanding service for advancing the field of microbiology and for her service to the American Society for Microbiology, Charache received one of the most prestigious awards to be bestowed upon a clinical microbiologist by the ASM, the bioMériuex Sonnenwirth Award for Excellence in Clinical Microbiology.
Charache's commitment extended beyond institutional and national service to the practice of microbiology at an international level. In service to the National Academy of Sciences as a member of the Board on Science and Technology, Charache traveled the globe and provided microbiology consultative services and mentorship to budding microbiologists and physicians in more than 20 countries. Often this work required upgrading laboratory facilities and education. Additionally, the list of other consultative services to ministries of health, WHO, private and public hospitals, and nonprofit children's organizations brought the countries visited during her career to well over 30.
Her most recent international activities involved efforts to curb tuberculosis through the Johns Hopkins SMILE initiative and an NIH tuberculosis project.
Charache is survived by her husband of 64 years, Samuel Charache, professor emeritus of pathology and medicine at Johns Hopkins; their daughter, Barbara Elizabeth Coleman, a research nurse at Johns Hopkins Bayview Medical Center; four grandchildren, Debra, David, Dean, and Daniel; her sister, Jane Pier; and her brother, Robert Connamacher.
In lieu of flowers, the family requests that contributions be sent to Doctors Without Borders, 333 Seventh Ave., 2nd floor, New York, NY 10001.