David E. Bush, an internationally recognized educator, cardiac CT expert, skilled angiographer, and longtime Johns Hopkins University School of Medicine faculty member, died on Sept. 3 after a long illness. He was 63.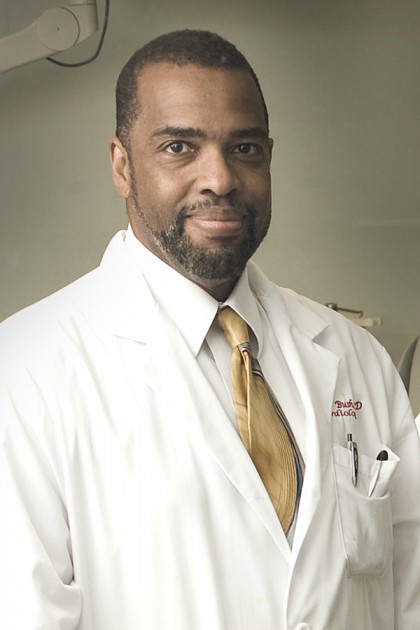 Despite his illness, Bush was seeing patients at his Johns Hopkins Bayview Medical Center clinic as recently as three weeks before his death.
A native of Southern California, Bush earned his medical degree from the University of California, San Francisco. He came to Johns Hopkins as an intern in 1977 and became the first African-American member of the Cardiology faculty in 1983. He forged an investigative career that would form the basis of many seminal therapeutic strategies. His research interests were wide-ranging and included National Institutes of Health–funded studies of the mechanisms of myocardial infarct expansion. He went on to study the pathophysiological consequences of depression following heart attack, spawning research efforts that continue today.
"David had such a wide spectrum of expertise," says Nisha Chandra-Strobos, chief of the Division of Cardiology at Johns Hopkins Bayview and a friend of Bush's for 37 years. "He had a unique ability to balance research with clinical relevance. David really brought the bench to the bedside."
Bush directed the CT program at Bayview and, along with imaging expert Edward Shapiro, developed a multidimensional CT research and educational program that quickly achieved worldwide recognition and accolades. The monthly CT training course is in great demand, drawing cardiologists, radiologists, and physicians from around the world. Bush last taught the five-day intensive course in June.
Bush served on multiple NIH study sections and important committees for the American Heart Association, including the Task Force on Cholesterol Issues and the Committee on Cardiac Catheterization. An active member of the Association of Black Cardiologists, he was named that organization's Member of the Year in 1999 and later served on the governing board. He quietly championed the importance of diversity not only at Johns Hopkins but in the field of cardiology throughout the United States.
"David Bush was a mentor, colleague, and friend," says Gordon Tomaselli, chief of the Division of Cardiology at the Johns Hopkins Hospital. "He embodied the spirit and lived the mission of Johns Hopkins. He will be deeply missed."
Bush is survived by his wife, Leslie Grant; his son, Evan; his father, Ebenezer Bush; and his brother, Ronald Bush. In lieu of flowers, Bush's family suggests that contributions designated to the David Bush Research Fund at Johns Hopkins be sent to the Development Office, 600 N. Wolfe St., Blalock 536, Baltimore, MD 21287.