Name

Johns Hopkins Media Relations

Email

Office phone

443-997-9009
Johns Hopkins University has joined nearly 300 cultural institutions on Bloomberg Connects, an app offering free digital access to art collections and exhibits around the world. Through the app, users can listen to exclusive audio guides, read commentary from art critics and historians, and view countless works of art. Johns Hopkins' digital collection launched at Bloomberg CityLab 2023 conference on Wednesday, Oct. 18.
Art is everywhere at Johns Hopkins, almost hidden in plain sight. Rather than being shepherded into a single gallery, works both commissioned and collected have been seamlessly integrated into their surroundings. In its current iteration, the Bloomberg Connects guide features art from the Homewood campus, the Sheikh Zayed Tower and Charlotte R. Bloomberg Children's Center at Johns Hopkins Hospital in East Baltimore, and the new Johns Hopkins University Bloomberg Center at 555 Pennsylvania Ave. in Washington, D.C.
All together, more than 200 public works of art found on Hopkins campuses are included, from historic portraits to large-scale sculptures to small sketches on paper. Bloomberg Connects is available for download on iOS and Android devices.
"Having a public art collection adds an aesthetic dimension to the campus environment that can be inspiring, thought-provoking, and even delightful," said Elisabeth Long, Sheridan Dean of University Libraries, Archives, and Museums. "We want to create spaces that are rich in meaning for our students, faculty, staff, and visitors. Innovative new digital tools like Bloomberg Connects foster even deeper inquiry and engagement with our public art while expanding access to the collection to the widest possible audience."
Homewood campus
One of Gilman Hall's most defining features is the white lanterns suspended from the atrium's three-story ceiling. These sculptural pieces, collectively titled Vessel Field, were commissioned from artist Kendall Buster and inspired by artifacts in the Johns Hopkins Archaeological Museum just one floor below. According to the Bloomberg Connects guide, the vessels stand "in contrast to the opaque, dense character of ancient pottery formed from clay."
Tucked away on the north end of the Homewood campus is the Bufano Sculpture Garden, a wooded respite from the bustle of academic life populated with stone bears, camels, penguins, and other whimsical animals sculpted by ​​Beniamino Bufano. Lined with benches and a shady gazebo, it's a relaxing spot to study—or to take a break from studying.
Johns Hopkins Hospital
The Sheikh Zayed Tower and Charlotte R. Bloomberg Children's Center are literally encased in art. The colors and patterning of the building's exterior are the work of artist Spencer Finch. Finch's subtle palette of 26 colors as well as the whiter layers of watery markings infused in the glass were inspired by the French Impressionist painter, Claude Monet—notably his famous gardens and lily ponds outside of Paris at Giverny.
Hundreds of works of art can also be discovered throughout the interiors of both the Zayed Tower and the Bloomberg Children's Center, intended to uplift the spirits and bring comfort to patients of all ages, as well as their families. In the Bloomberg Children's Center, the main theme is The Joys of Reading—with sculptures, dioramas, photographs, and paintings inspired by classic children's books. Similarly uplifting are the works that can be found throughout the Zayed Tower, where the common thread is Nature and the Natural World.
Hopkins Bloomberg Center
The debut of Johns Hopkins' Bloomberg Connects guide coincides with the opening of the Hopkins Bloomberg Center in Washington, D.C. Prominently featured in the building are four permanent art installations, expressly commissioned to integrate seamlessly within the new building's dynamic interior. Each of these four initiatives were carefully planned during the earliest stages of the building's development, in close coordination with the center's architects and the Hopkins Design and Construction team.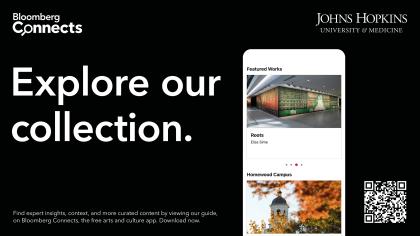 The most expansive of the four works was created by Ethiopian artist Elias Sime and his studio team in Addis Ababa. Titled Roots, Sime's work stretches around the three exterior walls of the center's theater—a primary destination at the heart of the entire building. Spanning an area of more than 2,000 square feet, Sime has completely enshrouded the south, east, and north walls of the theater from floor-to-ceiling with lyrical compositions entirely made from woven wires, circuit boards, computer keys, and other electronic parts—sourced from Addis Ababa's infamous market for e-waste. As a powerful presence from the moment one enters the Hopkins Bloomberg Center, Sime's Roots speaks to renewal and innovation.
The other three installations may lack Roots' formidable size, but they're equally impressive. Sam Gillam, widely recognized as one of the most innovative painters of his generation, was born in Tupelo, Mississippi, in 1933. He moved to Washington, D.C., as a young artist and made it his home until his death in 2022. He was able to complete his work for the ground floor of the center, A Lovely Blue And !, the year before. A radically thick, dense, and sculpturally shaped painting, it stands as a prime example of his late work.
Radiating out from the eastern end of the library floor, above the building's entry, is a tile mural created by the Brazilian artist Sandra Cinto. Her blue and white composition alludes to an open book or manuscript, its page numbers upper left and right (20 and 23) recording the year her installation was completed. The graceful images of water and sky, as well as the pentagram, expand on the line of text emblazoned across the wall: "From every mountainside let freedom ring." This line from "My Country, 'Tis of Thee" echoes the 1963 landmark speech delivered by Dr. Martin Luther King as he stood in front of the Lincoln Memorial, as well as Marian Anderson's history-making Lincoln Memorial Concert in 1939.
Finally, at the eastern end of Level 7, next to the Q Coffee Bar, is an informal gathering space graced by a glass mosaic mural. A work by Shahzia Sikander, her garden landscape, lushly rendered with vibrant bits of colored glass, it titled Metaxu—a Greek word meaning "in between'' or "middle ground." The Polish poet and essayist Adam Zagajewski reinterpreted the word to describe the state of a human being who is perennially nomadic; French philosopher Simone Weil further added to this definition, describing "metaxu" as the condition of those who pursue lifelong paths to truth and knowledge. Born in Lahore, Pakistan, as a young artist Sikander chose to learn the ancient techniques of miniature paintings created to illuminate manuscripts. Since moving to the United States in 1993 to continue her studies, she has gone on to create works of many scales, in a broad range of materials and techniques, replete with her own vocabulary of images and references. She generated her final imagery for Metaxu with a painting, which she then translated into a digital animation. Among other honors, Sikander is a recipient of the MacArthur prize (2006). She lives and works in New York City.