Name

Johns Hopkins Media Relations

Email

Office phone

443-997-9009
A crisp breeze filled the air, sunlight glistened on the glass and steel, and the pitch-perfect voices of an a cappella group rang in the background as hundreds of alumni, friends, guests, and members of the Johns Hopkins University community gathered Thursday morning for an outdoor dedication ceremony of the Johns Hopkins University Bloomberg Center, the university's new home in Washington, D.C.
Located at 555 Pennsylvania Ave. NW, in the heart of the nation's capital, the state-of-the-art architectural marvel opened its doors this fall as a hub of interdisciplinary research, collaboration, and education across the institution's 10 divisions and as a bridge to evidence-based policymaking that works to solve pressing global problems and advance the common good.
In his remarks Thursday morning, Johns Hopkins University President Ron Daniels described the building as "10 stories of soaring staircases and walkways—literal avenues of possibility connecting people, ideas, and disciplines." The building, Daniels continued, "represents more than brick and mortar masterfully assembled. It is also the physical manifestation of an idea born almost 150 years ago with the brave founding of our university. ... As our first president, Daniel Coit Gilman, once said, Johns Hopkins was, from its conception, free from the constraints of either church or state. It was built solely to promote 'the discovery and promulgation of the truth.'
"So, as we dedicate this building," Daniels added, "we also rededicate ourselves to the founding idea of the modern research university—to the university as an institution resolutely devoted to the promise of discovery and knowledge to impact our world. To the power of reason and fact as the foundation for progress. To the spirit of convening and collaboration, of exploration and inquiry, even across lines that threaten to divide and diminish us. And to an unyielding belief in the fundamental dignity and boundless potential of all people. This is our charge."
Michael R. Bloomberg, founder of Bloomberg LP and Bloomberg Philanthropies, 108th mayor of New York City, and a Johns Hopkins alumnus, addressed the crowd by video, heralding "an exciting new chapter for Hopkins and for Pennsylvania Avenue, too."
Bloomberg thanked Washington, D.C., Mayor Muriel Bowser for her support of the Hopkins Bloomberg Center and praised her efforts to revitalize the city's downtown—a plan that builds on the earlier work and vision of President John F. Kennedy, who "wanted to blend commerce, education, and the arts into a lively thoroughfare," Bloomberg said.
"It's fair to say that this building belongs as much to the city as it does to Hopkins," Bloomberg continued. "Here in the heart of the nation's capital, the center will host policymakers, opinion shapers, and researchers from across a range of fields and political ideologies, work that will promote and strengthen our shared democratic ideals. Together, they will debate ideas, not shut them down. They will analyze evidence and data, not fabricate them. They will promote new knowledge and understanding that help tackle many of the nation's and the world's most difficult challenges."
Following a collaborative performance of "My Country 'Tis of Thee" (also known as "America") by Carl DuPont, an artist, innovator, and bass-baritone vocalist, and Anthony Parker, a hip-hop artist known by his stage name, Wordsmith, Bowser welcomed Johns Hopkins University to the neighborhood,
"This space … represents our primary downtown industries: feds, eds, meds, and tech," she said. "It represents our ability to take old spaces and repurpose them into something beautiful and new. It represents our work … to transform and modernize the historic corridor of Pennsylvania Avenue [and] the heart of our city's five-year comeback plan, which has centered on Washington and our people."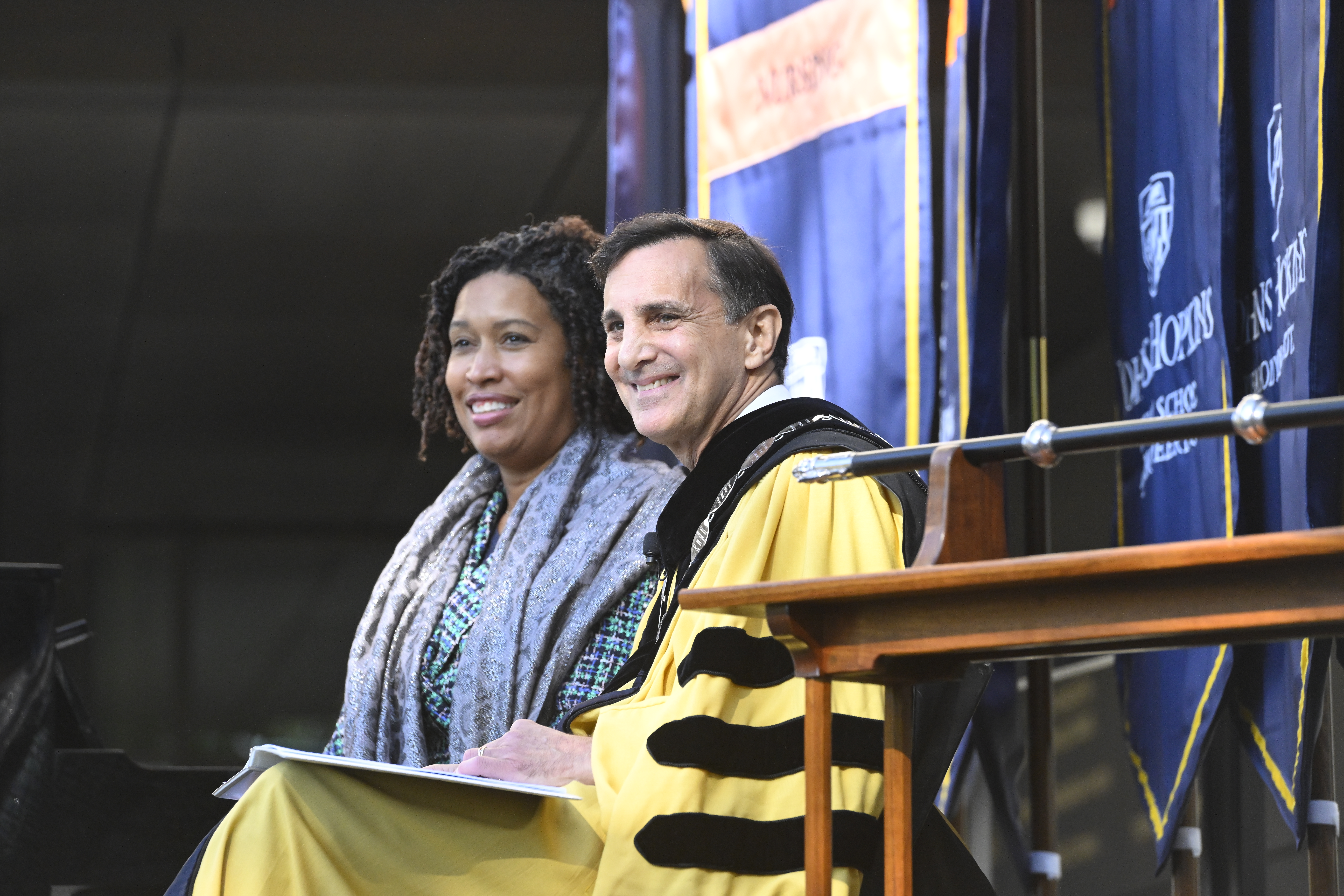 "We love to see so many students coming to this location," the mayor continued. "Washington, D.C., is already one of the most educated cities in the world, and it's because we have world-renowned institutions like Johns Hopkins here. We know people come to Washington to change the world, and that's going to happen right here."
Following the ceremony, those in attendance were invited to explore the building's awe-inspiring interior during an open house. Docents led tour groups through the center's large, floating, transparent cube and treehouse-like stacked assemblage of glass classrooms, its 375-seat theater, its three floors of conference center space, and its landscaped roof terraces, among other spaces. Natural light illuminated the interior, pouring through the many glass windows that offer expansive views of Pennsylvania Avenue and federal buildings including the U.S. Capitol.
"This place is so modern—it's really amazing," said Wei Wei Huang, a graduate student in finance at the Johns Hopkins Carey Business School, who traveled from Baltimore with two of her classmates to attend the dedication ceremony and see the new center firsthand.
"This is a big change from Peabody, where everything is historic," said Maura Langella, a senior studying classical performance at Peabody Institute of Johns Hopkins University, as she stood in the atrium taking in her surroundings. Lyndsey Notaro, a classmate of Langella's who is also studying classical performance, added that she "can't wait to come back in February for our first Peabody production in the building, an interactive children's opera of Hansel and Gretel."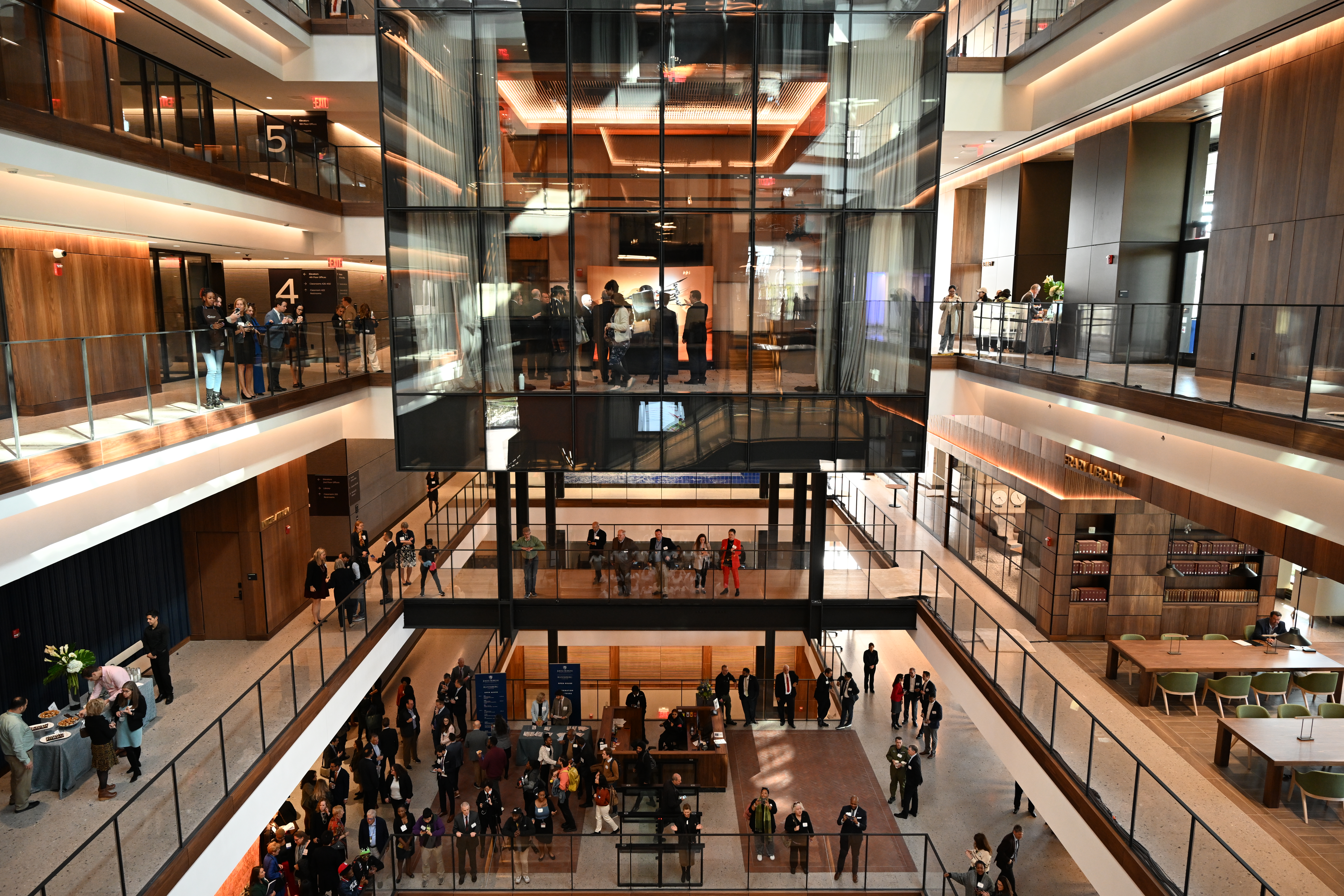 Faculty members are eager, too, to reap the benefits of a space designed to foster collaboration both among colleagues across disciplines and with government agencies and policymakers.
"I'm excited to see what we can do when we bring together the incredible talents and strengths of Johns Hopkins with the incredible talents and strengths of Washington, D.C.," said Sabine Stanley, vice provost for graduate and professional education at Johns Hopkins and a world-class planetary physicist.
Clusters of guests meandered in and out of the glass-walled spaces, stopping to look intently at, discuss, and even touch some of the large-scale art commissioned for specific sites in the building, created by artists from around the world—Ethiopian installation artist Elias Sime, Brazilian muralist Sandro Cinto, American painter Sam Gilliam, and Pakistani-American mosaic artist Shahzia Sikander.
Others filtered in and out of exhibits on display, from a presentation on global interactive health data to an exhibit on how rare books and manuscripts from the past can influence policy discussions today. Likewise, visitors could see up close a replica of the dual-quadcopter Dragonfly developed by scientists at the Applied Physics Lab to explore Saturn's largest moon, Titan, and potentially unlock answers to the chemical interactions involved in the creation of life. They could also try on virtual reality goggles and browse an artificial intelligence showcase.
An afternoon talk, "The Creative Voice: The Artist and the University," featured a conversation among artists Cinto and Sikander and art curators Lowery Stokes Sims, a graduate of Johns Hopkins University, and Nancy Rosen. Later, Peabody musicians hosted a concert featuring a sampling of American music.
For many in attendance, the day marked the culmination of years of hard work and collaboration required to make the Hopkins Bloomberg Center a reality.
"One of things we thought deeply about in the design is how to create a magnetic building, where people want to be here in person, and where people can have spontaneous, impromptu conversations that lead somewhere and might be the makings of something great to come," said David Rockwell, founder and president of Rockwell Group, the architectural and design firm that created the building's open, transparent, and highly flexible interior.
Rockwell said he spent countless hours inside the building before it opened, wondering what it would look and feel like abuzz with students, faculty, policymakers, and others.
"When I look around, I see a place that people want to be in, a place that is pulsing and alive with energy," he said.