Name

Johns Hopkins Media Relations

Email

Office phone

443-997-9009
The new Johns Hopkins University Bloomberg Center at 555 Pennsylvania Avenue opened this fall with a mission to connect the worlds of research and policy, educate future leaders and innovators, convene a range of viewpoints to foster discovery and dialogue, and bring a fresh infusion of artistic expression to the heart of the nation's capital.
The Hopkins Bloomberg Center will host programming from all corners of Johns Hopkins, bringing experts, students, and researchers from all of the university's Baltimore- and DC-based divisions together on one of America's most iconic avenues.
Hopkins also announced today that it will launch a new School of Government and Policy at the Hopkins Bloomberg Center, joining the university's celebrated School of Advanced International Studies (SAIS), the Krieger School of Arts and Sciences, the Carey Business School, the Peabody Institute, and other academic divisions and initiatives with a significant presence in the new facility. The School of Government and Policy will be the first new academic division launched at Hopkins since 2007.
The opening of the Hopkins Bloomberg Center has been years in the making, noted university President Ron Daniels. "The opening of the Hopkins Bloomberg Center marks a significant moment in the life of our university. The new center will deepen our presence in D.C. at a time when society is struggling to come together to solve problems and seize opportunities to advance the common good," said Daniels, explaining that the center's landmark location was carefully selected to foster collaboration and innovation with policymakers and practitioners. "Through the center, we will amplify our university's proven capacity to bring the world's greatest research and data-driven approaches to government innovation and policy."
Located at the doorstep of our nation's government, the Hopkins Bloomberg Center will be a hub of interdisciplinary collaboration, education, and convenings, and an academic engine to advance solutions to the challenges that confront city halls, Washington, and beyond.
"We are honored that the Johns Hopkins University Bloomberg Center chose to open a new space on Pennsylvania Avenue in the heart of our downtown," said Washington, D.C., Mayor Muriel Bowser. "We have set the bold goal to win back our downtown by making Washington, D.C. a place for successful businesses and opportunity-rich neighborhoods. Johns Hopkins University Bloomberg Center brings a new hub for global leaders to convene, and new employment and educational opportunities to our downtown."
School of Government and Policy
With its new School of Government and Policy, JHU aims to shift and strengthen the training offered to the next generation of public officials and civil servants. Building on core competencies within the university, the school will bring data science and evidence-based research to the forefront of the curriculum and emphasize the role of the public sector in guiding and supporting innovation that moves society forward. The new school will scale Johns Hopkins' proven ability to leverage the critical insights and advances that arise from academic research and innovation to help governments and policymakers. Hopkins has a long-established presence in Washington policy circles, including through the Bloomberg School of Public Health and SAIS, which recently hosted the inaugural cohort of U.S. –ASEAN Institute for Rising Leaders fellows, in concert with the White House, to offer midcareer public service professionals from ASEAN countries leadership enrichment and development in key international issues.
"Anchored in our magnificent new home in the nation's capital, the School of Government and Policy will bring novel expertise and insight informed by large-scale data sets to shape policy and address the challenges facing our nation and world," said JHU President Ronald J. Daniels. "This new school will draw on our university's existing strengths in international studies, public health, medicine and life sciences, and engineering and technology and offer a different approach to the work of government and policy, one that can help rebuild confidence in our institutions and advance new and needed approaches for more effective government."
The School of Government and Policy will be co-located with SAIS at the new facility, allowing the two schools to find synergies and collaborations that bring faculty expertise to transnational challenges in areas such as technology policy, climate, sustainability, and economics and finance. The school will also draw on the work of existing government-strengthening ventures at JHU such as the Bloomberg Center for Public Innovation and the Bloomberg Center for Government Excellence. The school is anticipated to serve 200-250 students.
The search for the inaugural dean will soon begin, and the new academic division is projected to matriculate its first cohort of graduate students and offer coursework and other educational opportunities for undergraduate students by fall 2026.
The Building
The Hopkins Bloomberg Center at 555 Pennsylvania Avenue, designed in partnership with Ennead Architects, Rockwell Group, and SmithGroup, reimagines the former Newseum building as a flexible, 435,000-square-foot campus for higher learning designed to facilitate dialogue, learning, and public engagement.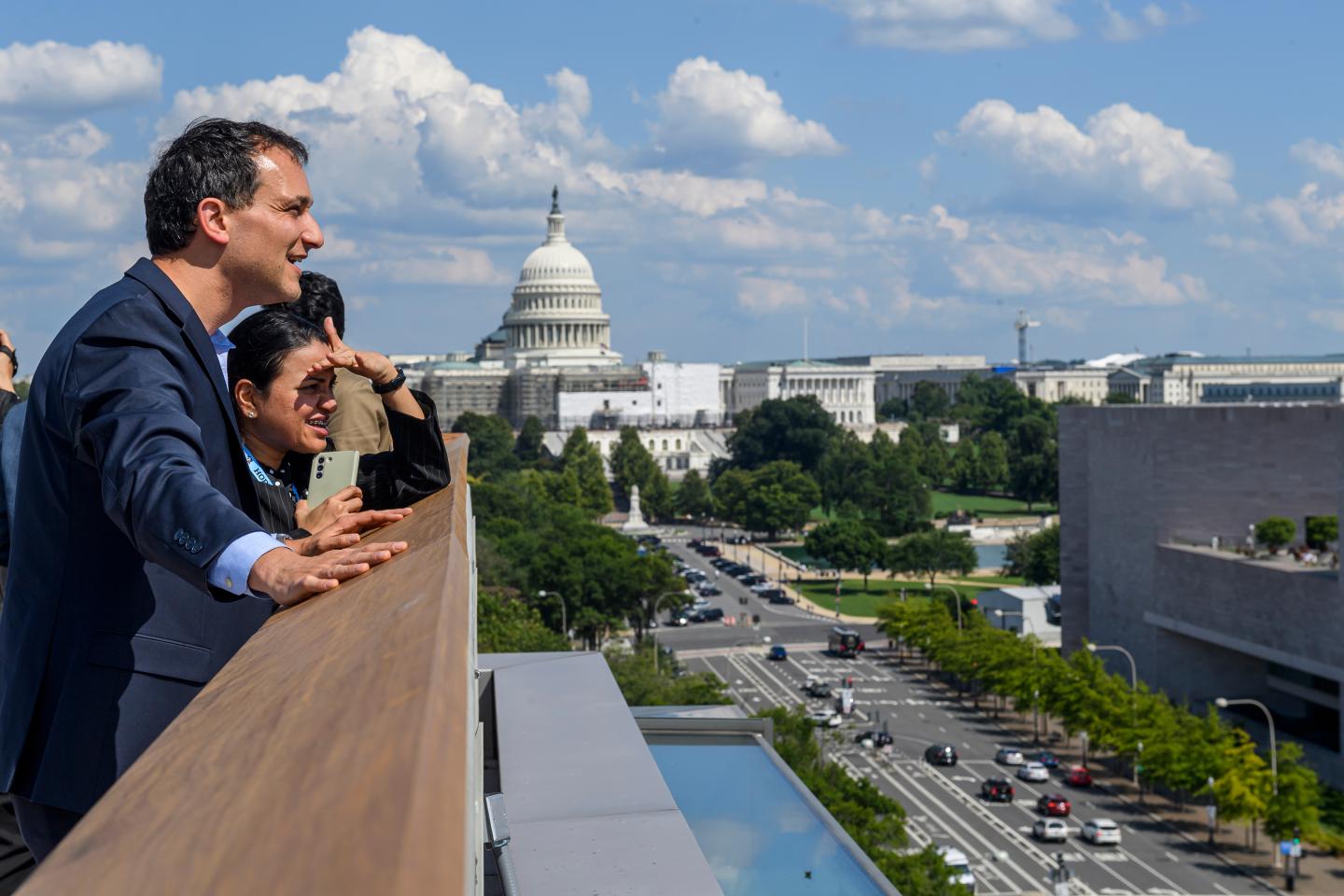 Manifesting its mission, the facility's design fosters transparency, exchange, and connectedness, featuring an expansive glass façade that invites public engagement; a central atrium that unifies the Johns Hopkins community and from which rises a seven-story, vertically ascending hub for interdisciplinary collaboration, research, and education; and flexible spaces for learning and convening throughout the building that adapt to the needs of multiple programs and emerging pedagogies.
The building includes a state-of-the-art theater for music and dance performances that are free and open to the public, from a variety of artists including distinguished faculty of the Johns Hopkins University Peabody Institute, accomplished students and alumni, and guest artists; and commissioned installations throughout the building from award-winning local and international artists. Deepening Johns Hopkins' commitment to driving dialogue that impacts our global future, the new center will offer public performances and art installations that reflect and interpret our society; increase public access to and understanding of the arts; provide a platform for creative expression across a broad range of viewpoints and artistic traditions; and foster community and civic engagement.
DEDICATION WEEK EVENTS
Oct. 18: 10th Annual Bloomberg CityLab – The preeminent global cities summit organized by Bloomberg Philanthropies in partnership with the Aspen Institute.
Oct. 19: Dedication and Open House, featuring talks from:
Michael Bloomberg, founder of Bloomberg LP and Bloomberg Philanthropies, and 108th Mayor of New York City (Class of '64)
Mayor of Washington, D.C., Muriel Bowser
Johns Hopkins University President Ron Daniels
Inaugural Peabody Conservatory Concert with mezzo-soprano Denyce Graves
Music and dance performances by Peabody Institute students and faculty
Docent-led tours of art installations and a panel discussion with curators Lowery Stokes Sims and Nancy Rosen and artists Shahzia Sikander and Sandra Cinto
PUBLIC EVENTS AND PROGRAMMING
The university aims to leverage its new landmark location to inform national, local, and global policymaking through events, briefings, and convenings, and to help global leaders respond to rapidly evolving public needs by serving as an unbiased source of evidence-based insights.
Already this fall, SAIS has hosted Secretary of State Anthony Blinken, and U.S. Space Force Chief of Space Operations, General B. Chance Saltzman for events in the building, and the Office of the Mayor of D.C. held a cabinet meeting in the building's convening facilities. Later this fall, The National Security Innovation Forum, hosted by the Pallas Foundation at the Johns Hopkins University Bloomberg Center, will provide an opportunity for leaders to discuss how to strengthen our nation's defense.
Moving forward, the Hopkins Bloomberg Center will host programming from all corners of Johns Hopkins, bringing experts, students, and researchers from all of the university's Baltimore- and D.C.-based divisions together on "America's main street." As a convening destination, the Hopkins Bloomberg Center will infuse the D.C. discourse with evidence-based research findings, constructive dialogue across a diversity of perspectives, and fresh, actionable policy ideas. The center will also bring a boost of cultural programming to downtown D.C. through a new performing arts venue that will serve as the Washington home for the Peabody Institute.