Nearly 300 students from across the country gathered for a sleepless 36-hour weekend coding marathon in Hodson Hall, starting the evening of Friday, Sept 15. Fueled by Red Bull and pizza, students from more than 20 universities "hacked" together all-new programs and applications to solve real-world problems—from a machine learning algorithm to help you decide if that coffee cup really is recyclable to a digital pillbox that alerts you to over-the-counter drug interactions.
Hosted each fall by the Johns Hopkins University Department of Computer Science, HopHacks is a 36-hour hackathon where students are invited to solve technology challenges, network with peers, compete for prizes, and participate in professional development workshops presented by sponsors such as Bloomberg L.P., Information Technology at Johns Hopkins, the Johns Hopkins University Applied Physics Laboratory, and more.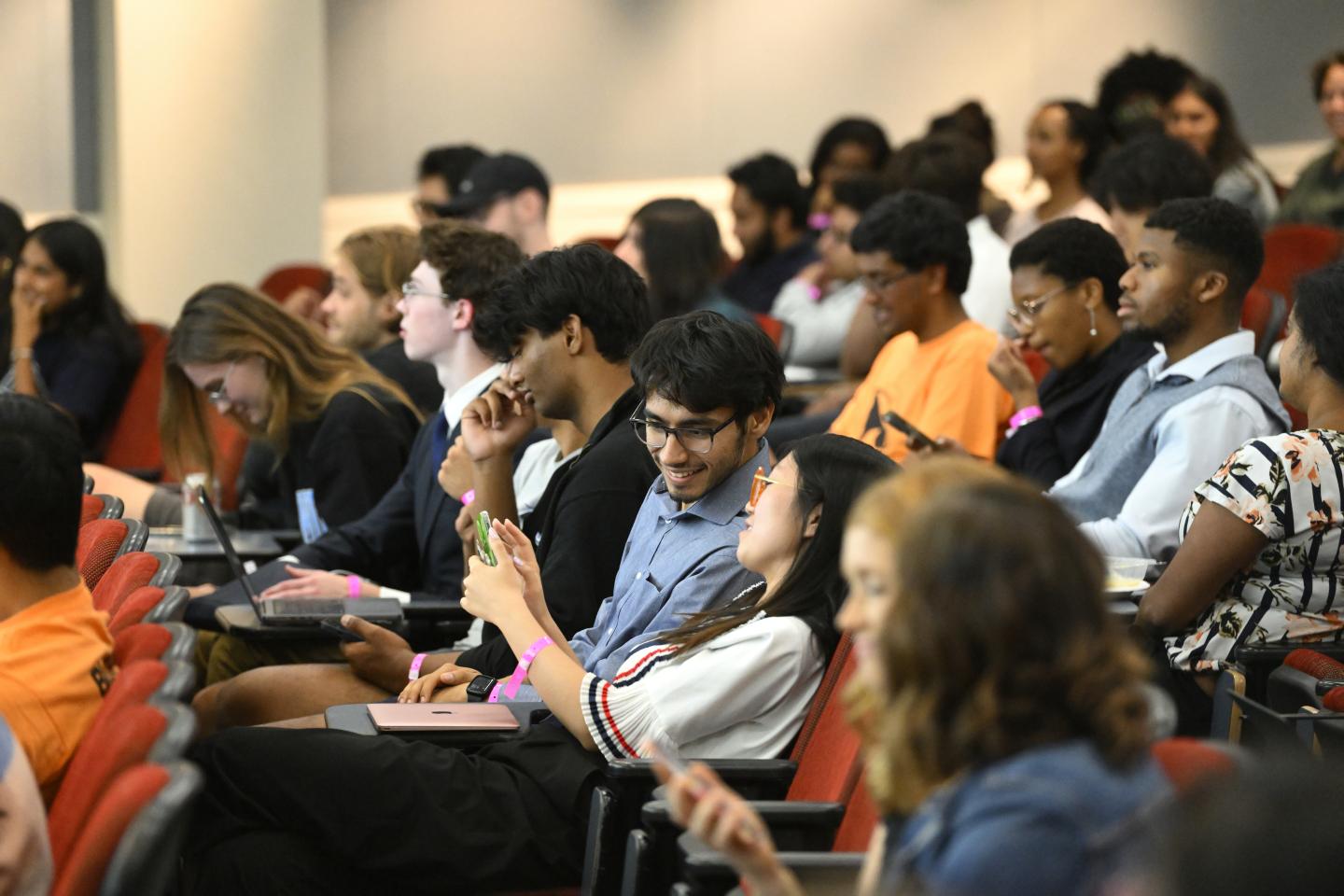 Teams of up to four students had from 9 p.m. Friday until 8:45 a.m. Sunday to hack together their projects. While they were allowed to use publicly available libraries and application programming interfaces (APIs), sponsored computing frameworks, and even artificial intelligence apps like ChatGPT, every single line of code had to be written within the walls of Hodson Hall.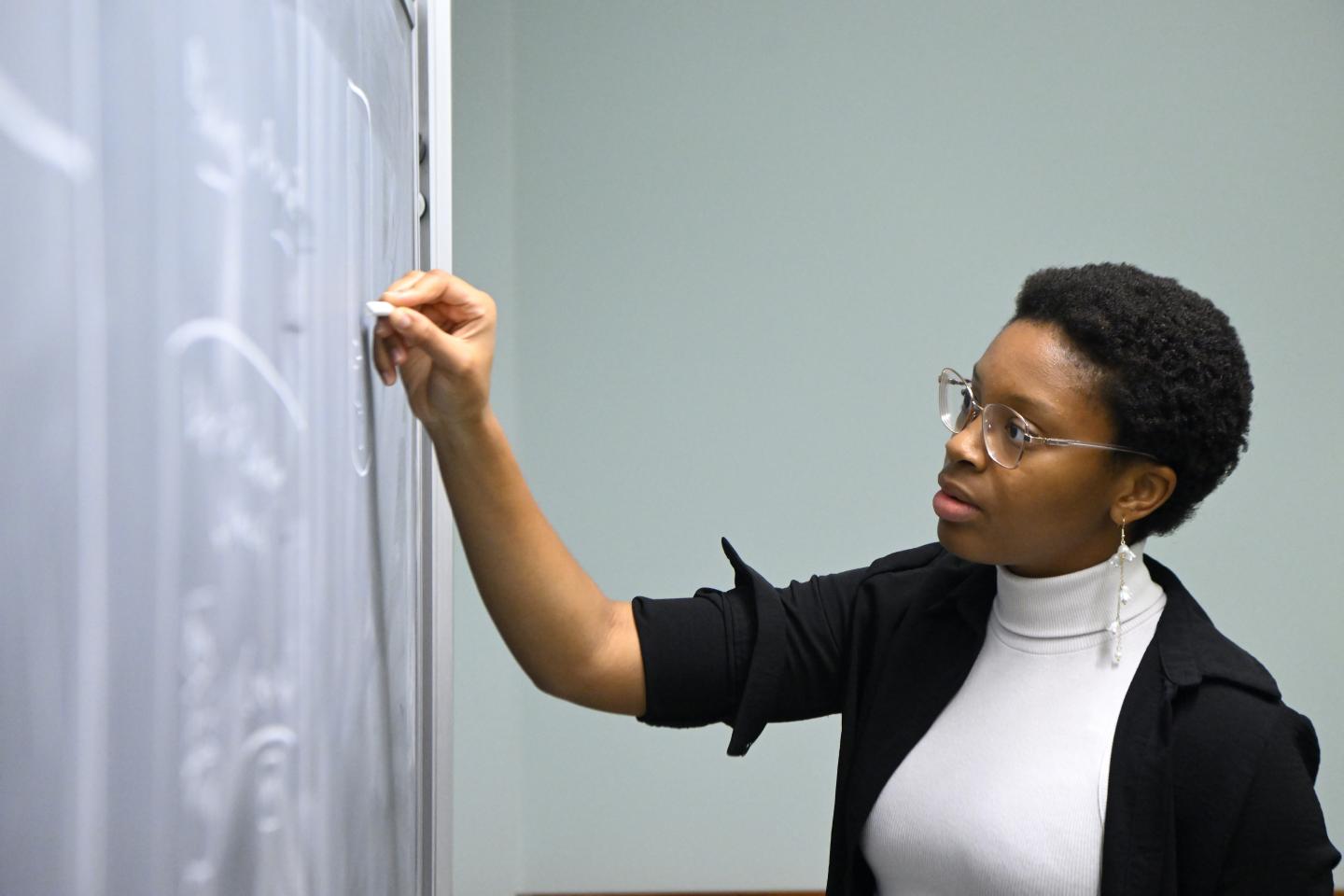 This year, student hackers vied for their share of a $10,873 prize pool. First, second, and third place prizes—$1,024, $512, and $256, respectively—were awarded based on submissions' overall usefulness, level of polish, creativity, and technical difficulty, but participants also could choose to submit solutions to specific challenges posed by sponsors including the Pittsburgh Regional Health Initiative, BGB Group, FastForward U, and Major League Hacking.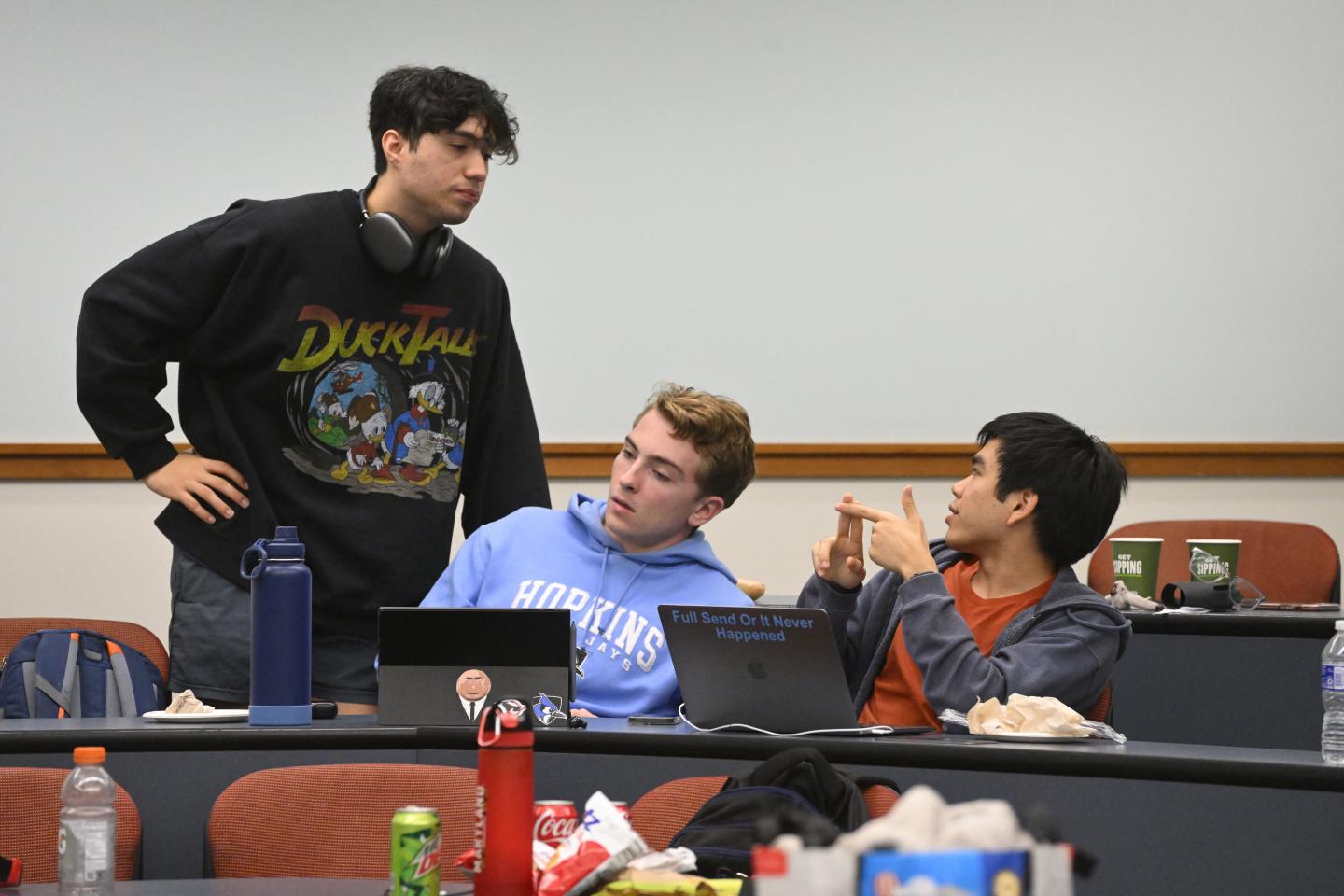 Out of 50 submissions, a local hacking duo—Zavier Howard, a senior majoring in computer science at the University of Maryland, Baltimore County, and Ryan Phillip, a senior majoring in mechanical engineering at the University of Maryland—earned this year's grand prize: the Jimmy Shi Memorial Prize, named in honor of the late 2021 graduate and former HopHacks team member. Inspired by the magical hand signs popular in anime fight scenes, the Maryland-based team coded a turn-based combat game, Majestic Signs, which uses common arthritis pain exercises as cues to unleash devastating spells.
"The idea to use hand signs to launch magic attacks was inspired by one of my favorite shows, Jujutsu Kaisen," says Howard, "but Ryan had the awesome idea to involve certain stretches that would help people with arthritis."
"We're all using handheld devices every day now. Why not give our hands some stretching support—and make it fun, too?" adds Phillip.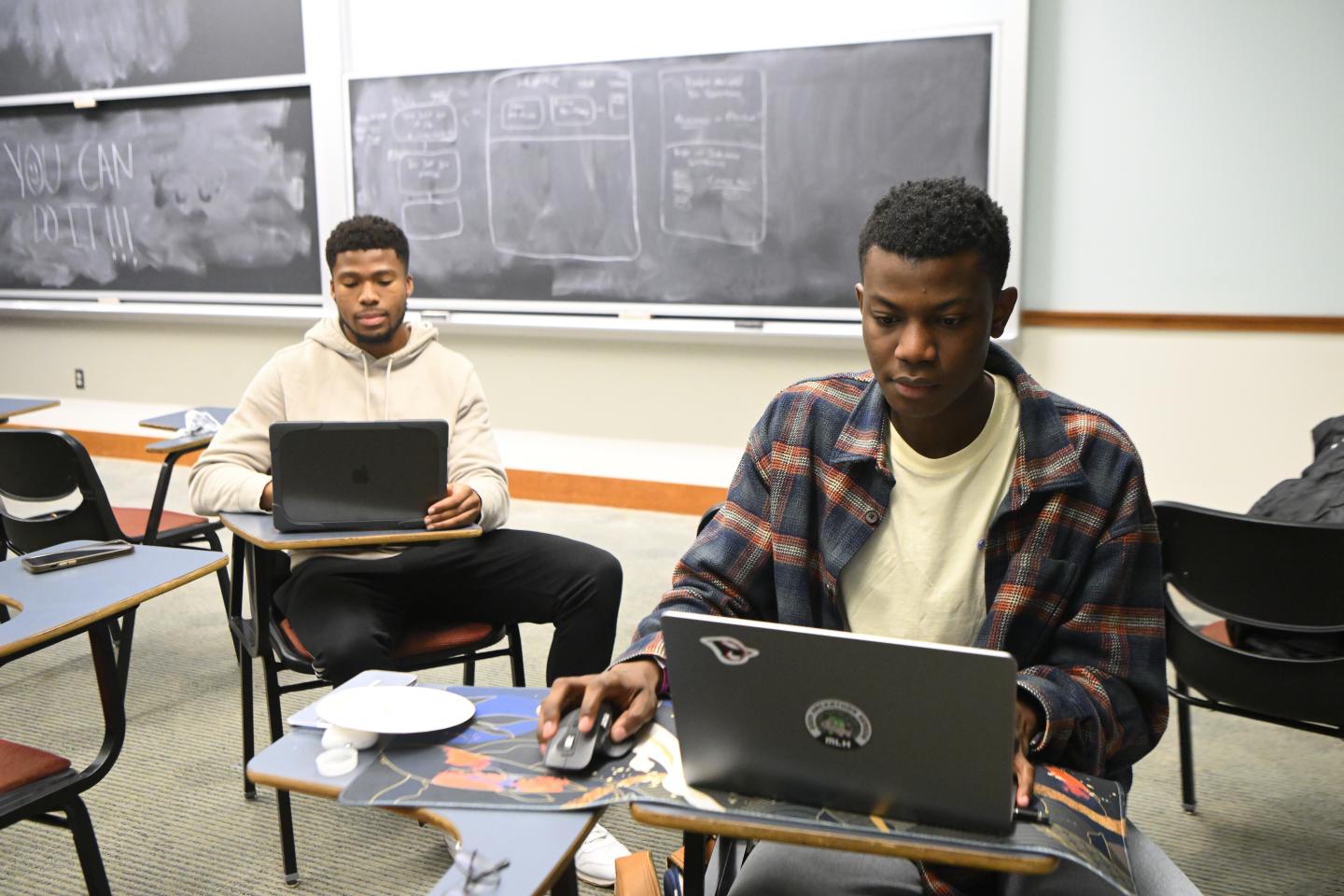 Hopkins students dominated the remaining leaderboard: Sungwon Kim, a senior majoring in computer science, took second place with a program that gives interested readers direct access to the most relevant sections of any article referenced in a research paper, while a team of all first-year students—computer science majors Shivam Aarya and Malcolm Krolick, biomedical engineering major Tarini Basireddy, and mechanical engineering major Samuel Lihn—nabbed third place overall, secured a FastForward U New Venture Prize, and also won the Patient Safety Technology Challenge with their smartphone-based surgical tool tracker, Countability.
Inspired by the recent news of a plate-sized surgical tool left in a woman's abdomen for 18 months, the Countability team developed a smartphone app to take real-time inventory of surgical tools used throughout an operation. Using computer vision and object tracking methods, the application automatically alerts users to unaccounted-for objects during the different phases of a surgery.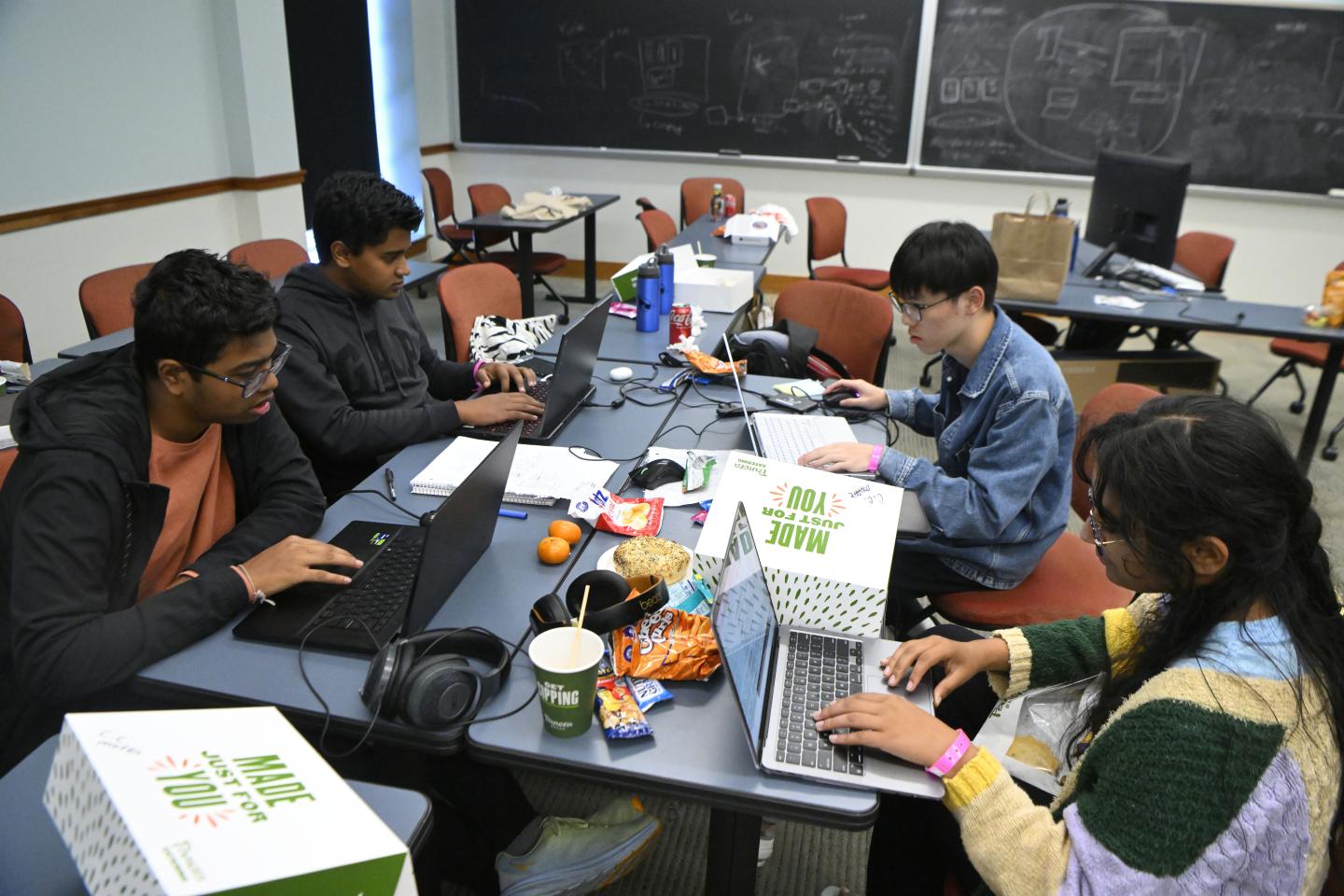 The best part? There's no internet connection required. According to the hackers' final presentation, users should be able to deploy the app even in even the most desolate off-the-grid locations.
"We've worked diligently to ensure that our platform remains low-cost and with low resource requirements, making it accessible to a wide range of medical settings," the team writes.
After two sleepless nights, showers in Maryland Hall, gallons of coffee, and even a "Rickroll" during a live coding demo, participating students walked away from the challenge with new friends, complimentary swag, and a jumpstart on their next big venture.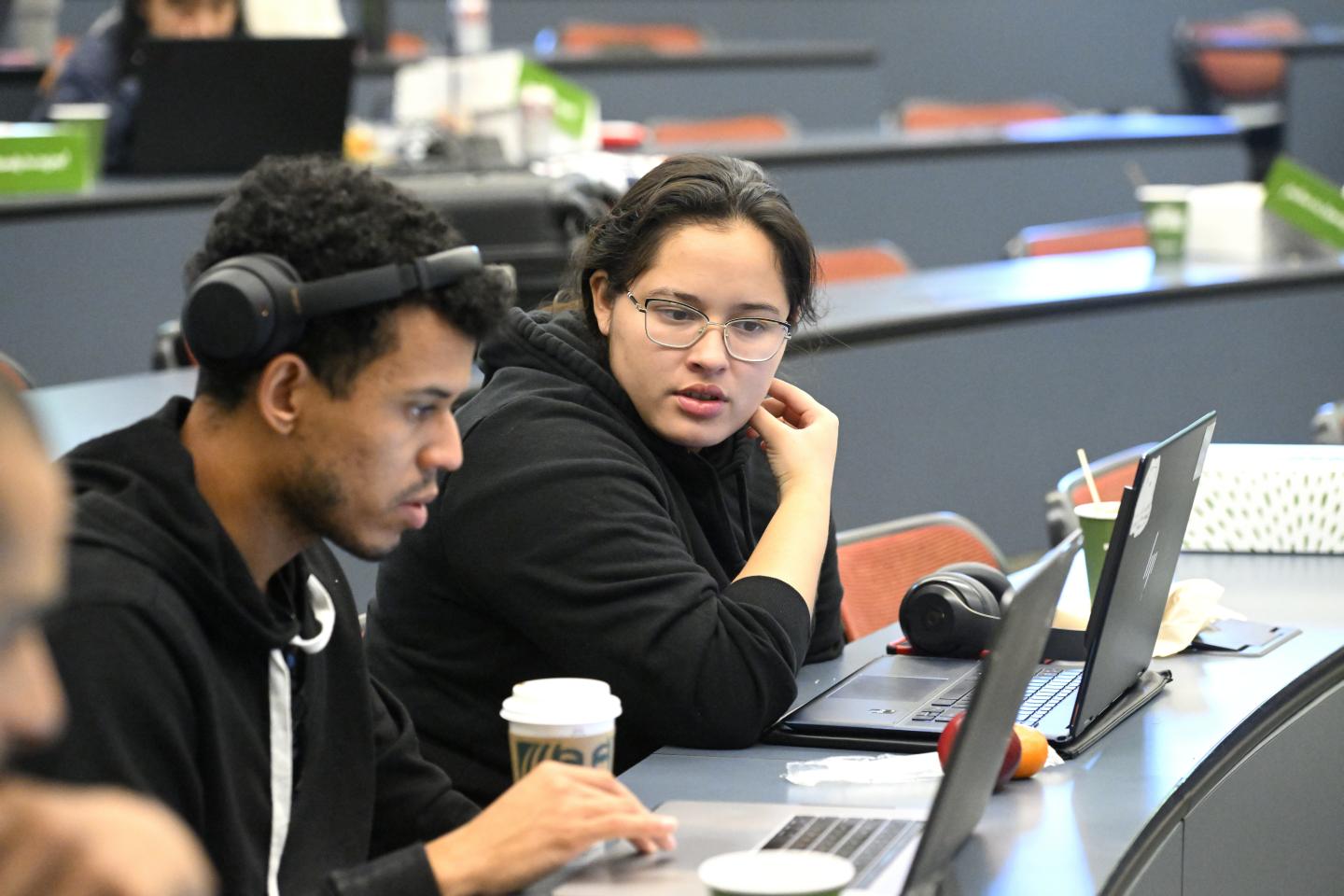 "HopHacks is an amazing event because it drives innovation, fosters collaboration, and turns creative ideas into solutions for real-world problems, all while embracing the mantra of 'learning while doing,'" remarks Akhil Deo, this year's HopHacks director and a junior majoring in computer. "Even if you can't code, HopHacks is a great way to meet members of industry and acquire knowledge of different areas of computer science."
See the full list of winners and submissions here.