Name

Johns Hopkins Media Relations

Email

Office phone

443-997-9009
On a recent chilly afternoon, a cluster of Johns Hopkins students and instructors makes its way through rows of headstones and family plots in a pocket of southwest Baltimore. The gray of the late-winter sky is almost the same shade as the 19th and 20th century grave markers that dot the rolling terrain sloping down toward the Reddy Ice factory off Annapolis Road. The scholars tread gingerly along the uneven ground, dodging hidden craters and puddled rainwater. Geese flock in the far section called Simpson Circle.
Mount Auburn Cemetery is one of Baltimore's largest African American cemeteries. It was founded in 1872 by the Rev. James Peck of Sharp Street Memorial United Methodist Church, one of the city's oldest congregations, which still owns and operates it.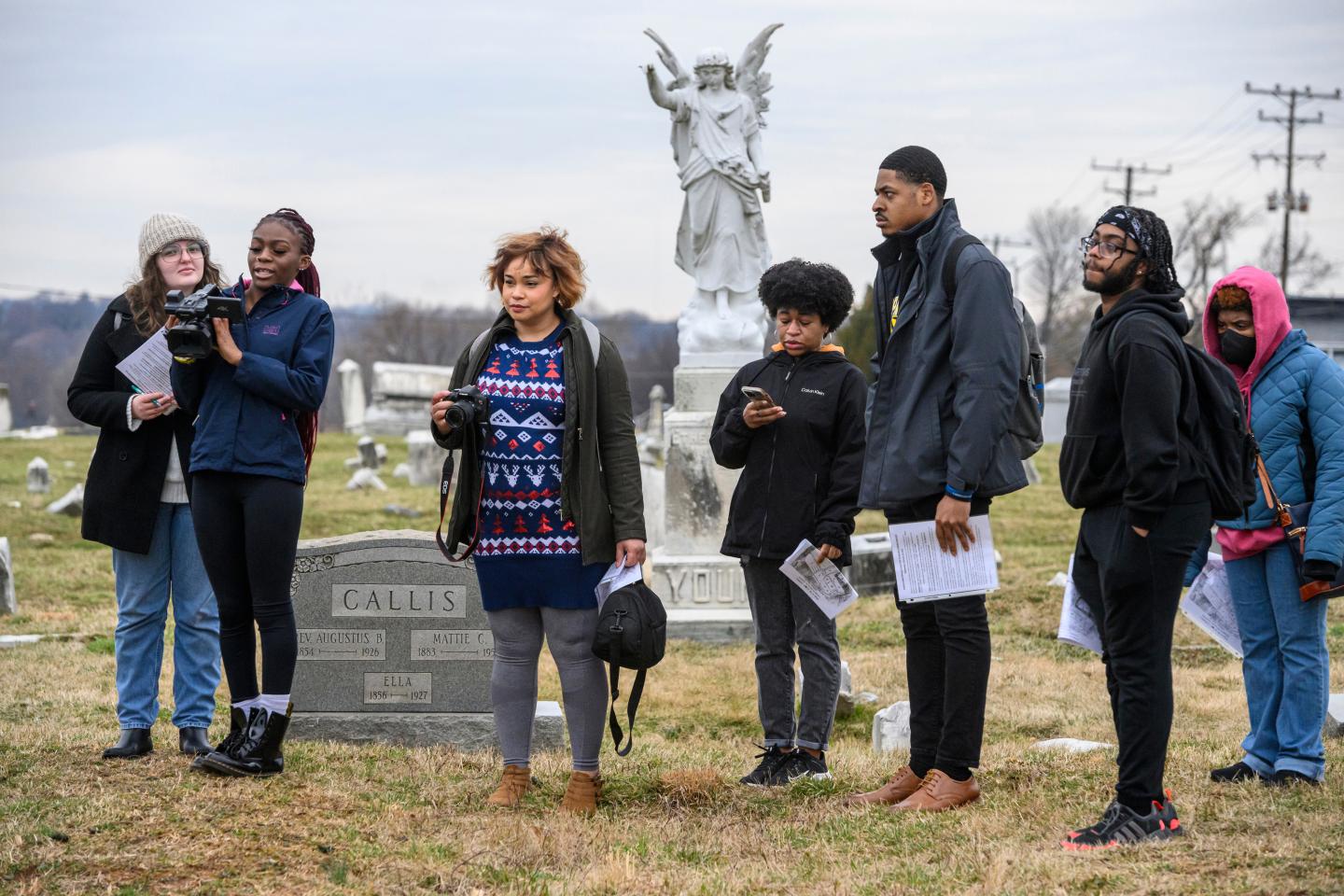 The cemetery is also one of the sites at the heart of Researching the Africana Archive: Black Cemetery Stories, a community-engaged course co-taught by Gabrielle Dean. Dean is William Kurrelmeyer Curator of Rare Books and Manuscripts at the Sheridan Libraries, and an adjunct professor in the Department of English and the Program in Museums and Society.
It's been so powerful that we're learning from each other in this way, thinking hard about Baltimore history and getting out of the Hopkins bubble."
Gabrielle Dean
William Kurrelmeyer Curator of Rare Books and Manuscripts, Sheridan Libraries
Held in alignment with classes at Morgan State and Coppin State universities, the course explores the stories of Baltimore's historic Black cemeteries within the larger context of the nationwide movement to discover, recover, and maintain Black cemeteries. Today's visit marks the beginning of the student field work and research segment, which will add to historians' knowledge about Mount Auburn as well as northeast Baltimore's Laurel Cemetery, and reveal new information about some of the people buried there.
"I've never really thought about looking at history through cemeteries, so it's been really interesting learning about that. You can learn so much, match records, and try to find a person's history and how it connects to a greater history in general," says Sam Muzac, a sophomore studying computer science.
Mount Auburn
Cemetery records document that some 56,000 people are buried here, including civil rights leader Lillie Mae Carroll Jackson; Afro-American founder John Henry Murphy; Joseph Gans, the first African American lightweight boxing champion; and thousands of clergymen, teachers, doctors, veterans, and other prominent and less prominent individuals and their families. But the real number is estimated to be closer to 70,000.
As he leads the scholars through the grounds, co-instructor and Mount Auburn research coordinator Jesse Bennett points out some of the sites. Pitcher Leon Day once stood at the spot where he believed Negro League infielder and Baltimore Black Sox manager Frank X. Warfield was buried, though Warfield's grave turned out to be located on the far side of that section. Capt. E. N. Wilson's headstone features an engraving of a three-masted schooner, leading to speculation that he had been a captain, but it turned out that he was an Eastern Shore oysterman who loved ships.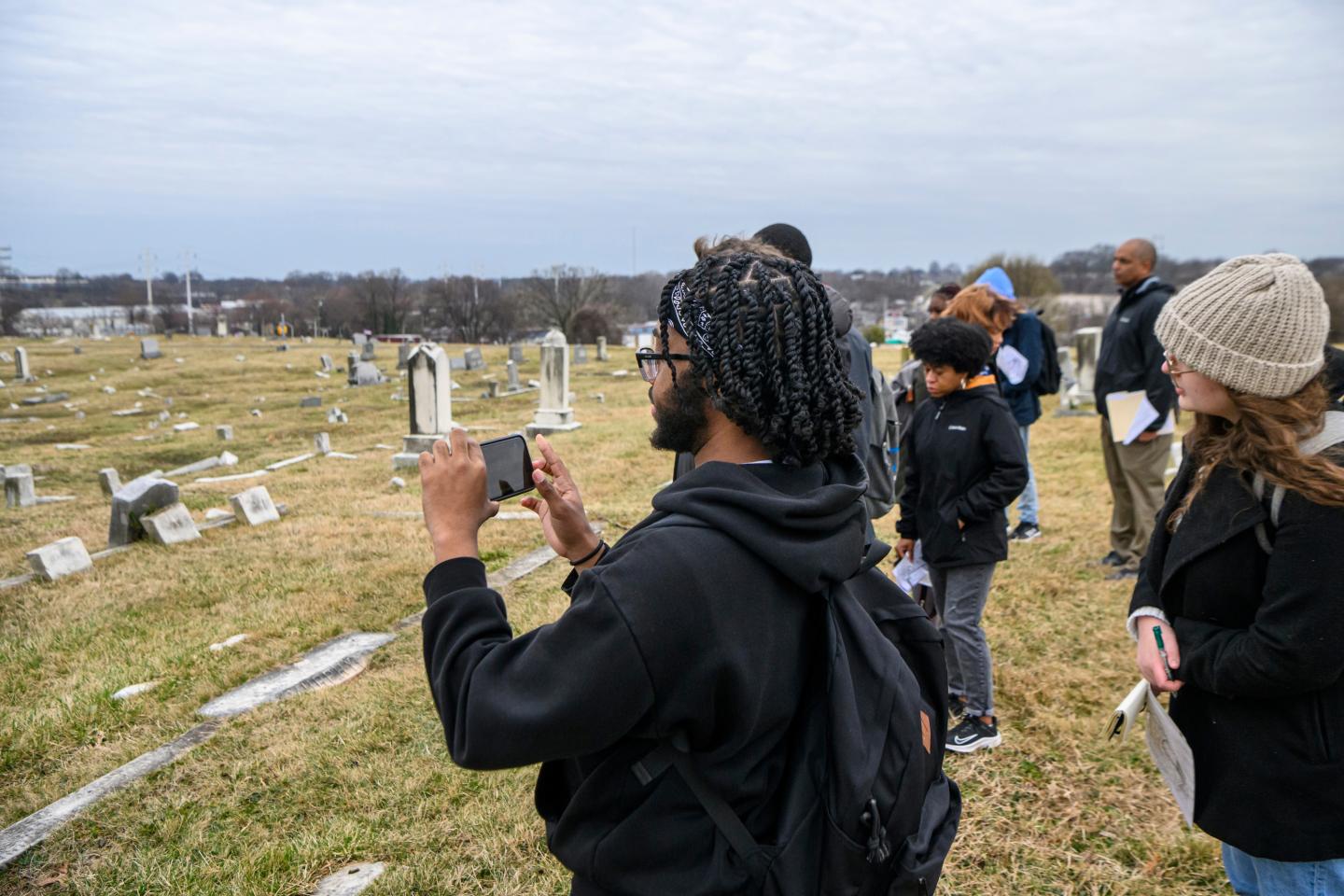 Cemetery maintenance requires significant resources, and weather and overgrowth triggered erosion and other damage over the years before volunteers, individuals incarcerated in Maryland state prisons, and the Baltimore Washington Methodist Church began clearing the property. Today, a three-year grant pays landscapers to keep the grass mowed. Waterlogged soil allowed stone markers to tip or fall, obscuring some of their identifying information. All of these issues combine to create challenges for family members and researchers trying to locate graves.
Bennett stands near the Holding Vault, a dilapidated building adjoining the cemetery's oldest section once used to store bodies when there was a backlog, and points out the area of mass graves from the 1918-19 Spanish flu pandemic. A pile of obelisk-shaped stones sits atop one of the sites.
"There were approximately 250 bodies down by the railroad, piled up," explains Bennett, a retired educator. "Eventually the mayor asked the governor for help. The governor sent troops from Camp Meade—it's now called Fort Meade—all Colored Troops, who came and buried those bodies along the southern boundary of the cemetery." Co-instructor and Mount Auburn independent scholar Nancy Sheads, a retired Maryland state archivist, is researching Baltimore death records to see if she can identify any of the 250 dead.
In partnership
As a community-engaged course, Black Cemetery Stories aims to both learn from and contribute to a community entity; in this case, helping to advance the history that volunteers are piecing together through Mount Auburn and Laurel cemeteries. As co-instructors, Bennett and Sheads shape the course alongside Dean.
Last year, the trio invited Elgin Klugh, associate professor in the Department of Applied Social and Political Sciences at Coppin and chair of the Laurel Cemetery Memorial Project, to speak to the class about Laurel. "Professor Klugh's talk was one of the most compelling things that we did last year; the students were leveled by the fate of this really important place," Dean says.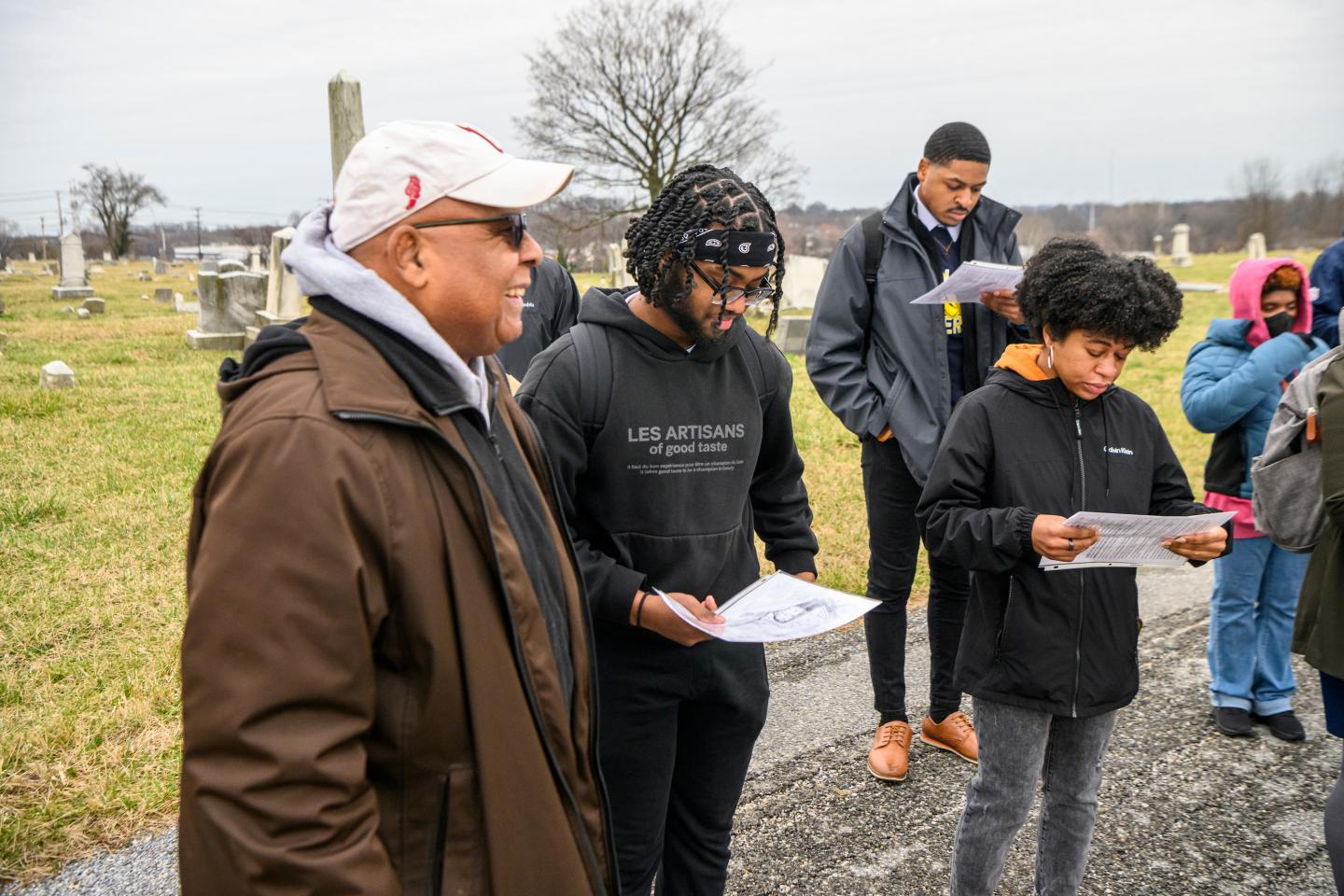 So this year, Dean asked Klugh about collaborating on a course that would highlight both cemeteries, and soon E.R. Shipp, associate professor of multimedia journalism at Morgan and a genealogist, joined in as well. Each instructor offers a separate course that is aligned with the others; students in Klugh's Heritage and Community class, Shipp's Information Gathering and Research class, and Dean's class come together for guest lectures and site visits.
"It's been so powerful that we're learning from each other in this way, thinking hard about Baltimore history and getting out of the Hopkins bubble," Dean says.
Supported by Hopkins' Center for Social Concern, the Program in Museums and Society, and Inheritance Baltimore, the partnership pays stipends to guest speakers, covers students' Lyft fares to and from the cemeteries, and equips students with hand-held Garmin GPS devices to provide accurate geographic data for grave locations.
Laurel Cemetery
Located where the Belair-Edison Crossing shopping center now sits on Baltimore's Belair Road, Laurel Cemetery served as a non-sectarian African American cemetery from 1852 until 1958, when it was demolished following decades of neglect, the widening of Belair Road, and the construction of a gas station on its grounds. Working with Laurel, which is so unrecognizable as a former cemetery that most of its neighbors have no idea it's there, helps put into perspective for students that Mount Auburn's survival, through the stewardship of the Sharp Street Church, is momentous—even if the groundskeeping and record-keeping work it requires has been a challenge, Dean says.
"This research contributes to the telling of a more full and complete history that, although sometimes uncomfortable, is crucial to developing an informed sense of place and a deeper understanding of context as it relates to the forces that have shaped this city."
Elgin Klugh
Associate professor, Coppin State University
Some of the remains at Laurel were reburied at other cemeteries. But in 2014, faculty at Coppin and the University of Baltimore launched the Laurel Cemetery archaeology project, and they and their students found evidence of existing burials. Current efforts of the Laurel Cemetery Memorial Project include public education, research into the lives of the estimated 37,000-42,000 people buried there, oral histories of descendant community members, and the erection of a memorial.
"For me, the Laurel Cemetery project has provided a means to get to know the personalities and critical issues of Baltimore, past and present," Klugh says. "This research contributes to the telling of a more full and complete history that, although sometimes uncomfortable, is crucial to developing an informed sense of place and a deeper understanding of context as it relates to the forces that have shaped this city."
Student biographers
Black individuals, families, and communities have often been omitted from official historical accounts, effectively erasing them as well as their roles in shaping the present. When the stories are unearthed, Dean says, they can have a profound effect.
"The goal of reconstructing the Black past, insofar as possible, is reparative: to understand and redress wrongs, and to reimagine American history as a whole," Dean's syllabus states.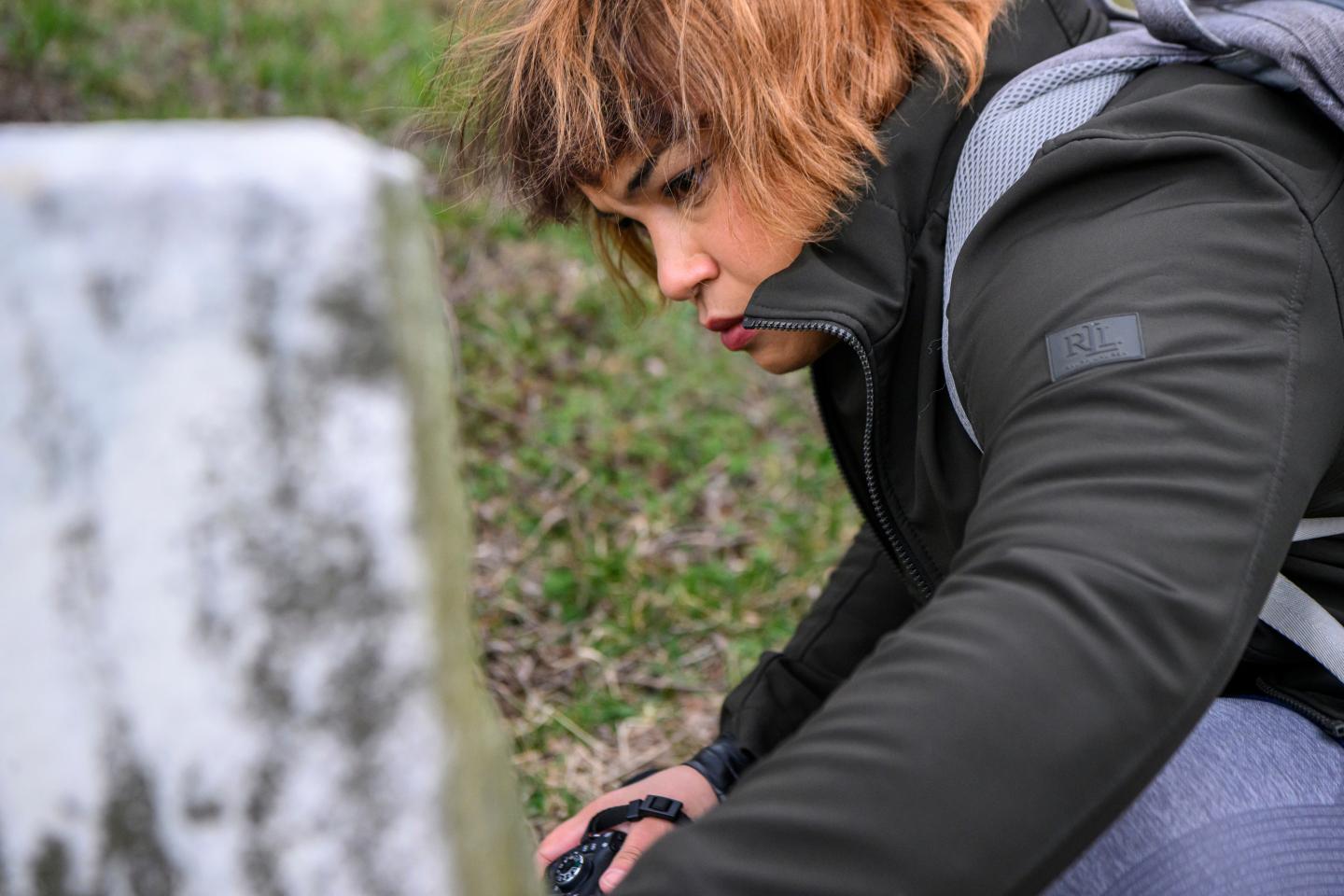 Those doing the reconstructing include a recent movement of "citizen historians" who have stepped in to correct and expand the historical record, especially when it comes to Black burial grounds. Serving as a humanities laboratory in which archival research, fieldwork, and critical thinking about public memory come together, the course allows students to join their ranks. While the labor of logging names and dates can be monotonous, Dean says students find it rewarding to contribute to the growing body of knowledge about Baltimore's past and the people who lived and shaped it. "It's very exciting to help these stories come to light in the present," she says.
Bennett and Sheads are diligently working to log as many burial sites as possible, and the extra help from the students is hastening the process. Using the Garmins, the Hopkins and Coppin students are updating the information on the online gravesite collection Find A Grave and the Resurrecting Mount Auburn website with more accurate GPS data. They also hope to fulfill some of the photo requests on Find A Grave by uploading photos of grave markers.
Meanwhile, to prepare for the course's capstone project, Sheads is using her Maryland State Archives connection to compile documents about Baltimore's Hughes family, many members of which are buried there—death, birth, and marriage certificates and census records, among others. William Alfred Carroll Hughes (1877-1940) was the first African American bishop in the United Methodist Church. Each Hopkins student will then select one member of the family to research thoroughly to write a biography to be shared online.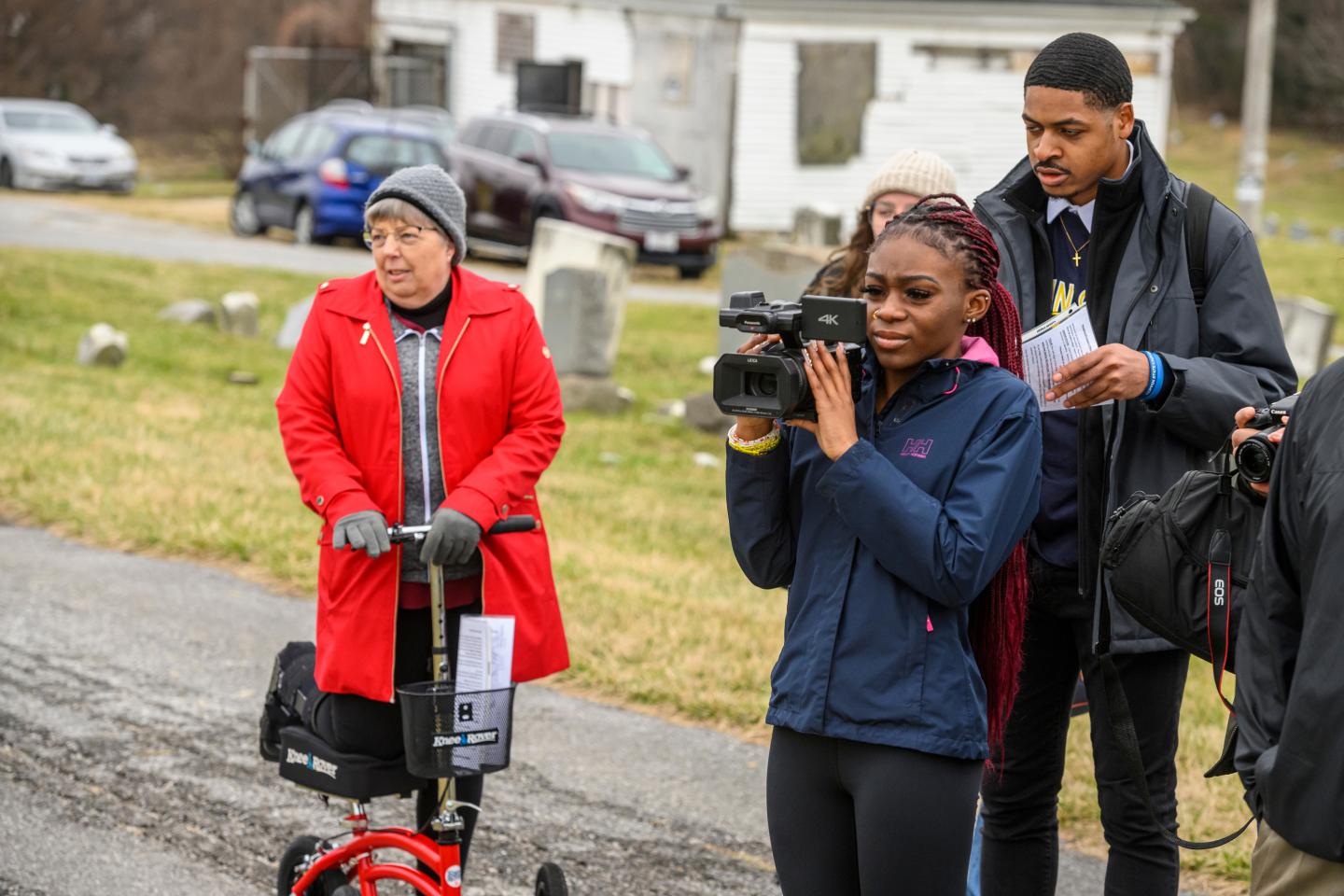 The Coppin students are researching three other individuals, while the Morgan students, who already have experience with archival research, will find their own biographical sources. They are also producing a mini-documentary about the two cemeteries.
Archives of the Afro-American newspaper help tremendously in the research process, Dean says, as they include not only news stories, but stories about social life—debutante balls, church socials, and who was visiting whom. "I hope that we illuminate the lives of some people who we might not otherwise know about," Dean says. "Some of them might have had ordinary interesting lives and can enrich what we know about common experiences, and some of them might have led lives of great achievement, but they don't necessarily have Wikipedia pages or chapters in the textbooks."
And through that process, students are experiencing for themselves what it means to engage with history. "Something that I want students to take away from the course is an understanding of the importance of grassroots efforts to research and preserve local history—particularly the hidden and muted histories of minority communities," Klugh says. "Through the case studies of Laurel Cemetery and Mount Auburn Cemetery, students can witness how cemeteries reflect socioeconomic and political histories. They can also gain an appreciation of the wide array of skillsets tied to these projects, including archaeology, cultural anthropology, law, genealogy, landscape architecture, history, archival research, GIS, graphic design, and the arts."