The critically hailed 2018 play Is God Is ran off-Broadway, won a slew of awards, and was staged at London's Royal Court Theatre last fall. Yet when playwright Aleshea Harris was releasing rights for the play's Maryland/D.C.-area debut, she gave the honor not to a professional company but to a troupe of young thespians at Johns Hopkins University.
Dunbar Baldwin Hughes Theater Co., founded in 1993 to explore expressions of Black culture through performance and to showcase the work of Black playwrights, poets, and other artists, opens its three-show run of Is God Is Friday, March 3, in Levering Hall's Arellano Theatre. The show marks the start of the group's 30th anniversary year.
"We weren't expecting to be approved at all," says Merone Eshetu, a senior majoring in public health studies, who serves as president of DBH and co-producer of Is God Is. Eshetu also designed the set and requested the play along with technical director Justine Prince, a senior anthropology major. They applied for rights early in the fall semester, enthusiastic about the darkly comic script but skeptical Harris would award her play to an independent student organization.
"From a tech perspective, we thought it was very interesting; it uses a lot of lighting effects," Eshetu says. But she turns more serious to address what appealed to them about the story.
"We are used to doing realistic shows," Eshetu says. That's certainly true looking at the arc of DHB's history. Posters of past shows line the corridor outside Arellano Theater. Over the past three decades, the company has typically staged classics from the Black theater canon, including Lorraine Hansberry's A Raisin in the Sun and plays from August Wilson's Pittsburgh cycle.
Is God Is has the potential to become a classic, but it's a departure from other dramas DBH Theater has tackled that depict Black Americans struggling in pursuit of the American dream.
Harris' play, Eshetu says, "presents the theme of violence and the destruction of Black bodies in a way that was very—I don't know how to say it."
Zari Newman, a sophomore co-producer who serves as the company's publicity chair, jumps in to help.
"It's very surreal," says Newman, a public health studies major. Then she gets even more specific. "Afrosurrealism is a really good way to describe it."
Similar to Afrofuturism, the aesthetic movement popularized by author Octavia Butler, among others, and enshrined in pop culture via the Black Panther movies, Afrosurrealism uses the tools of fantastical narrative to tell troubling stories in the present.
"Step aside, Quentin Tarantino and Martin McDonagh, and all you other macho purveyors of mutilation and mayhem with a smile," New York Times critic Ben Brantley wrote, reviewing the New York premiere of Is God Is. "A snarly new master of high-octane carnage has risen into view."
In the DBH production, senior Jessica Cooley plays She, an abused Black mother who, as she nears death, sends her just-grown twin daughters on a patricidal mission to exact revenge. As they learn on a visit to their ancestral home in the "dirty South," their father doused their mother with liquor, strangled her, and set her ablaze when they were toddlers.
When Cooley's character recalls that horror, stage directions call for "a sound like a thousand matches being struck simultaneously," one of those challenging technical sight-and-sound moments that intrigued Eshetu and Prince so much.
The play's dialogue is often equally lyrical. The girls were giggling up until the moment the match was struck, She recalls, like "how babies giggle like they got the sun in they mouth."
Benedict A. Dorsey, the play's director and a co-founder of the theater company, is focused on helping his young actors embrace the language while still clearly conveying meaning. As Cooley and the two students playing her daughters rehearse, he instructs them on where to "let the words hang" and when the twins should exchange glances. "Feel it," he tells them. "Give each other the eye."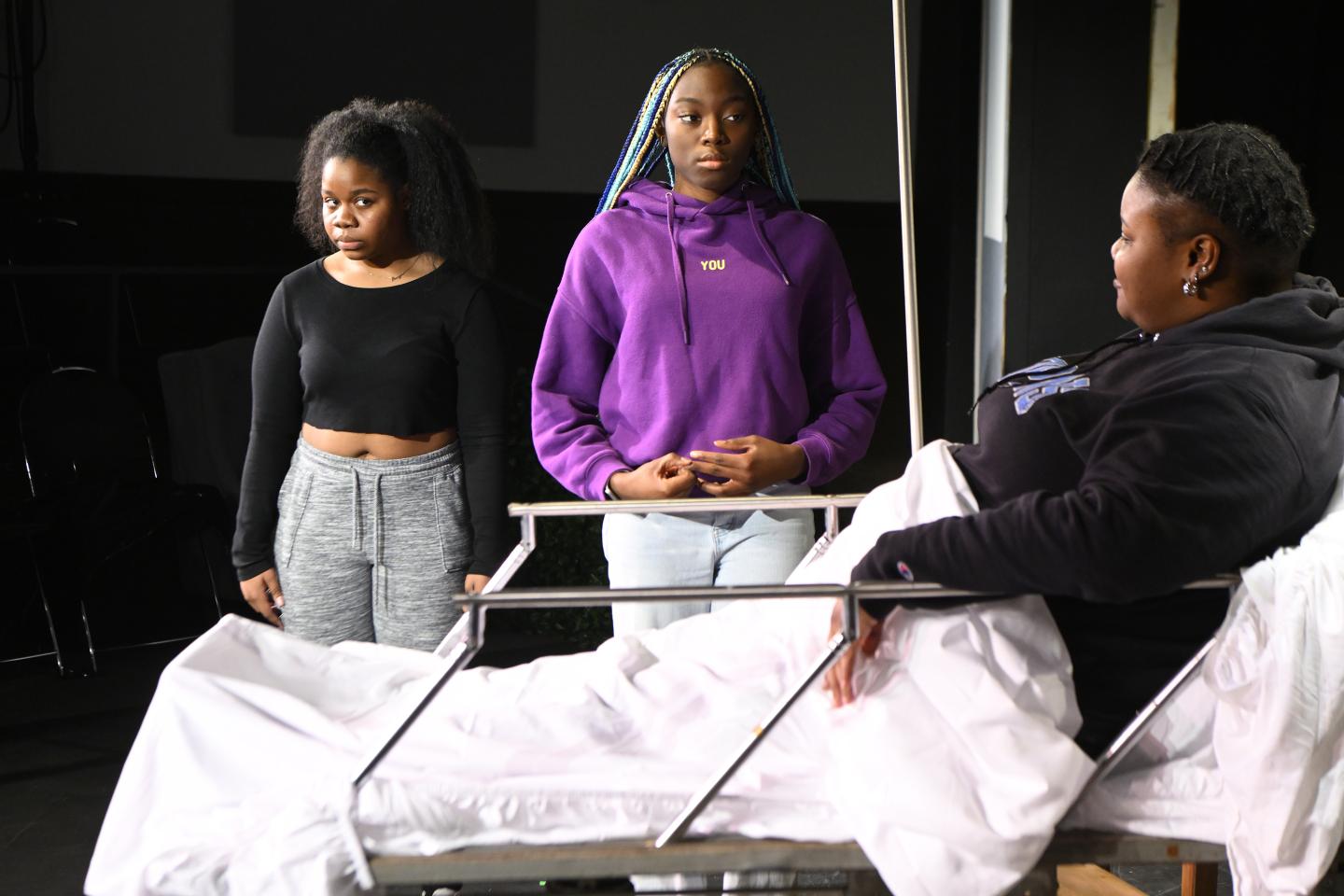 Telling stories of Black trauma is a heavy emotional investment for anyone in theater, which makes the three-decade commitment of the all-volunteer DBH Theater Co. all the more admirable. Few of the students in the Is God Is cast and crew plan to pursue careers in the arts, but they don't hesitate to spend their collegiate spare time plumbing the depths of Black stories that they want to see onstage, just as Dorsey first helped students to do 30 years ago.
"I'm handling it," Cooley says, of the psychological challenges presented by Is God Is. "I'm handling it because I've seen this woman. I may not have seen a burn victim, but I've seen this woman who was struggling to put food on the table for her kids."
That's the realism of the story. The surrealism is the spaghetti-Western-like odyssey the twins go on to find their father, with humor interjected by characters they meet along the way, including a drunk, ethically challenged lawyer named Chuck, played by senior Mariano Thomas.
"They are all so great," Dorsey says of his 2023 cast.
"I am excited to bring the show to Baltimore," Eshetu says, still marveling that Harris chose a student theater troupe for the local debut of Is God Is. "It will be a great show for the community, and I feel like it should be played everywhere."