Public roadways and sidewalks in East Baltimore's Eager Park neighborhood will soon get a major facelift thanks to $2.3 million in federal community project funding, city and state leaders announced Friday.
The funds will support repairs to roads and walkways surrounding the Henderson-Hopkins School—a pre-K-8 contract school of Baltimore City Public Schools operated by Johns Hopkins and Morgan State universities—as well as nearby residential development projects. Other improvements will include updated streetscaping, lighting, and storm drainage systems, as well as new water mains and service lines.
The funding was announced Friday during an event at Henderson-Hopkins with featured guests including JHU President Ron Daniels, U.S. Congressman Kweisi Mfume, and U.S. Sens. Ben Cardin and Chris Van Hollen.
"I feel incredibly, incredibly lucky today to be here at this moment in East Baltimore at Henderson-Hopkins to celebrate this great gift," Daniels said, "and grateful for the opportunity to have the honor to work with this community and to benefit from this incredible federal delegation."
He also shared: "The green shoots of this work are all around us. We see it in families putting down roots and raising children here. In the bustling green space blocks away at Eager Park. And in the extraordinary Henderson-Hopkins School. We have made great, great progress together, but the work is still unfinished. And I know that, together, with the support of leaders like those who assembled at Henderson-Hopkins today, we can make that happen."
Daniels specifically mentioned the need for a grocery store in East Baltimore, to improve access to "fresh and low-cost food that is important fuel for this community."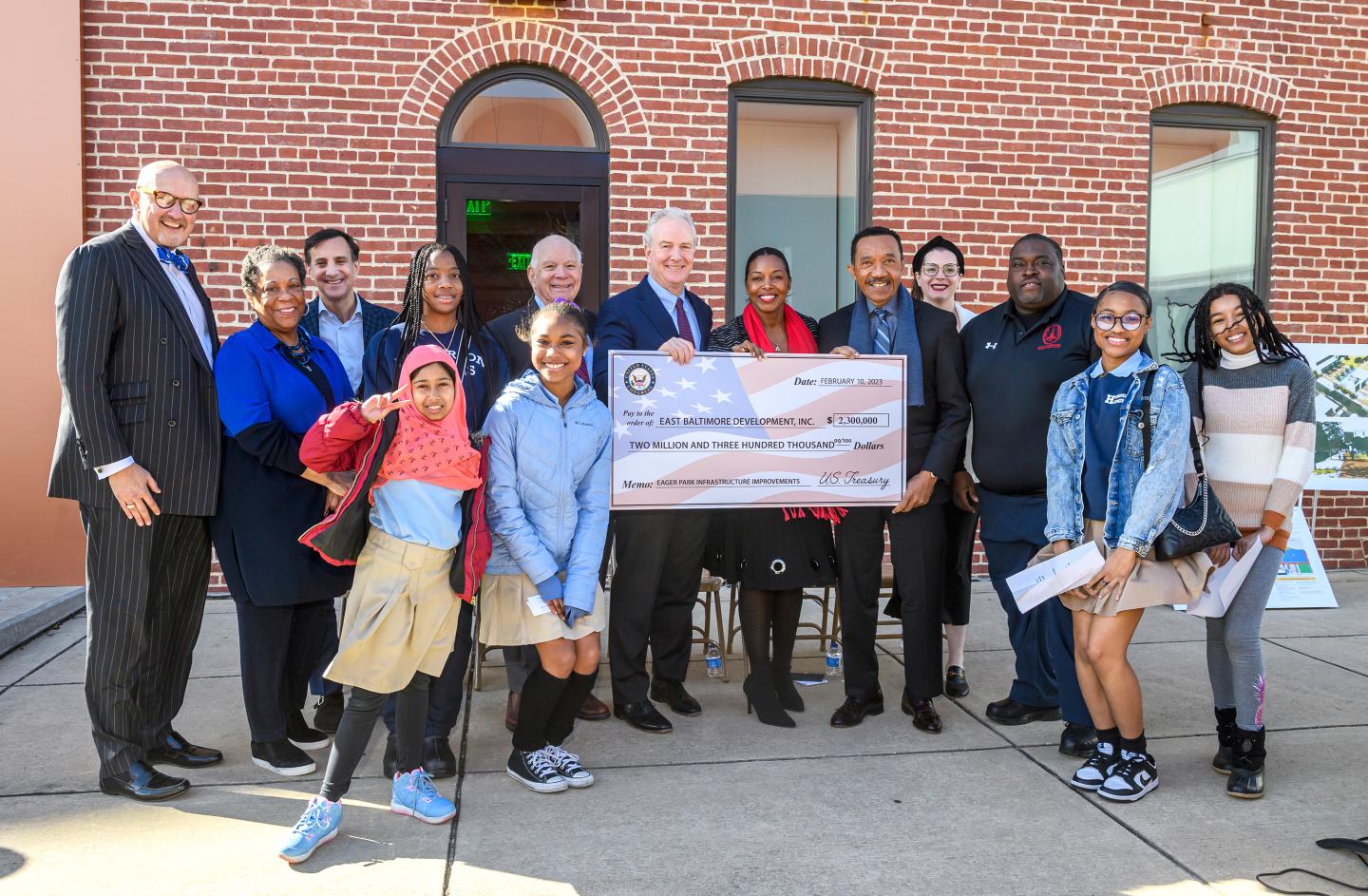 The gathering included a second-grade class singing "Lift Every Voice and Sing," and students from the school's student government association introduced each of the speakers.
"This funding shows that we care and that this is a part of Baltimore that deserves investment," Henderson-Hopkins principal Peter Kannam added after the event: It's just another sign that we can support our students and families and ensure they have a beautiful place to live and a great school."
When it opened in 2014, Henderson-Hopkins was the first new school to have been built in East Baltimore in more than 20 years. It was recently recognized by U.S. News and World Report as one of the top K-8 schools in Baltimore City.
The infrastructure project announced Friday will be led by East Baltimore Development Inc. (EBDI), a nonprofit established to lead the revitalization of Eager Park, an 88-acre East Baltimore neighborhood just north of the Johns Hopkins medical campus. EBDI is supported by public and private partners, including Johns Hopkins University & Medicine, the U.S. government, the State of Maryland, the City of Baltimore, the Annie E. Casey Foundation, The Harry and Jeanette Weinberg Foundation, the Atlantic Philanthropies, and others.
"This is a beginning. This is not an end," Mfume said. "And as long as we can, we're going to find ways to continue to fund and to uplift and to make sure that this part of town is not forgotten."