Johns Hopkins University alumnus Wes Moore was sworn in Wednesday as the 63rd governor of Maryland—the state's first Black governor and the nation's only current Black chief executive.
Moore, 44, born and raised in Maryland and a member of the Krieger School Class of 2001, took the oath of office using two bibles: one from his grandfather, who was a minister, and another that belonged to abolitionist and fellow Maryland native Frederick Douglass. The crowd gathered inside the State House in Annapolis for the first of two recitations of the oath was too excited to hold its applause til Moore had completed the words.
Maryland we march forward together. pic.twitter.com/COzBBg2LDb

— Wes Moore for Maryland Governor (@iamwesmoore) January 18, 2023
Among those in attendance for Wednesday's festivities were outgoing Republican Gov. Larry Hogan, Chelsea Clinton, and Michael Steele, a member of the Krieger School Class of 1981 who became Maryland's first Black lieutenant governor in 2003. Media mogul Oprah Winfrey, who spent the foundational years of her career in broadcasting in Baltimore and was a prominent supporter of Moore's campaign, introduced Moore before his speech.
"Maryland is full to the brim with opportunity—it was back then, it is now," Winfrey said. "And I know with Wes Moore as your governor, Maryland's best days lie ahead."
Also see
In his speech, Moore talked about Maryland's complicated past, referring to the nearby docks where many enslaved people arrived in America. But he emphasized that great progress has been and will continue to be made.
"Today is not an indictment of the past; it's a celebration of our future," Moore, a Democrat, said. "And today is our opportunity to begin a future so bright, it is blinding. But only if we are intentional, inclusive, and disciplined in confronting challenges, making hard choices, and seizing the opportunity in front of us."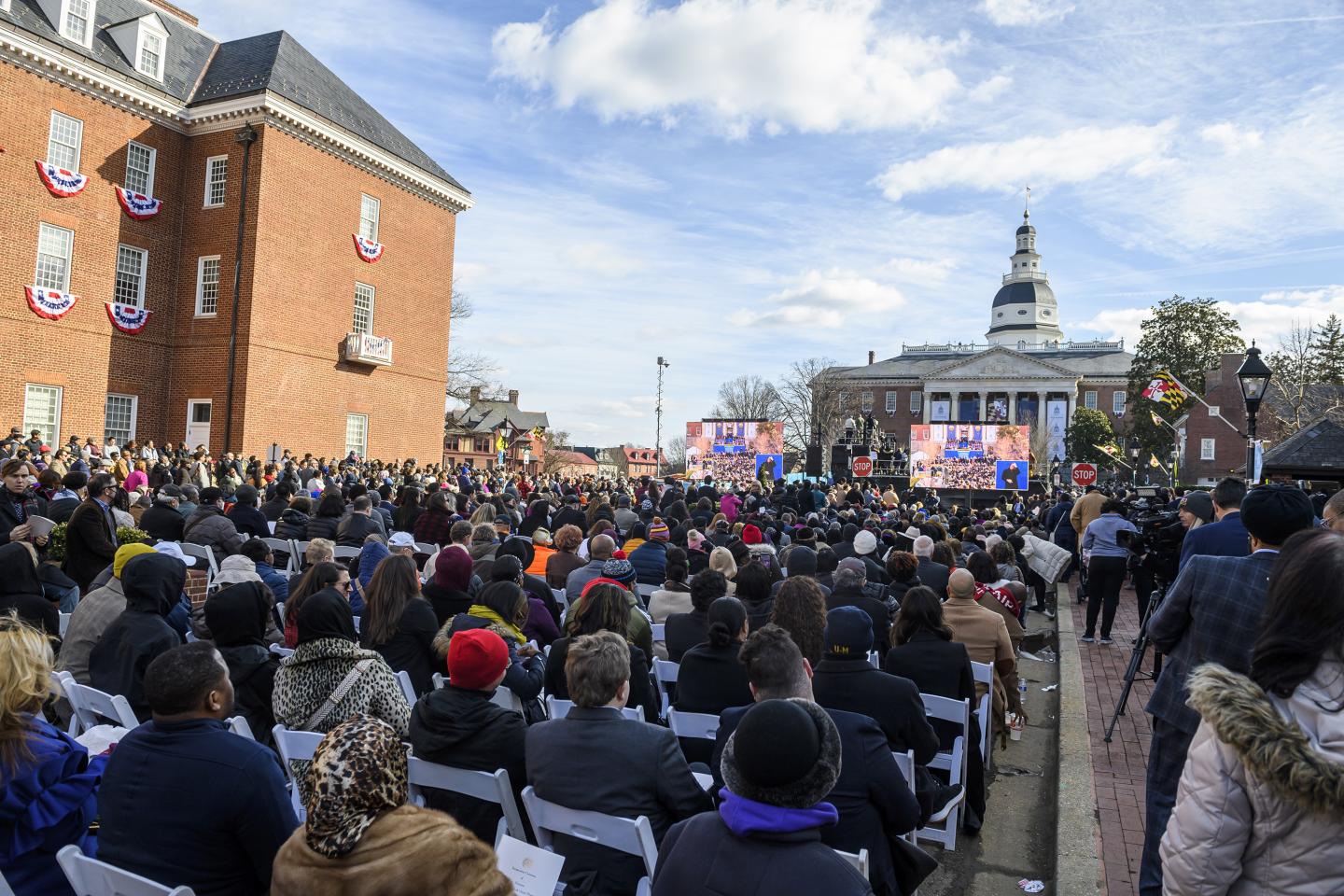 Born in Takoma Park, Maryland, Moore and his sisters were raised from a young age by their widowed mother. Despite early academic and behavioral struggles, he graduated Phi Theta Kappa in 1998 as a commissioned officer from Valley Forge Military College, and Phi Beta Kappa in 2001 from Johns Hopkins, where he played football and earned a bachelor's degree in international studies. Moore was selected as a Rhodes Scholar and went on to study international relations at Oxford University in Oxford, England.
After his studies, Moore, a paratrooper and Captain in the United States Army, served a combat tour of duty in Afghanistan with the 1st Brigade of the 82nd Airborne Division. He then served as a White House fellow to Secretary of State Condoleezza Rice. In 2010, Moore published The Other Wes Moore, a story about the fragile nature of opportunity in America, which became a New York Times and Wall Street Journal bestseller. Moore went on to become CEO of the Robin Hood foundation, which has distributed more than $600 million to help lift families out of poverty. He has also served as a Johns Hopkins University trustee.