Community engagement, professional development, and personal reflection are all vital aspects of the Community Impact Internships Program, one of the most popular internship programs available for Johns Hopkins undergraduate students. CIIP aims to give undergraduates real-world experience while being directly involved in the Baltimore City community, and while supporting local nonprofits, community groups, and government agencies in achieving their missions. Since the inception of the program, interns have worked over 100,000 hours with over 100 different nonprofits, community groups, and government agencies in Baltimore City.
"The Community Impact Internships Program enables students who have had some exposure to Baltimore communities during the academic year, and who demonstrate a prioritization of community strengths and assets, to take a deeper dive into supporting and learning from our community partners doing amazing work throughout Baltimore City," says Eli Lopatin, assistant director of civic leadership at the Johns Hopkins Center for Social Concern, which runs the program. He is the staff lead for CIIP. "The intensive, and intentional, cohort-based program provides a formal structure for deep critical reflection and growth among a cohort of peers while allowing students to develop the strong professional skills that come with a full-time summer internship."
Adds Laís Santoro, a two-time CIIP intern currently participating in the program, "CIIP is not just for professional development and community engagement, but it really teaches you to become just an overall better human in all aspects of your life while serving in an area of your interest."
The competitive, paid summer internship pairs students with Baltimore nonprofit organizations and government agencies. Students receive a $4,725 stipend and work 35 hours a week, following an extensive five-day orientation.
Here's a look at some members of this year's 50-person cohort: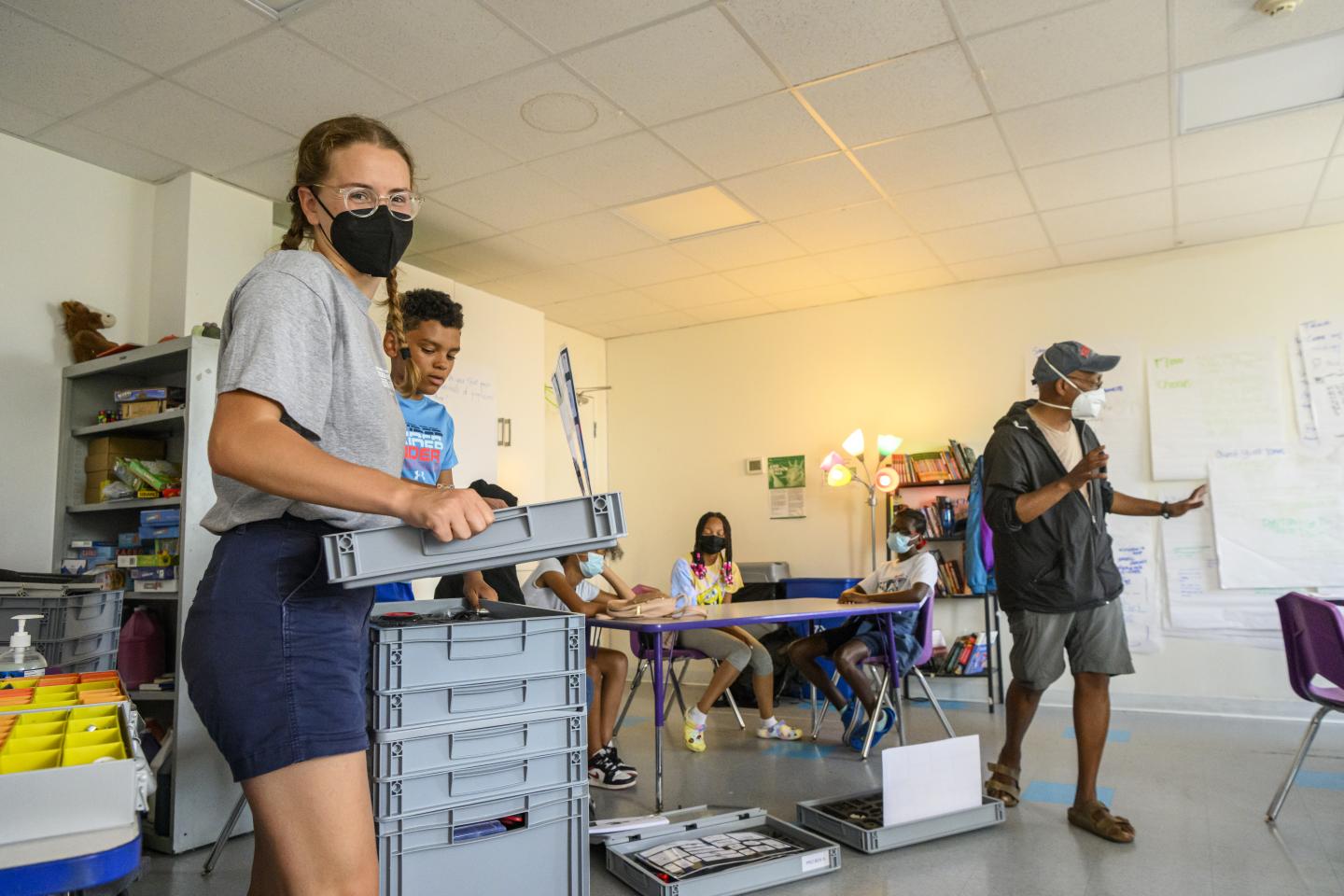 Hélène Girard, a rising junior studying chemical and biomolecular engineering, spent her summer interning at Village Learning Place, a nonprofit library and learning center with programming for community members of all ages. Girard worked in a summer program designed to help students stay engaged with their academics and prevent "summer slide," using virtue-based language and restorative justice to create an environment in which children can thrive. Girard worked as an assistant in a class of fifth and sixth graders, in tandem with a teacher and two other classroom assistants. Each day, students worked on either literacy or math, with a field trip day planned for every Friday, and Girard had been increasingly involved with lesson planning as the summer has progressed.
While Girard was initially hesitant to take on a role that doesn't directly correlate with her STEM education, she found a lot of growth in the experience.
"I feel much more capable giving people tasks in a way that they can understand and be able to complete," Girard says. "I also realize that my initial feelings of apprehension were just the way that the fear of the unknown was expressing itself. It happens a lot on field trips with the kids. On the bus ride there, they'll tell you that nothing about the trip could possibly be good. Then once they get used to their surroundings, they're running around everywhere having a blast."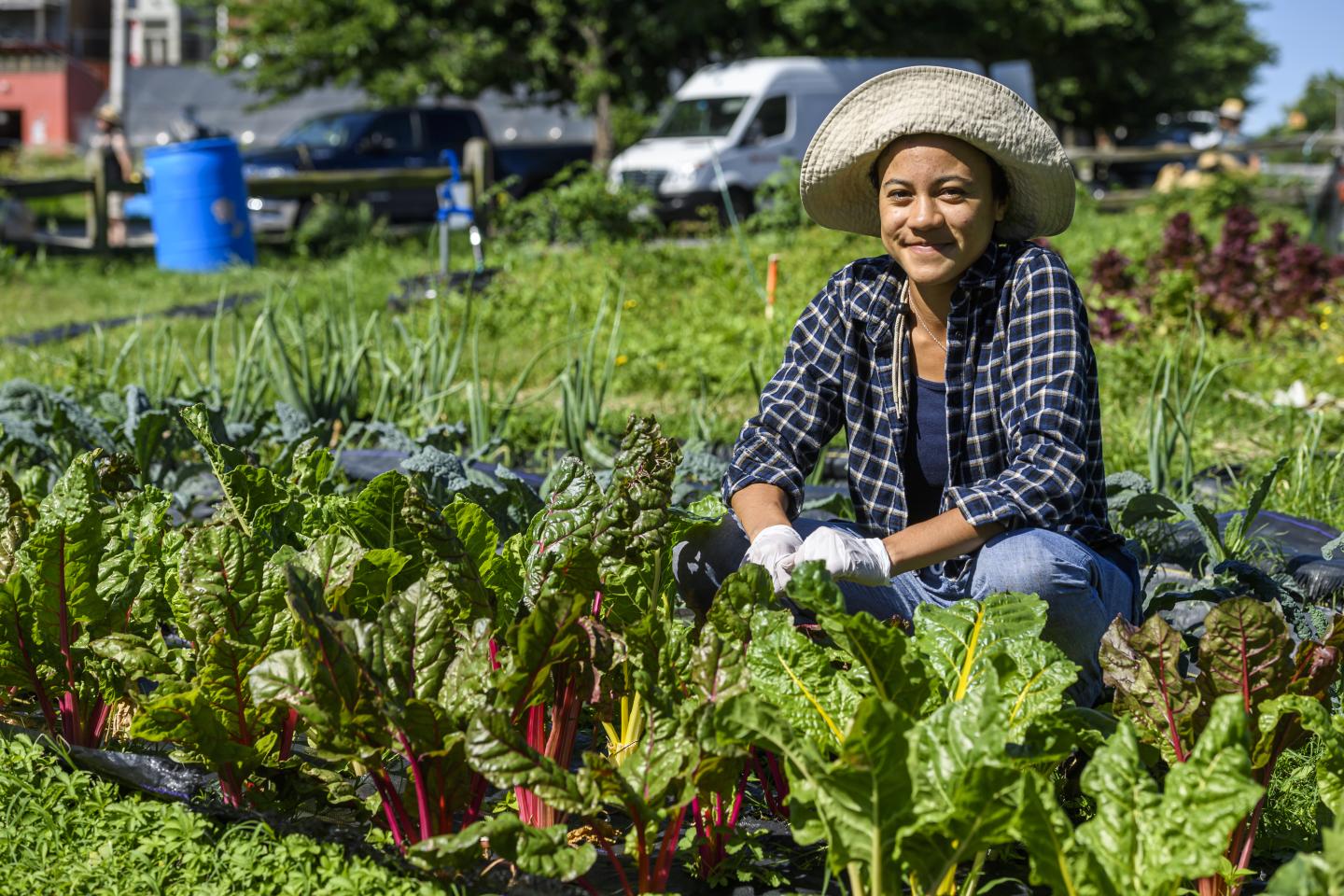 Marisa Thomas, a rising senior majoring in environmental health and engineering with a minor in Spanish, applied to CIIP because she was looking for internships that related to urban farming and agriculture. Her interest in the intersection of community work and food systems led to her placement with the Whitelock Community Farm, a member farm of the Farm Alliance located in the Reservoir Hill neighborhood. Split between two lots on either side of Whitelock Street, the farm began in 2010 as a community garden—transforming vacant lot space into a haven of fresh produce. This summer, Whitelock has been selling through the community supported agriculture program and a farm stand on Saturdays, where there are also occasional cooking demonstrations from partner organizations that bring the community together and transform the produce into delicious meals.
Working primarily on the farm planting, watering, and harvesting produce, Thomas got a lot of hands-on experience with agriculture while also engaging with the community. "It's therapeutic to spend so much time in nature and working with plants that will eventually end up on someone's table," Thomas says. "I've also learned that I really appreciate working with other people. I've been so fortunate to meet so many other folks in the Baltimore farming community, and it has helped me gain a better understanding of Baltimore because I didn't realize how many urban farms were operating in the city. People really care about food access and the power and justice that comes from growing your own food, and I've really gotten to see the power of the Black community especially in securing more food security. We can't do it all by ourselves so having the balance and community support can make a big difference."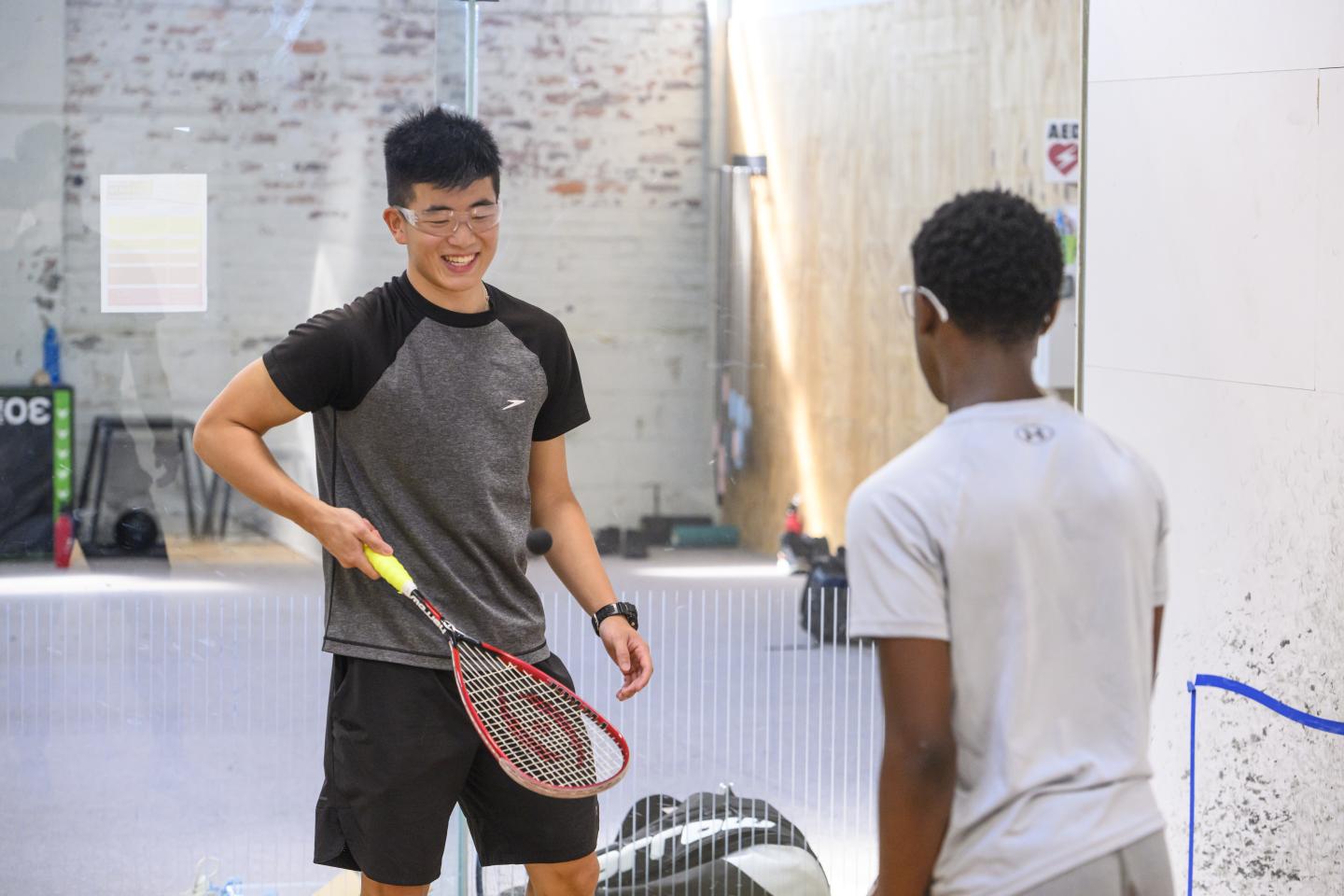 Jeremy Gu, a rising junior majoring in neuroscience, saw CIIP as an opportunity to learn from the Baltimore community by being a part of it. He was interested in youth development and had been a tennis coach for three years, so his placement with SquashWise, a nonprofit that advances equity in squash, academics, and personal development opportunities, was the perfect fit. Gu initially worked with middle schoolers, where a typical day included rounds of squash and an enrichment portion, covering topics including nutrition, teamwork, and good sportspersonship. Gu also worked with high schoolers in a similar format, with their programming covering different topics, including college applications and managing stress. He helped with the planning for both programs and assisted with SquashWise's acquisition of the historic Greyhound terminal earlier this summer.
"I've learned a lot about the difference between serving and helping," Gu says. "When I started the program, I walked in with a lot of confidence, knowing I could do all the things I'd be asked given my background. However, as we continued to work on reflecting and started to plan the activities, I realized I needed to think less about what I could offer and rather what I could do to learn more about squash and the program itself. I could help by restringing some rackets, but I could serve by joining in a training session with the students and being a support whenever they were confused about something. Serving is being present and curious, and understanding that people are the experts of themselves."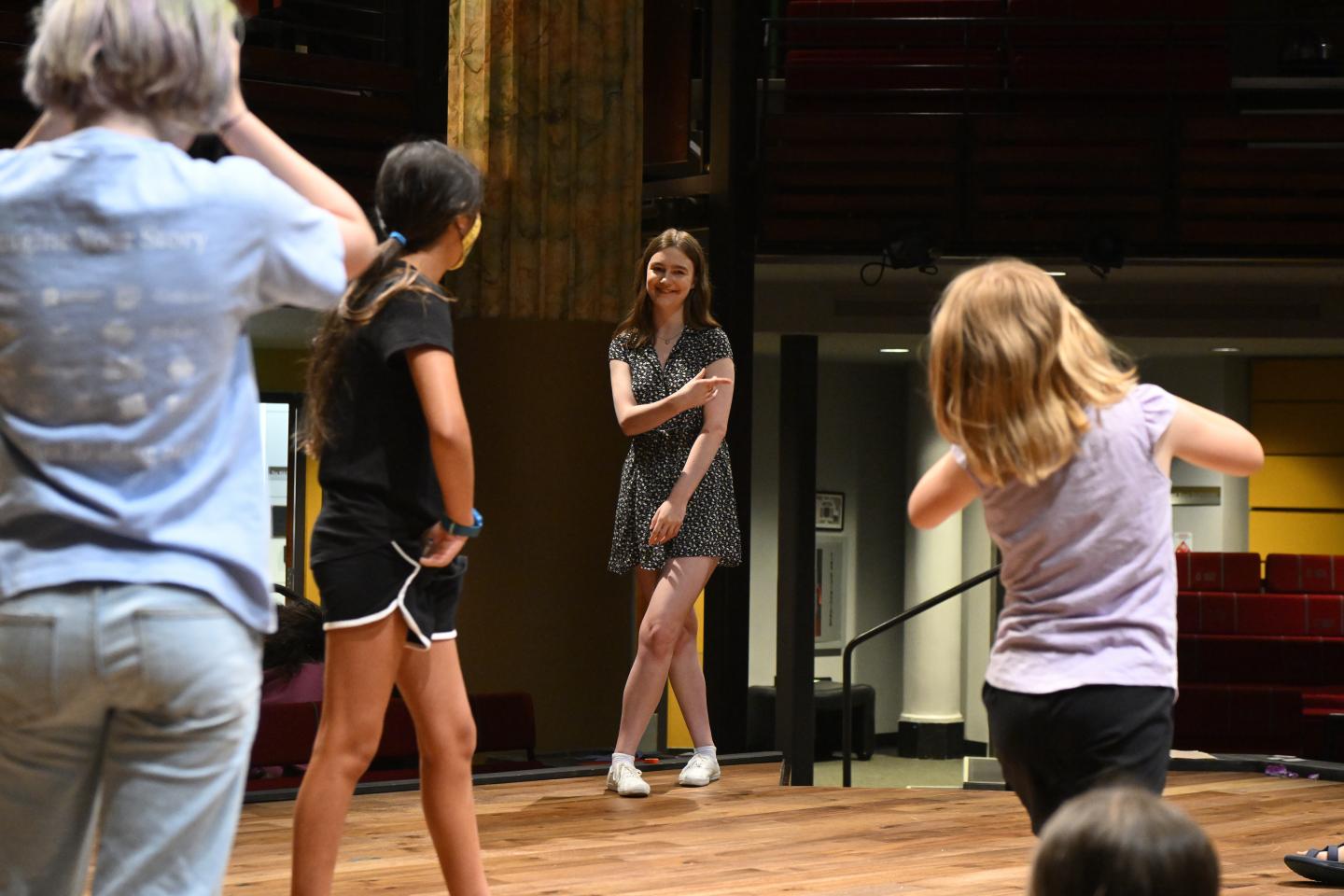 Caroline Colvin, a rising senior majoring in vocal performance with a minor in political science, participated in her second year as a CIIP intern this summer, where she was also a peer mentor for the cohort. Going into her second year, Colvin expressed interest in flexing her background in acting and directing, which she did with her placement at the Chesapeake Shakespeare Company, or CSC. A leading classical theatre company, the CSC entertains diverse audiences with Shakespearean and other classic works, and provides educational programming and community engagement. Colvin worked at the Studio at the Chesapeake Shakespeare Company in downtown Baltimore with the CSC's education program, working to introduce Shakespeare to elementary and middle school students through a youth summer camp. Each week of camp followed a theme, typically a Shakespeare show, culminating in a thirty-minute performance each Friday. As an assistant teaching artist, Colvin led theatre games, coached scenes, and helped campers remember Shakespearean soliloquies—and even choreographed a few fight scenes.
"Working at Chesapeake Shakespeare Company has reinforced my passion for arts accessibility and opened my eyes to the challenges many students are facing in a post-lockdown world, including sustained concentration and socialization," Colvin says. "Since every week consists of a new group of students, I also gained valuable skills in adaptability, often modifying activities to suit varying personalities."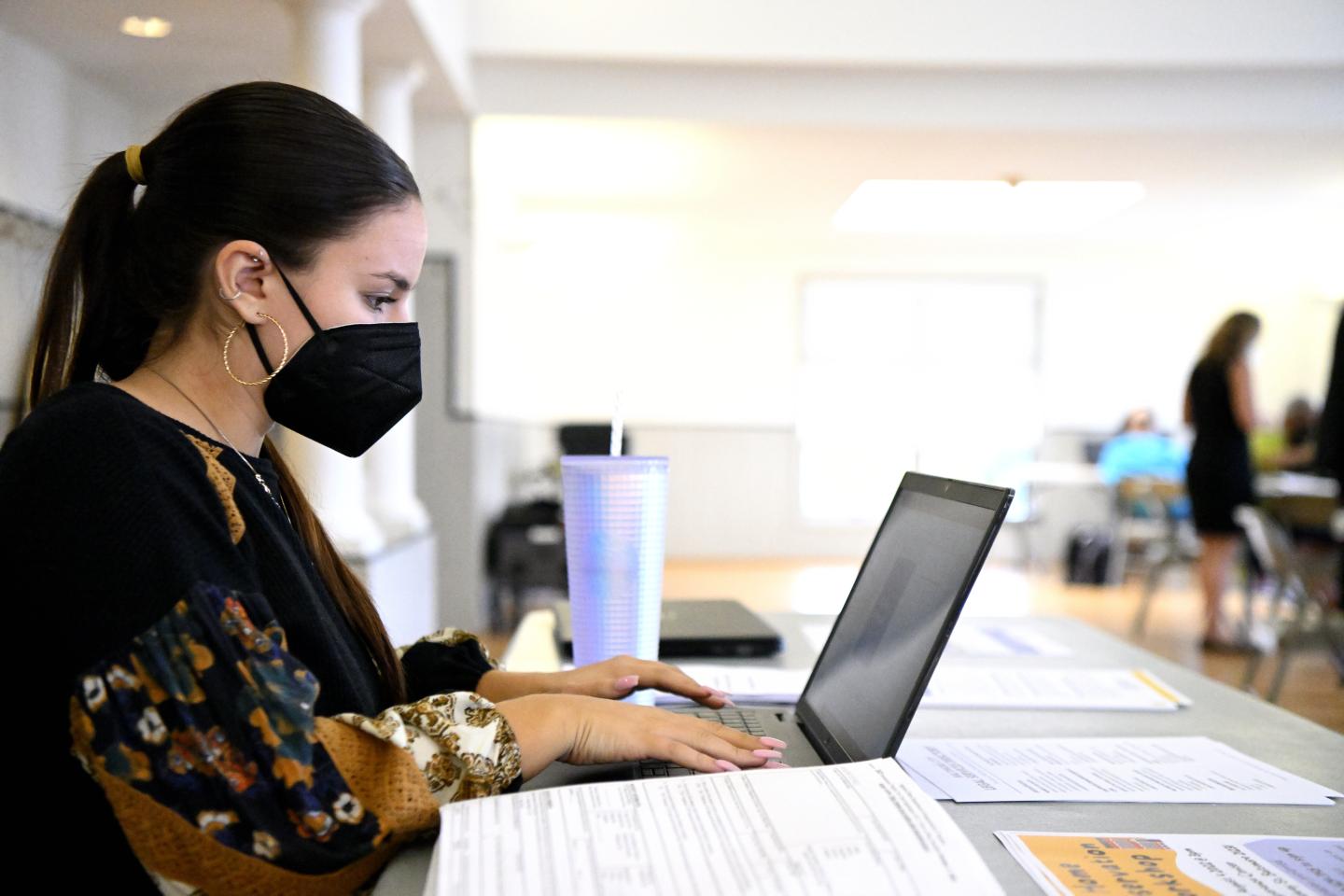 Laís Santoro, a rising senior studying public health and environmental studies, also participated in her second year of CIIP, serving as a peer mentor for the cohort. As a peer mentor, she offered support to the other members of the cohort, helping them adjust to the responsibilities of working full-time and finding housing for the summer.
While last summer she interned with the Whitelock Community Farm, she was looking for something quite different this time, working this summer with the Pro Bono Resource Center of Maryland. The center, which is the pro bono arm of the Maryland State Bar, promotes equitable access to justice and provides programming related to eviction prevention, immigration, and home preservation. As an intern, Santoro primarily worked on the housing preservation project, often attending a court proceeding or a clinic, organizing workshops, and assisting with resources for clients. She also went to court on occasion for immigration cases, helping to translate in Spanish and Portuguese and keeping children company during the proceedings.
"I've learned that there are so many legal challenges and barriers, especially for folks who are low-income and cannot afford a lawyer to guide them through these processes," Santoro says. "The housing situation in Baltimore City is much worse than you may think; maintaining homeownership is an everyday challenge. I also learned a lot more about the court system, specifically for immigration and tenants' issues. It's so interesting to see people show up for themselves and work so hard to obtain and reach their goals, whether it is to obtain citizenship or documentation status or a housing tax credit that will save them thousands of dollars a year. People are so powerful and resilient."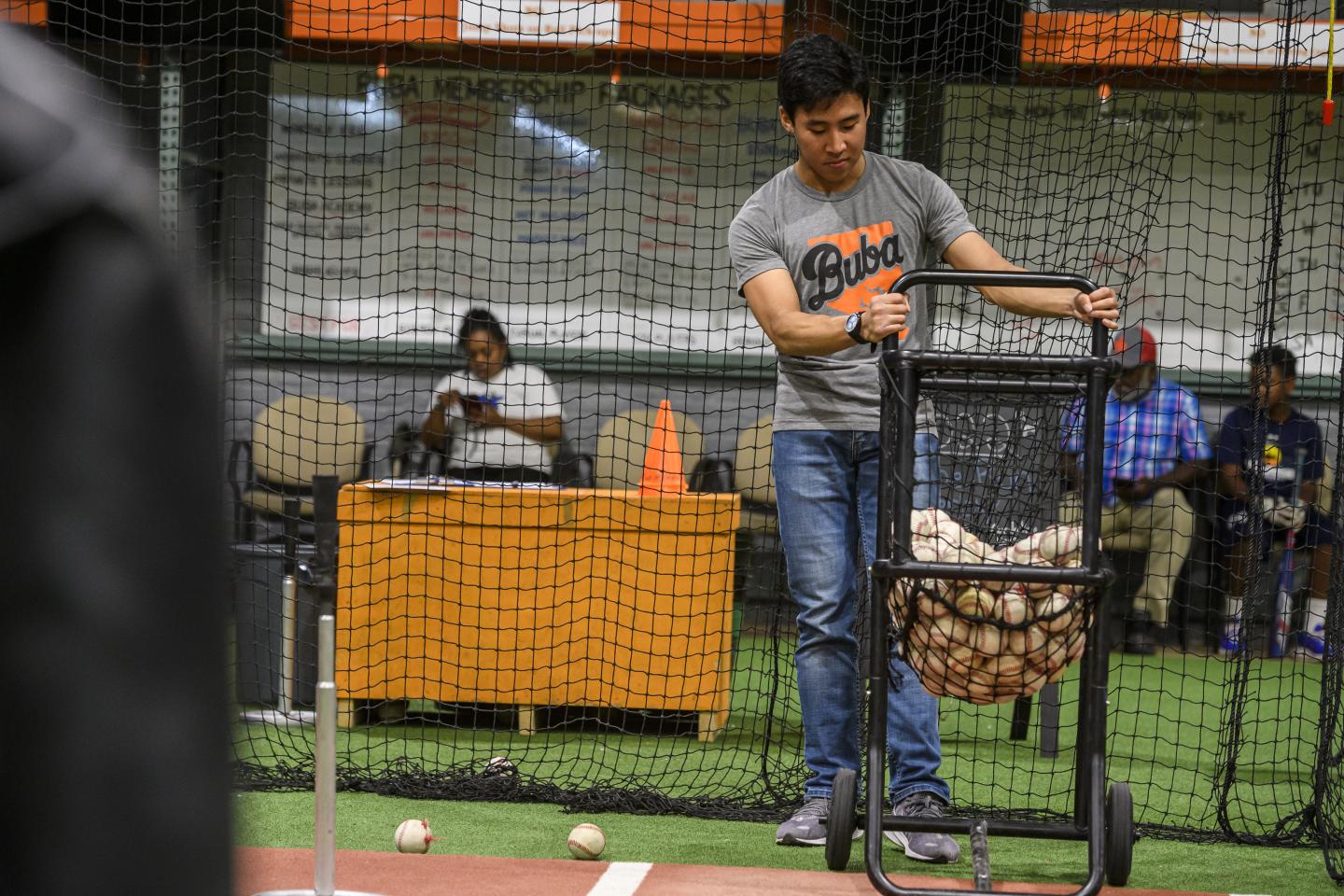 Neal Lim, a rising sophomore majoring in applied mathematics with a minor in English, was a newcomer to baseball when he was assigned to the Baltimore Urban Baseball Association. Founded in 2016, BUBA teaches, coaches, mentors, and educates through baseball to enhance the quality of life for urban youths. Its aims include growing the game in Baltimore, increasing the city's baseball resources, providing safe and organized programming for Baltimore's young people, and preparing urban high schoolers for college and professional baseball. After an initial Zoom call with BUBA founder Andy Weltlinger, Lim quickly became a fan of both the sport and the nonprofit. Some of Lim's tasks as an intern included removing graffiti, fixing the sports clock, and coordinating a golf cart donation—all things he'd never done before. When he wasn't tackling those tasks, he updated memberships and profiles, helped register participants, and assisted with practices. And of course, he learned about the game—and himself.
"I think the skills I've learned here—being able to communicate with people but also learning software and interfaces quickly, administrative work but also physical training, and being able to work with people as well—these are skills that I can take with me to the classroom setting, or my business or professional life," Lim says.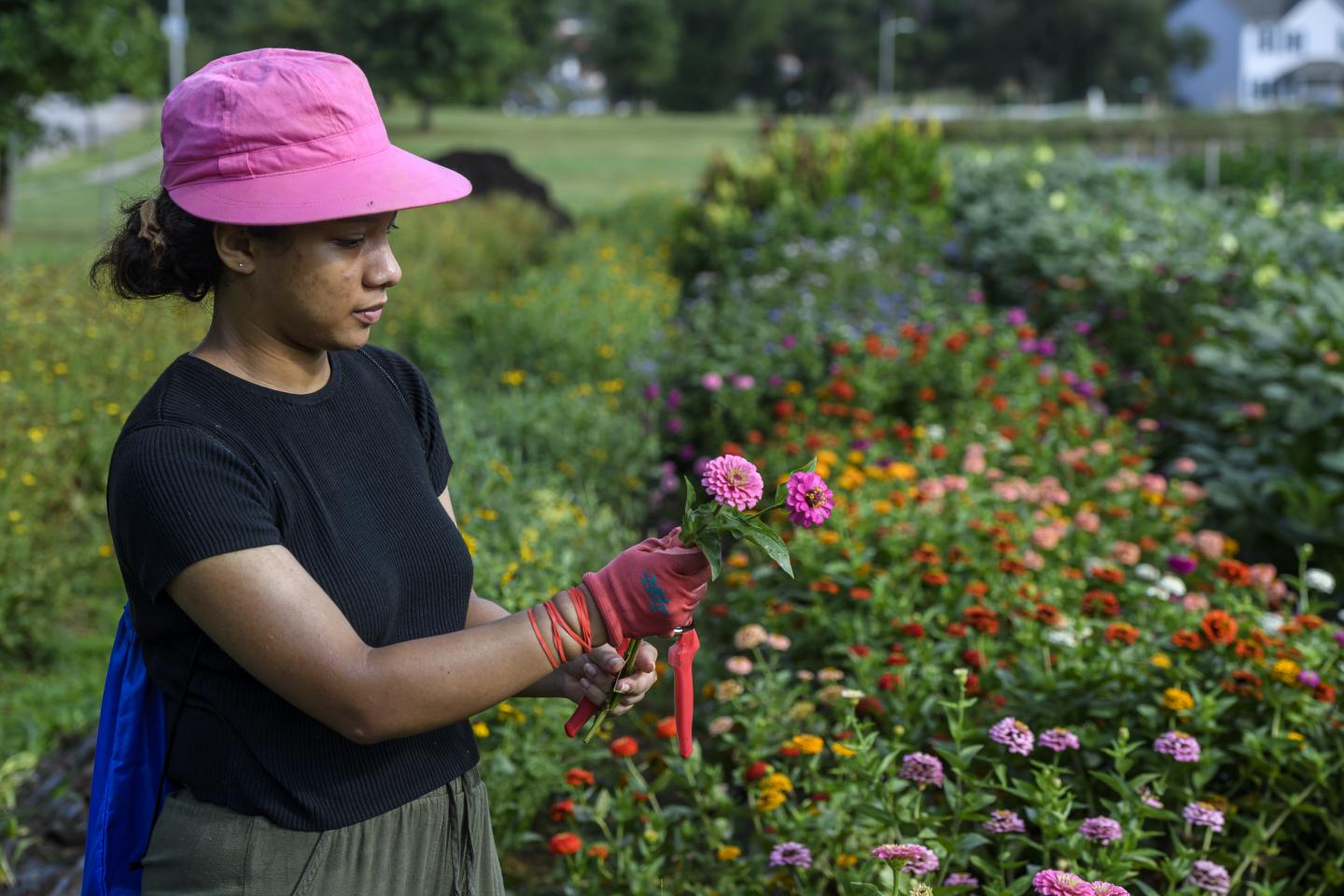 Angelica Brooks, a rising sophomore majoring in environmental studies, says that as a Baltimore native, she's always been curious about Hopkins' impact on the city, and looked forward to CIIP as an opportunity to explore a new perspective on Baltimore—as a Hopkins student rather than solely a resident. Her passions lie in addressing the disproportionate impact of environmental issues on minorities, as she has experienced food system-related issues when she was growing up. With a particular interest in food deserts, or food apartheid, her placement with the Farm Alliance of Baltimore aligned perfectly. The nonprofit organization uplifts urban farming and supports access to sustainable food options for local communities. Their recently launched training program, the Black Butterfly Urban Farming Academy, provides micro-scale urban farming training to the socioeconomically disadvantaged; over one ton of vegetables were recently harvested from the training farm. As an intern, Brooks helped research topics including how farm coalitions operate in other cities and self-care tips for farmers, created social media posts, and helped with harvesting and farm maintenance.
"My understanding of the city has changed a bit after this program because it made me look closely at the city's issues from a lens of someone who is capable of change," Brooks says. "Prior to the internship, as someone who has experienced some of the city's issues, such as food insecurities and health issues from living close to the trash incinerator, I viewed things from the perspective of someone that could not change what was going on. As a result, prior to CIIP, I felt a bit defeated at times. I struggled to understand the spark that some Hopkins students felt since it was their first summer in this city. Meanwhile, I have experienced 19 summers here, but without the excitement of being an outsider. I grew a new appreciation for my city once realizing that my efforts could have important implications for the communities I care about and grew up in. I was able to have conversations with many Baltimoreans which made me remember that the people are the heart of this city; it gave me a much-needed reminder of how beautiful and special my home is."