Marc Lapadula, legendary teacher and mentor, and critically acclaimed playwright, screenwriter, and film producer, died August 9, 2022, in Springfield, Missouri. He was 62.
A senior lecturer in The Writing Seminars from 1991 to 2013, Lapadula created and ran Johns Hopkins' screenwriting program. His passionate, energetic, and devoted teaching left an indelible impression on his students, hundreds of whom have gone on to successful careers in the film industry. Many also remained in touch with the person who opened their eyes and hearts to the intricacies of telling stories, creating characters, and devising plots, helping them believe their work had value to the world.
"I am the person I am today because of Marc Lapadula," said Alessandra Bautze '14, Assistant Professor of Screenwriting at Georgia State University. "From the moment I walked into his class, I knew he would have an impact on me. Much has been said about his ability to captivate a room of students with his enthusiasm and his vast knowledge of screenwriting and film, and he was an amazing professor. But what struck me most about Marc was his selfless dedication to his students and how he took such genuine joy in seeing them succeed, even long after they graduated. He made me a better writer, but more importantly, he made me a better person. And he did the same for so many others. His mentorship is the reason I am a screenwriting professor today. He said that everyone has a story, but not everyone has access to the tools to tell it. Those words have shaped how I approach my career, giving screenwriting students the tools to tell the stories that are most meaningful to them. While we mourn, Marc's immeasurable contributions to the field of screenwriting, and to screenwriting education, will live on through the values he instilled in us."
Lapadula's own work includes award-winning stage plays, screenplays, and film productions. His plays, including "StripHer," "Not by Name," and "Two Shakes," were produced in New York off-Broadway, England, Pennsylvania, Washington, D.C., Baltimore, and Iowa. He had several screenplays commissioned or optioned, including "Distant Influence" and "At Risk," and screen adaptations of Mikhail Bulgakov's "Heart of a Dog" and Miguel de Unamuno's "Saint Emmanuel the Good, Martyr." He produced "Angel Passing," starring Hume Cronyn and Teresa Wright, which premiered at the Sundance Film Festival and won the grand prize at WorldFest Houston. He also co-produced "Mentor," which premiered at The Tribeca Film Festival.
His former students wrote, directed, or produced dozens of critically acclaimed films including "La La Land," "(500) Days of Summer," "The Disaster Artist," and "The End of the Tour," and have scripted for television shows including "Family Guy," "Scrubs," "Law and Order: SVU," and "Queen Sugar."
" It's about doing the best one can and trying to become the best person one can be, always treating each other with respect and making sure we instill a sense of dignity in all the people we come in contact with. Not because we merely want them to feel good, but because as people, we deserve this."
Marc Lapadula
After leaving the faculty of The Writing Seminars, Lapadula continued to teach courses in the department as well as in the Program in Film and Media Studies. He was also a regular instructor in Hopkins' Odyssey program. Outside of Hopkins, he taught screenwriting seminars in Yale University's Film Studies Program from 1992 until his death, and served as visiting professor at the University of Pennsylvania from 1989 to 2009.
"Marc had a larger-than-life presence in the classroom fueled by his passion for movies, and he used that same dynamism and sense of excitement to inspire his students," said Linda DeLibero, senior lecturer and special advocate for alumni and outreach in the Program in Film and Media Studies. "He made them believe in their own talent and to take chances with it. He also happened to be the sweetest person in the world."
Meredith Ward, a former student of Lapadula's and current senior lecturer in the Program in Film and Media Studies, is one of many who credits Lapadula with providing the foundation for both their success and delight in the field.
"Marc Lapadula was a man of boundless energy," she said. "I still recall him attending a performance of the student-written works at the Arellano Theater and literally swinging down the steps with his hands on the railings like a kid. I learned an enormous amount about story structure, the sound of good dialogue, and creating a neat narrative from Marc. I emerged a stronger writer thanks to his quick-witted and always useful feedback, and I understood the story Hollywood expects to see so much better than when I came in. I am certain I am one of many who can say so."
In recent years, Lapadula became highly sought after on the lecture circuit, where he gave interactive seminars on notable and favorite films of his, delivered with his trademark energy and enthusiasm, said Los Angeles line producer and unit production manager Josh Siegel '96.
Siegel remained close to Lapadula since his first class with him in 1993, near the beginning of Lapadula's teaching career. The dedication they shared to good filmmaking, always with a side of playful banter, epitomized Lapadula's generous intellect and ebullient personality. "By Marc's scorekeeping, I'm sure the score is around 10,000 to 2 in his favor, and that's perfectly fine by me. It might not even be that far from the truth," Siegel said of their never-ending quips, barbs, and zingers.
"Marc's gift was in helping people recognize their own abilities, and then also challenging them to expand and hone their talents and creativity all the more," Siegel continued. "Marc's joie de vivre, his relentless passion for the craft, and his devotion to helping his students achieve their dreams was a marvel to behold. And it was all 100 percent sincere. Marc wanted every last student of his to be the next Quentin Tarantino. And he wholeheartedly believed that they could be."
For many students, Lapadula was almost synonymous with Gilman 500, the former "tower room" just below the iconic clock, where he taught many of his classes.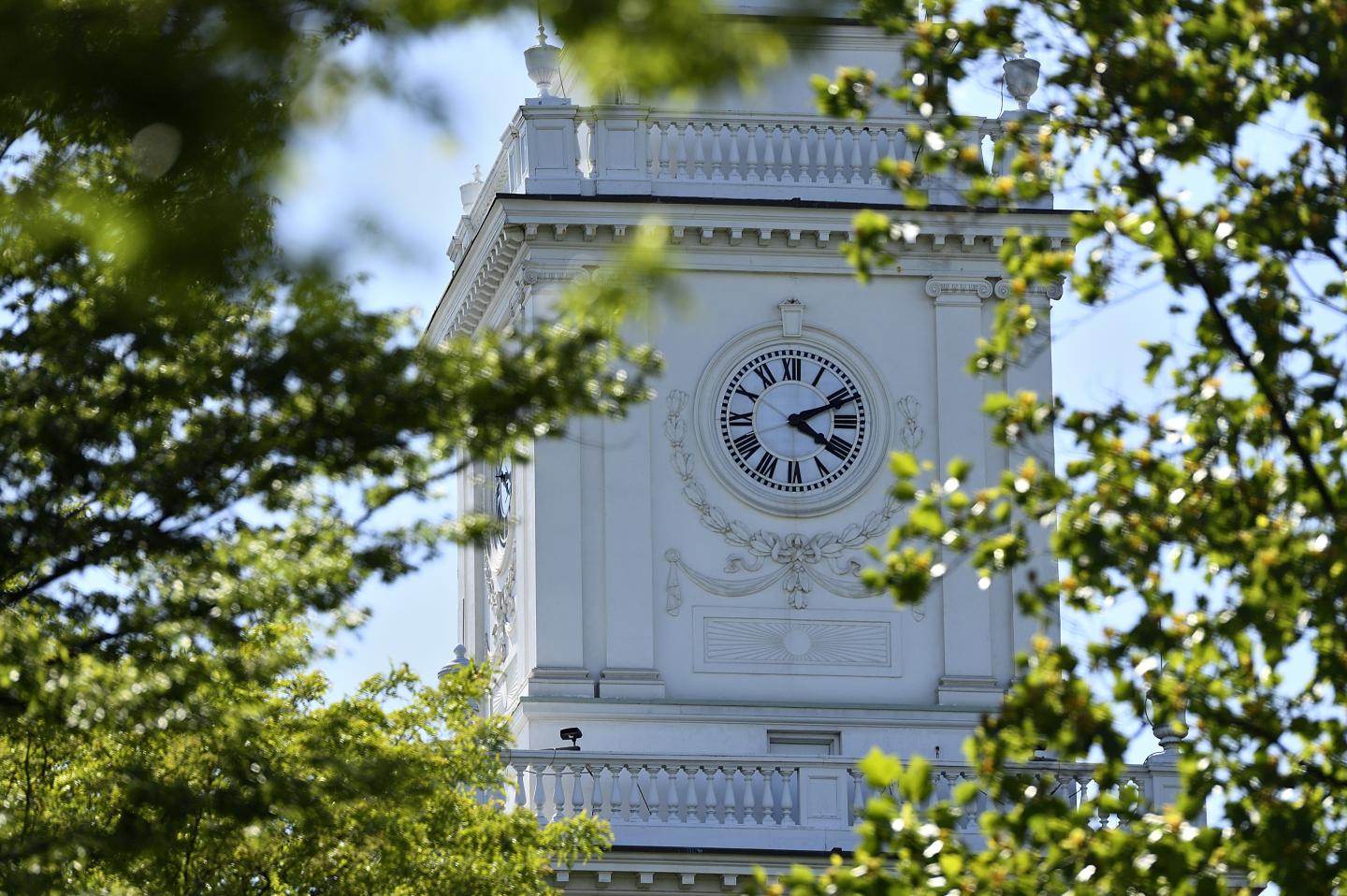 "That was where he welcomed me, as a high school senior, to sit in on his class, sealing my decision to attend JHU," said James Freedman '09. "It's where he invited me, as a college freshman not yet eligible to take his course, to join for a semester-end celebratory feast, where he brought massive hoagies in from Philly for his students to enjoy. It's where I had four of my most memorable classes, in playwriting and screenwriting, taught by a man who truly loved his art. Marc's departure isn't a closing chapter. He's left behind many thousands of students from his decades teaching at Hopkins, Yale, University of Pennsylvania, and beyond, upon whose lives he's left an indelible mark. To me, and to many of us, he was much more than just a professor. He was a dear and loving friend who was always there when you needed him."
Those hoagies were no exception to his generosity, whether of refreshment or spirit. "Marc Lapadula was a cheerful, smiling presence in our department for years," said Mary Jo Salter, former Krieger-Eisenhower Professor in The Writing Seminars and now Academy Professor. "He loved the collaborative nature of film, theater, and the classroom. Marc was always eager to chat about new projects and to share his delight in the accomplishments of others. It was common for him to surprise us with kind gestures, like a basket of apples left in the Writing Seminars office. We'll miss his generous spirit."
Lapadula earned a bachelor's degree in English from the University of Pennsylvania in 1983, an MA in creative writing from the University of East Anglia in Norwich, England, in 1984, and an MFA in theatre arts-playwriting from the University of Iowa Playwrights' Workshop in 1987. He received a Distinguished Faculty Award at the University of Pennsylvania in 2009; an Outstanding Teaching Award at Hopkins' Master's Program in Creative Writing in 2009; and the Heritage Commission of Delaware County Award for Outstanding Contributions to Historic Architectural Preservation in 2011. In addition to colleagues, former students, and lifelong friends, Lapadula leaves behind his wife, Jami.
In a 2007 interview with the Hopkins News-Letter, Lapadula offered some insight into the electrifying presence for which he was universally known and loved.
"We're not here on this planet for very long," he said. "Even if we live to be a hundred, it's hardly enough time to fully experience the world, the people we love or our own thoughts and feelings. What I want is to learn from my mistakes. Keep striving to do that. It's about doing the best one can and trying to become the best person one can be, always treating each other with respect and making sure we instill a sense of dignity in all the people we come in contact with. Not because we merely want them to feel good, but because as people, we deserve this."