In a corner of the Beach last Friday, the talking drums of performance group Urban Foli carved a space for reflection and celebration in the shaded heat filled with voices and movement.
"They denied us the drum, so we became the drum," dance artist Amaniyea Payne chanted to the crowd in a prelude to a traditional Ring Shout. She was joined in the spiritual dance by members of the Baltimore and Johns Hopkins communities, who had come to celebrate Juneteenth at Homewood: Expressions of Freedom, hosted by the Billie Holiday Center for Liberation Arts and the Krieger School of Arts and Sciences in partnership with the Homewood Museum and the Center for Africana Studies.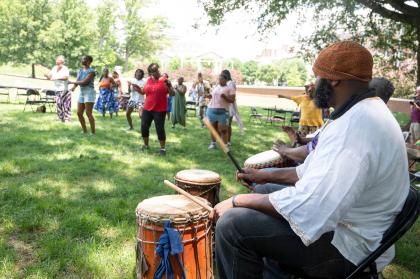 After Payne's Ring Shout praise dancing, spoken word artists from DewMore Baltimore, Black Rose and Jay Le Ray, performed reflective pieces about Black girls' journeys and freedom.
"Being part of the community here was so much fun," Black Rose, who had never been to a Juneteenth celebration before, said later.
Juneteenth represents healing both for those historically oppressed and for the oppressors, said community organizer Nneka N'namdi, the founder of Fight Blight Baltimore. Earlier, N'namdi had delivered the celebration's keynote address—"A Commemoration of Juneteenth"—which described the history of the first Juneteenth and connected it to Baltimore's African American history of freedom fighting.
"Days like Juneteenth are high holy days," N'namdi said. "It's important to be in community on a day like today."
After the keynote, DJ Tanz joined forces with Urban Foli and audience members took to the grassy dance floor.
"It was a wonderful opportunity to celebrate, commemorate, and also anticipate," Payne said. "I call it a healing process, for America, for all of us, to remember there's always the possibility of change. And that's what I think we all are striving for these days: A way to celebrate together, understand historical aspects, take the fictional aspect out and bring in the factorial aspect, so that we can all understand from whence we came."
Shawntay Stocks, assistant director of fellowships and community engagement for the Inheritance Baltimore project at Johns Hopkins, coordinated the event.
"In curating this event, we reflected upon the many ways that Black life has been oppressed and repressed," Stocks said. "Juneteenth: Expressions of Freedom was a way to reject the policing of the Black body, with song, joy, movement, speech, and breath. It was a celebratory, joyous, expressive, and moving moment to educate both our JHU community and our Baltimore community about the history of Juneteenth and our continued fight for freedom."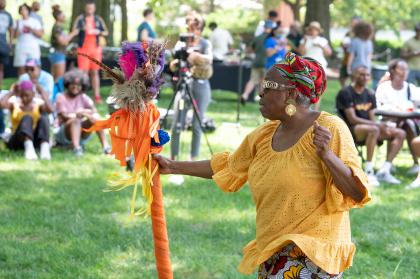 Cheryl Hinton, a lifelong educator in Baltimore and a diversity practitioner who was a community co-coordinator of the event, reflected on the historically fraught relationship between African American residents of Baltimore and Johns Hopkins entities.
"Opening up the campus for this dialogue is critical and imperative for continued relationship building between us," she said. "Truth telling and transparency are an important part of this process."