Two Johns Hopkins alumni join the ranks of the prestigious Knight-Hennessy Scholars this fall as they pursue graduate studies at Stanford University. Not only will alumni Katherine Hu and Nikhil Gupta join a cohort of current and future leaders, but they will also receive funds to cover tuition, living stipends, and leadership development throughout their graduate career.
Kindred in their passion for teaching and mentoring, the two winners' work spans medical innovation, high-profile political campaigning, international travel, and community service. The core of their work is at the intersection of innovation and equity with a deep passion for community service, which they will carry with them as they arrive at Stanford in the fall.
Knight-Hennessy Scholars are selected for their independence of thought, leadership, and civic mindset. As part of the scholarship, they receive three years of leadership development training and programming.
Learn more about the Johns Hopkins alumni who will join this year's cohort of Knight-Hennessy Scholars.
Katherine Hu
"As a physician-innovator, I want to combine clinical care with medical device innovation—working at the intersection of medicine, engineering, and entrepreneurship," says Class of 2020 graduate Katherine Hu. "I am really interested in caring for and creating medical technology for populations often overlooked in the medical innovation space, particularly children."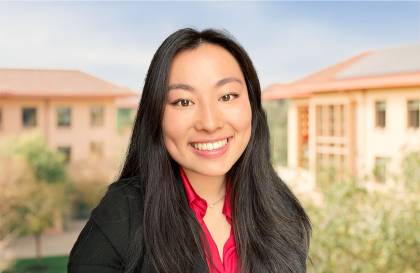 As a first-year student, she co-founded Maternys, a team that developed technology to treat postpartum hemorrhage in low-resource settings. Her research took her team to Sierra Leone, resulting in publication of their research and patenting of the technology. Her research also inspired her to co-found Pediafeed, where she and her team are working to develop a novel pediatric feeding tube.
"The people you surround yourself with really matter," Hu says. "It's essential to have teammates who are united under a clear mission and feel comfortable sharing their ideas and passions."
Beyond medical innovation for under-resourced communities, Hu has a particular aptitude for teaching. She founded Sharing Languages, a free after school foreign language program in Baltimore City schools, and she is currently completing a year as a Fulbright English Teaching Assistant in the Canary Islands.
"My Fulbright experience has been incredible," Hu says. "I've been so lucky to be able to really bond with my students and teachers here, creating relationships that I'll treasure forever."
She plans to carry this mentorship and cultural exchange into her career as a physician-innovator as well. Not only does she hope to continue teaching and mentoring children in diverse environments, but she has also learned invaluable lessons in stepping outside of her comfort zone.
"I started a STEM fair at my school as well as a weekly language exchange in my community, which will help me as I aspire to diversify medical innovation and push the current boundaries of healthcare," Hu says.
Nikhil Gupta
Since completing undergraduate and graduate degrees at Hopkins in 2016, Nikhil Gupta has been focused on policy and nonprofit work, taking on roles including statewide organizing for Hillary Clinton's campaign and serving as managing director for Thread, a Baltimore organization that provides mentorship and support to high school freshmen who rank in the lowest 25% of their class.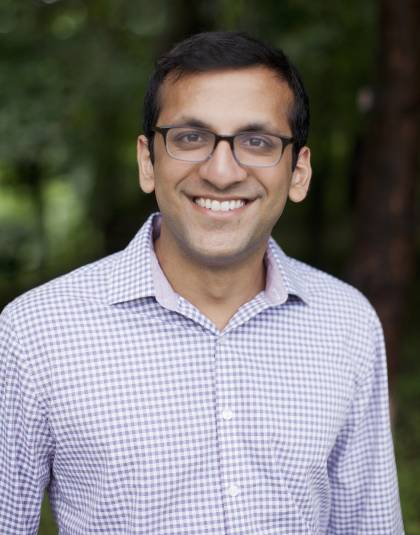 "After graduate school, I joined the Hillary campaign because I personally felt strongly about the potential impact of the election. Well, we lost (I don't know if you heard)," Gupta jokes. "In order to create more resilient change, I think we need to spend more time re-engaging and re-connecting people across their perceived differences. That's what took me to Thread—an organization focused on reconfiguring the social networks of Baltimore and building a more equitable future where our young people, and all of us, can thrive."
Gupta called his desire to create a more equitable society his "north star," which has guided him through various spheres of corporate and community work, including a stint at a hedge fund with similar goals in mind. With a master's degree in international studies already under his belt, Gupta will be working on an MBA at Stanford.
"Business school in Silicon Valley is a bit of a pivot from a community nonprofit in Baltimore," Gupta says. "Truthfully, I've spent a lot of time building rapidly scaling, people-driven organizations, and I'm excited to take a step back and reflect on what worked, what totally failed, what kind of leader and citizen I want to be, and what problems still need to be solved. I'm hoping that business school will allow me to nerd out about how to build organizations and meet folks who are trying to solve interesting problems."