Wrapped in a cozy sweater the color of butterscotch, Meg Chisolm personifies the well-being she wishes for her patients and others struggling with mental illness. During a conversation in her home office on a brilliant fall day, she says it's not enough to be free of disease. It's possible—and profoundly important—to flourish, says the professor of psychiatry and behavioral sciences at the Johns Hopkins University School of Medicine.
Chisolm's new book, From Survive to Thrive: Living Your Best Life with Mental Illness (Johns Hopkins University Press, 2021), written with John Hanc, challenges readers to make that leap and describes four pathways that can lead them to a life of purpose and joy.
Written in a conversational voice for a lay audience, Chisolm's contribution to self-help literature is often funny, and offers ample prompts for self-reflection. The book is deliberately "upbeat, inspiring, and a little whimsical, so it wouldn't be a downer to read," Chisolm says. Adding to the lively tone is a foreword by Orioles baseball legend Cal Ripken Jr., who serves on the advisory council for the Paul McHugh Program for Human Flourishing, which Chisolm directs.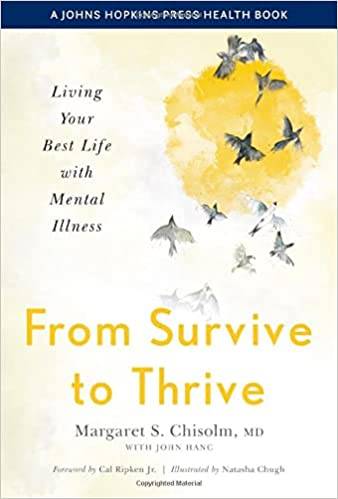 Chisolm's nearly four decades of research, teaching, and patient care inform the book. So does her own history of mental illness and treatment, which she describes in personal case studies and commentary throughout Survive to Thrive. A 1988 graduate of the University of Maryland School of Medicine, Chisolm recounts two episodes of depression, as a young woman who attempted suicide and as a new mother suffering from postpartum distress. Chisolm's life stories reveal uncomfortable truths, perhaps similar to those she might hear from patients. In one case study, she writes: "I was an anxious mother, which I attribute to the fact that this was my first child, and I felt slightly sad and guilty and extremely fatigued, which I think was the result of my having returned to work."
While discussing behavioral disorders, Chisolm turns the painful story of her younger brother's substance use disorder and suicide at age 50 into a lesson on the role individual choice plays in recovery. After his third prison term, Chisolm's brother sought treatment, joined support groups and got a fulfilling job. "In this way, he was able to learn how to manage his choices better," Chisolm writes. Then, a series of poor choices led him to drink again, lose heart and ultimately kill himself.
Overall, her frank self-examination is a way to connect personally with readers, says Chisolm, a member of the Miller Coulson Academy of Clinical Excellence. "But most important, it is a way to destigmatize psychotherapy and demystify psychiatry and psychiatric problems."
Her openness is both courageous and valuable, says Jimmy Potash, director of psychiatry and behavioral sciences at the Johns Hopkins University School of Medicine. "It's not an easy thing to lay yourself bare to the world. That a very accomplished psychiatrist and author is willing to do that says that it's okay to be open about mental illness."
The four pathways to fulfillment described by Chisolm—family, work, education, and community—"are fundamental components in life," she writes. To move forward along one or more of those paths by taking a job or reuniting with family, for example, requires enormous, yet necessary effort for someone who has kicked an addiction or copes with schizophrenia, Chisolm says.
At the Johns Hopkins Center for Addiction and Pregnancy, where she worked for 10 years, Chisolm saw that for women to achieve and remain in recovery, it was necessary for them to "become part of a supportive community such as Narcotics Anonymous, find drug-free friends, or reconnect with a faith community."
After her treatment for postpartum depression, Chisolm's search for a community led to Catholicism. She has since converted to the faith and become an active member of St. Ignatius, a Jesuit church in downtown Baltimore. Joining the church "has given me hope even in the most difficult and challenging of situations, including my brother's suicide, and brought me to a deeper understanding of my purpose in life," Chisolm writes in her book.
Before they're ready to travel along a chosen pathway, though, readers must understand the underlying causes of their suffering, Chisolm says. In From Survive to Thrive, she explains the "four perspectives" Johns Hopkins psychiatrists use to discern the circumstances that give rise to a patient's mental illness. The method requires an in-depth examination of patients through the lens of their life story, personality, learned behaviors, and signs of mental illness.
"I like hearing stories. I like working with people to rescript their life stories to help them see themselves in a new, more optimistic light."
Meg Chisolm
Introduced by Johns Hopkins psychiatrists Paul McHugh and Phillip Slavney in their 1998 book, The Perspectives of Psychiatry, the comprehensive method is derived from the work of Adolph Meyer, founding director of Johns Hopkins' Henry Phipps Psychiatric Clinic in the early 20th century. Chisolm "is laying out an approach for readers for how to understand their mental disorder," Potash says. That, too, will enlighten readers, he says. "I don't think this unique Hopkins approach has ever been fully laid out for lay people in this way."
Medical school wasn't the first career choice for Chisolm, who majored in visual arts in college. Shortly after she was accepted to New York University's graduate cinema studies program, she came upon A Fortunate Man: The Story of a Country Doctor, a book by John Berger, an influential art critic, painter, novelist, and poet she admired. Deeply moved by the book's text and photos, Chisolm decided on a medical career instead.
Once enrolled in med school, her winding path continued. Chisolm considered specializing in obstetrics and gynecology, and then gravitated to surgery. She had no interest in psychiatry until a rotation in which she spoke at length with patients who had schizophrenia. "I like hearing stories," says Chisolm, who completed her residency at Johns Hopkins. "I like working with people to rescript their life stories to help them see themselves in a new, more optimistic light."
Her book asks the same of readers who may blame themselves for a devastating breakup or for being an anxious, exhausted parent. Reframe the story to recognize why the breakup was for the best after all, or that it's difficult being the working parent of a fussy infant, Chisolm advises. Helping patients turn such self-defeating narratives "into a story of redemption, growth, communion, and/or agency" is standard psychiatric practice, she writes.
Ensuring that Johns Hopkins medical students flourish has brought Chisolm full circle, back to the art world. Participation in a museum-based fellowship for health professionals at Harvard in 2019 spawned research projects influenced by disciplines extending from art education to epidemiology. Her work at the McHugh Program includes leading several pilot programs that measure the value of embedding the arts and humanities within medical school curricula.
As COVID-19 restrictions allow, Chisolm meets with students in Baltimore museums to examine works of art, and she conducts online discussions about novels and short stories. Examining the depths and heights of human experience in this way, Chisolm says, "helps us to be better doctors, and gives us insights that will help our patients lead meaningful and purposeful lives."
This article originally appeared in Dome.