Johns Hopkins University will introduce a new fleet of buses on its well-traveled Homewood-Peabody-JHMI shuttle route later this week, the first step in a multiyear plan to modernize the fleet and ultimately transition to electric buses.
The new buses will be in service beginning Saturday, Oct. 2, as the university transitions to a new transportation service provider for the route, Academy Bus. Twelve new buses will be permanently assigned to the route. Half of the fleet is expected to be electric by 2024, with a full conversion to electric anticipated by 2026, dramatically reducing greenhouse gas emissions and supporting the university's broader sustainability goals.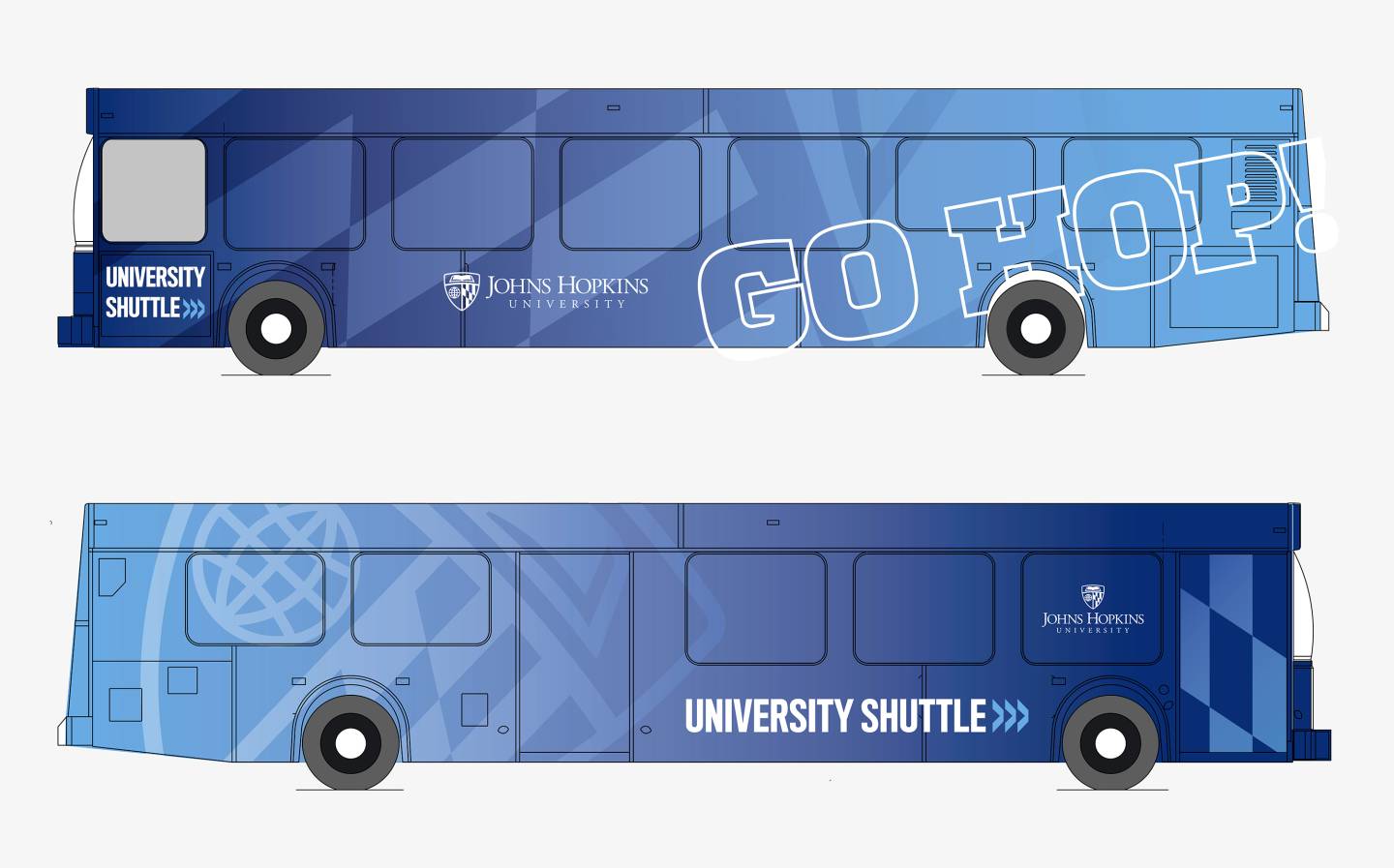 "We are excited to be on the leading edge as the entire industry slowly transitions to electric propulsion and to align with the university's commitment to sustainability," said Greg Smith, JHU's director of transportation services. "Electric buses will be quieter, more efficient, and better for our environment. We can't wait to get them on the road."
The Homewood-Peabody-JHMI shuttle route connects the university's two primary campuses—Homewood in North Baltimore and the medical campus in East Baltimore—as well as the Peabody Institute in Baltimore's Mount Vernon neighborhood and residential neighborhoods in between where many Hopkins students, faculty, and staff live.
The shuttle makes 13 stops on its route, which is serviced from 6 a.m. until 12:30 a.m. on weekdays and includes limited weekend service from approximately 7:30 a.m. until 12:30 a.m. The Homewood-Peabody-JHMI shuttle is the most frequented route among JHU's shuttle routes—prior to the onset of the COVID-19 pandemic in March 2020, it carried an average of 5,500 passengers each weekday. Current ridership is about half that total.
Earlier this month, Johns Hopkins Transportation Services announced temporary modifications to the Homewood-Peabody-JHMI shuttle service to address service interruptions caused both by mechanical issues due to the age of the current bus fleet and staffing issues with the current service provider. The university brought in additional buses on a temporary basis to ensure reliable, uninterrupted service.
The new buses are currently being inspected and equipped with Transloc, cameras, passenger counters, and decals in preparation for their debut next month. A full complement of dispatchers and drivers are being hired and trained, and a new schedule has been posted to the Transportation Services website.
Feedback can be sent to shuttles@jhu.edu.