As the Charles Village Streetscape project approaches the finish line this fall, university officials and members of the Charles Village Civic Association, the Charles Village Community Benefits District, and the North Charles Village PUD Design Committee celebrated a milestone June 23: flipping the switch on two newly installed lighted signs in the medians near St. Paul and 33rd streets.
The Charles Village signs will likely cast a white or golden glow for everyday use, but they can be programmed to display different color schemes for holidays and special occasions, like red, white, and blue for Fourth of July or Hopkins blue for Commencement.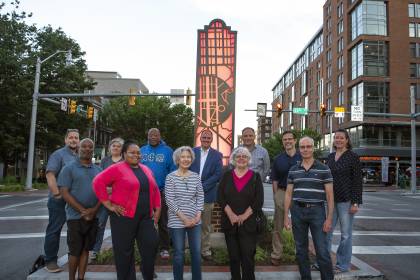 "At long last Charles Village can celebrate with not one but a pair of gateway signs," said Sandy Sparks, chair of the North Charles Village PUD Design Review Committee. "The distinctive design captures Charles Village's north central location and historic architecture with multicolored LED lighting—the icing on the cake."
The new neighborhood lights are among the final pieces of the Charles Village Streetscape project. A collaborative effort by the university, community groups, local businesses, and the Baltimore City Department of Transportation, the streetscape project is expected to enhance pedestrian safety along St. Paul and 33rd streets in the heavily trafficked area near the university's east entrance. In addition to new walking and bicycle paths, improvements include brick crosswalks, improved lighting and landscaping, trash and recycling receptacles, benches, brick banding on select sidewalks, and granite curbs.
A larger event will take place in the fall to mark the completion of the entire streetscaping project, which was designed to transform the Charles Village corridor into a vibrant, walkable retail district. Neighborhood leaders and the JHU team felt that the long-awaited light deserved a moment of its own.
"The Charles Village Streetscape project is the culmination of a multiyear effort that includes Johns Hopkins University, City of Baltimore, the Charles Village Civic Association and community, and our design/construction partners," said Bob McLean, vice president for facilities and real estate. "Hopkins' intent was to improve pedestrian and bicyclist safety, support retailers and parking, and help enhance the Charles Village identity and aesthetics. With this strong partnership, I think we achieved these goals."