When Deepa Ravindra visited the Homewood campus of Johns Hopkins University as a high school senior, she noticed a young child in Levering Hall reciting multiplication tables. She recalls being puzzled by the child's presence on a university campus.
"I was superconfused, but that's how I first found out about Tutorial Project," she says.
The Tutorial Project, which is now in its 62nd year of operation, is an after-school tutoring program that provides academic support for Baltimore City first-through-fifth graders. The program is part of the Center for Social Concern under the division of Student Affairs. Led by director Young Song and a team of student directors, organizers, and tutors, the Tutorial Project typically brings 120–140 children per semester to the Homewood campus twice a week for personally tailored lessons and activities to bolster their reading, writing, and math skills.
Having grown up with two younger siblings and worked with kids at science and basketball summer camps, Ravindra knew she wanted to take part in the program from that first moment in Levering. She has been working with the program since her first year at Johns Hopkins, first as a tutor and now as a student organizer.
Student organizers are responsible for groups of five-to-seven children, and before the start of each semester, they give an assessment test to determine the kids' strengths and their needs. From there, the organizers match the tutees with a tutor that suits them on a personal as well as academic level.
"We consider the tutees' personalities," Ravindra says. "Some are quieter, some are louder; some may need more probing to share or answer questions, some may be very outspoken. We also look at the experience the tutor brings—if they've worked at a summer camp, you might assume they've worked with more energetic kids and are able to work with that personality in a positive way. After they've been at school for eight hours, our tutees, at times, can be very tired, and we want to channel their mood in a positive direction."
Ravindra describes the matching process as something of a "vibe check," ensuring that the children are paired with tutors who can understand their communication style and not make them feel undue pressure or anxiety. "We try to find personalities that don't clash but support each other. It's all about making the tutee feel comfortable so they get the most out of their experience."
"The ease with which they speak [with their tutors] is like they're friends. It helps them with their schoolwork and it gives them someone they aspire to be."
Karola Wilson
Mother of two Tutorial Project participants
Beyond the student organizers are the student directors, who work directly with Song to oversee the logistics of the program, including enrolling the tutees, making phone calls to all the participants' parents and guardians, arranging and monitoring transportation to and from campus, and managing the student organizers. This year, however, there was an added task—retooling the program to work in a virtual environment.
"We had to reimagine how we conducted everything," says senior Rasa Forati, one of the two current student directors who, like Ravindra, has been involved with the Tutorial Project since her first year at Hopkins. "All of our resources are in Levering Hall: reading games, math games, worksheets, computers, our mini library—all the things we always relied on to teach the kids effectively."
Access to resources was not only a concern for the Tutorial Project, it was an issue across Baltimore as many families struggled to shift to online learning last spring without adequate Wi-Fi or devices. Purusha Jackson-Cox, whose younger daughters, Grace and Melody, are currently in the program (her eldest daughter, Naomi, also participated but has aged out) admits, "We were not prepared for this; it has been really horrible." In addition to issues logging on for school, lack of personal connection also affected the young students. "The shift from being social and not having that one-on-one with their teachers—their studies tended to take the worst of it," Jackson-Cox says. "I refused to look at their progress reports and report cards because I knew they weren't a true indication of what they're capable of."
The Tutorial Project organized quickly to meet the challenge.
"We had to do a lot of digging for online resources," says Forati. "We had to play around with Zoom to find ways for organizers to check in on the tutoring pairs. And figuring out how to engage kids in a virtual setting can be tough; they might have siblings or other people roaming around the house or no quiet place to sit. And Zoom fatigue is especially real for kids."
With the initial shift to virtual, participation in the Tutorial Project dipped to 85 pairs in the spring 2020 semester. But the program worked through the spring and into the summer, with some organizers and directors pitching in as tutors, and the experience helped the team prepare for the fall, when numbers increased to 106 enrolled tutees.
"The Tutorial Project as a whole is adapting and figuring out how to run the program as close as possible to how it was when we were in-person, all under the current circumstances," Ravindra says. "We had parent meetings at the beginning of the year to ask how everything is at home, what resources they had, like Wi-Fii hotspots, and if there was anything we could do to help."
For those families who have been able to stay with the program, its focus on relationships and personal attention has proved more valuable than ever.
"Our daughters love the one-on-one attention they get from their tutors, and it's great they've been able to keep that normality through the pandemic," Jackson-Cox says. "The tutors have been extremely flexible in changing days to fit our schedule and understanding the amount of time the kids spend online."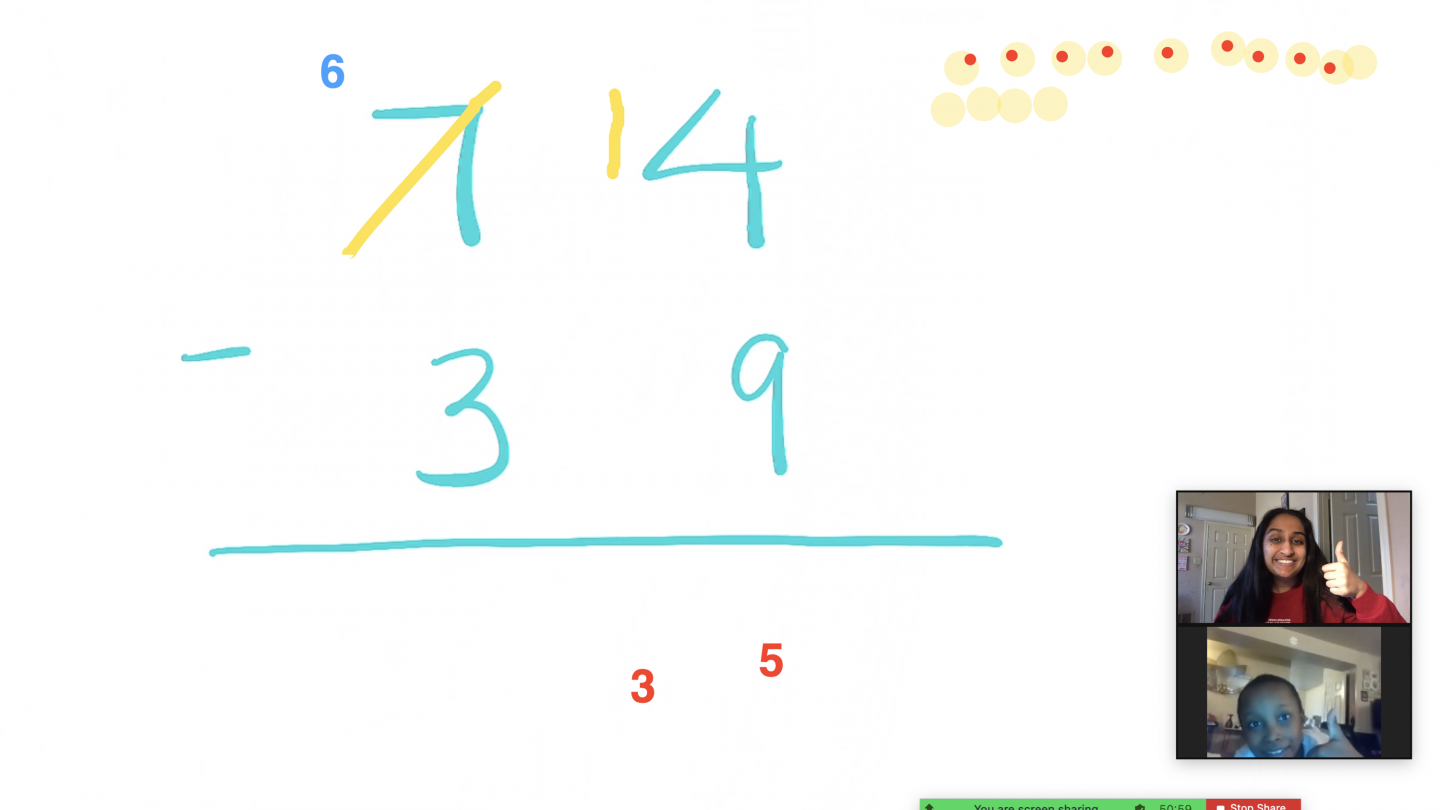 Similarly, Karola Wilson, also a mother of two Tutorial Project participants, touts the connection between the tutors and the tutees as a key strength of the program. "The ease with which they speak [with their tutors] is like they're friends," Wilson says. "It helps them with their schoolwork and it gives them someone they aspire to be."
Wilson has seen the true impact of this connection, both academically—her son Kadel ("KD") has been accepted into honors math and honors English for the sixth grade, and her daughter Kaliyah, currently in the fourth grade, has set her sights on Harvard—and personally.
"The other day, KD was going through some issues that I knew about and thought were over," she says, "but his tutor was quickly able to pick up on it and gave me a call of concern. It lets me know they're really listening to my kids. Sometimes kids don't want to tell their parents everything."
That bond is a badge of honor for the tutors, and they take the responsibility seriously.
"At the instant a tutee chooses to trust you, knowing what to do at that point is very important," says Ravindra. "If you say something that might throw them off, you may prevent them from sharing that information going forward."
"Last summer was a motivating force for us to dig deeper and try to bridge the gap that exists between Hopkins students and the surrounding community. ... I view myself as more of the student—I need to learn about the kids and their lives, and only then can I best serve them."
Rasa Forati
Student co-director of the Tutorial Project
As she and Forati have both experienced, conversations among tutoring pairs can run the gamut from music and hobbies to social issues, personal struggles, and politics. And the tutees find those nonacademic conversations fulfilling, too.
"Before we start math or language," Kadel Wilson says, "we'll just catch up on stuff: current events, politics, the Capitol riots, George Floyd, and all that." He also recalls discussing school projects on civil rights and presidential history with his tutor.
Tutorial Project staff undergo mandatory training to give them a general knowledge of topics relevant to their tutees, such as the ins and outs of the Baltimore education system. However, the recent wave of public demonstrations against racial inequality prompted the program to redouble its efforts, adding new trainings focused on equity, inclusion, and racial consciousness.
"Last summer was a motivating force for us to dig deeper and try to bridge the gap that exists between Hopkins students and the surrounding community," Forati says. "A lot of Hopkins students come in with great intentions, but it might be their first time entering a new community. It's important to know you're the guest here. I view myself as more of the student—I need to learn about the kids and their lives, and only then can I best serve them."
Implementation of the new trainings began last fall with the student directors and organizers, who were led through weekly sessions by Song and Shawntay Stocks of the Center for Social Concern. The trainings included a presentation on Hopkins' history in Baltimore City given by a City Schools teacher, videos and discussions that dealt with topics such as microaggressions, and an autobiographical writing exercise through which the staffers explored their personal experiences regarding race.
This spring, the trainings were expanded to the tutors as well, with small cohorts meeting for four sessions. "We just wrapped up our second session this week," Ravindra says. "We talked about cultural humility and cultural competency. Something I really like about the sessions this semester is that a lot of it is very Tutorial Project–focused. For example, we posed the question: How do you respect cultural diversity and show cultural humility at Tutorial? And something that came up is respecting the fact that not every family needs to be nuclear; instead of saying, 'How's mom and dad?' you can ask, 'Who's at home? How are they doing?' It allows the student to choose what they want to share."
"These are concepts a lot of people may not have heard before," adds Forati. "Even when you feel like you've learned everything there is to know, you have to remember that it's a continuum and you will always have to push further. These are skills that can be taken away and applied to any situation or meeting any new individual."
Throughout the spring semester, the Tutorial Project has worked to stay connected with the youth it serves. New efforts include using Instagram to provide tutees with writing prompts, riddles, and a virtual "brag board" to showcase their work and hosting an online graduation ceremony for those in the program. While no one yet knows quite how the fall semester will look, the Tutorial Project will certainly continue, whether in Levering or on Zoom.
To learn more, including how to become a tutor, visit the Tutorial Project website.