Johns Hopkins University has significantly expanded the amount of information available on its COVID-19 data dashboard, providing valuable new insights into testing and positive case trends among the university's employees and staff.
The data resource, now updated daily, tracks how many Hopkins students and employees have been tested for coronavirus and how many have tested positive. It includes a table showing positive cases by university division as well as information on how many JHU affiliates have tested positive in recent days, available isolation and quarantine capacity, and city and state case trends.
The dashboard, originally launched in September, is part of the university's ongoing efforts to keep the Hopkins community and others safe and informed during the coronavirus pandemic.
"Transparency is one of our core values, which is why we launched the original dashboard," said Jon Links, vice provost and chief risk and compliance officer and a professor at JHU's Bloomberg School of Public Health. "With these enhancements, we are providing a comprehensive view of COVID in our university community, in a way that reflects best practices among universities."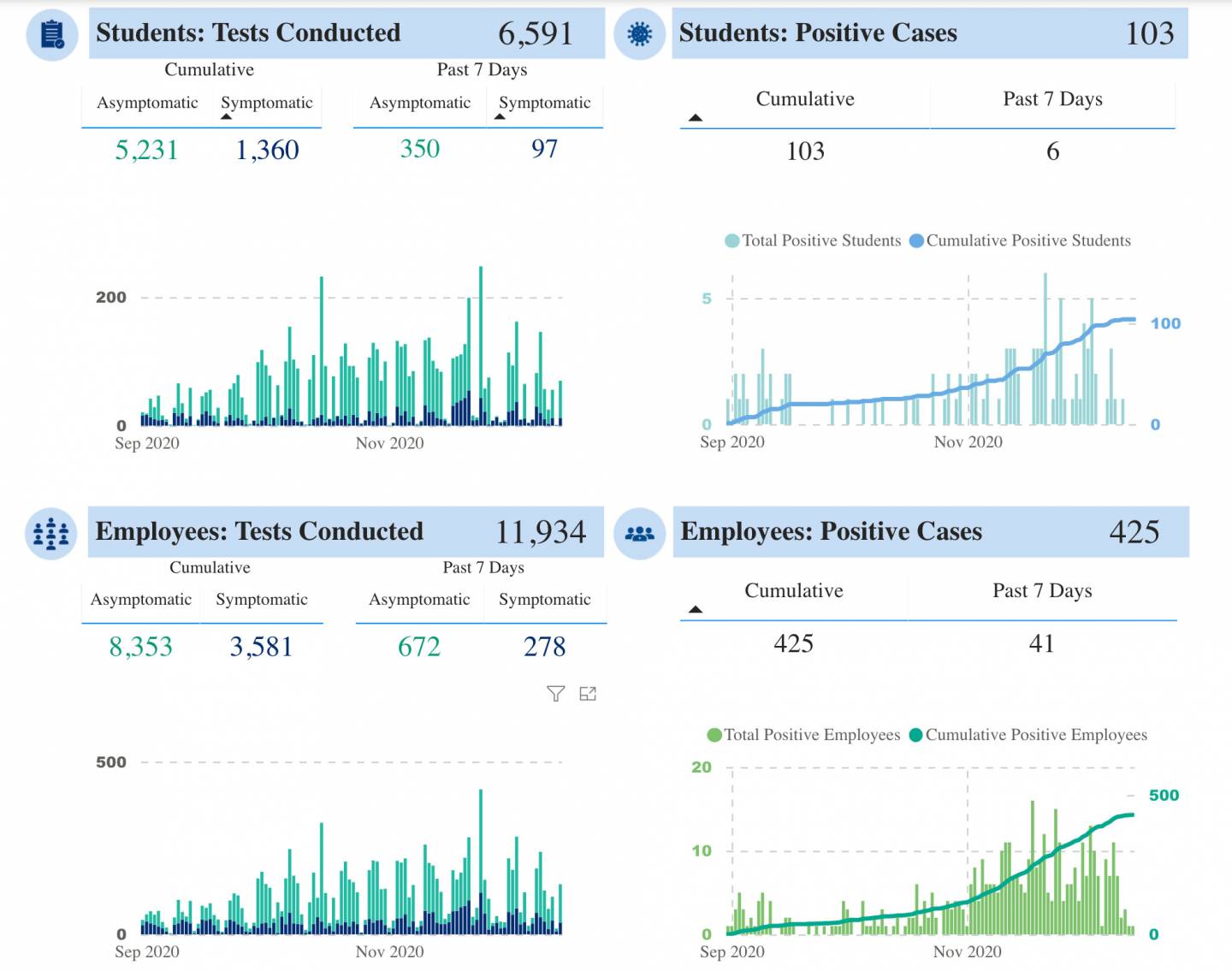 The data dashboard will be particularly valuable as the university prepares to welcome students back to campus for the spring semester at the end of January.
"The enhanced dashboard provides a wealth of information in a user-friendly format," said Lainie Rutkow, senior adviser to the president and professor at the Bloomberg School. "We anticipate that it will be a helpful resource for those within and beyond the Johns Hopkins community."
To date, more than 500 university affiliates have tested positive for COVID-19, according to the dashboard data—425 employees and 103 students.
Student data includes undergraduates, graduate students, and medical students. Post-doctoral fellows, medical residents and clinical fellows, and medical house staff are included in the employee counts. Johns Hopkins Health System (including Johns Hopkins Hospital) employees are not represented in the counts.
Employees or students tested outside of the Johns Hopkins network may not be reflected in the data, though the dashboard does reflect tests conducted by hundreds of non-Hopkins health care locations, pharmacies, and other service providers that are part of the Chesapeake Regional Information System for Patients.
Any Johns Hopkins community member who feels ill or is concerned about exposure to COVID-19 is encouraged to call the Johns Hopkins COVID-19 Call Center at 833-546-7546, seven days a week, between 7 a.m. and 7 p.m. The JHCCC supports all JHU students, faculty, and staff, although it is primarily intended for people experiencing COVID-19 symptoms who are located within driving distance of the Baltimore metropolitan area.