Johns Hopkins University is publishing a data dashboard showing COVID-19 testing totals and test-positive cases among employees and students, part of the university's ongoing effort to keep the Hopkins community safe and informed amid the coronavirus pandemic.
The dashboard, which will be updated with new data each Monday, reflects testing conducted on symptomatic individuals who contact the Johns Hopkins COVID-19 Call Center, or JHCCC, and the twice-weekly testing of undergraduate students who have received special permission to live on campus. It will soon also include results from the routine testing of volunteers for an epidemiological surveillance study at the Homewood campus, which begins this week.
Tables show the number of tests conducted, the number of individuals tested—some people are tested more than once—and the number of positive tests since the fall semester began on Aug. 31. Separate graphics include historical data showing testing trends since Aug. 3 and cumulative test results for March 2 through Aug. 31.
As of today, the university is reporting 50 positive tests since the semester began two weeks ago—33 among faculty and staff and 17 among students.
"This dashboard provides another tool—along with the other resources on the JHU COVID website—to keep our community educated and informed about our testing program and the importance of staying vigilant in following public health guidelines," said Kevin Shollenberger, vice provost for student health and well-being.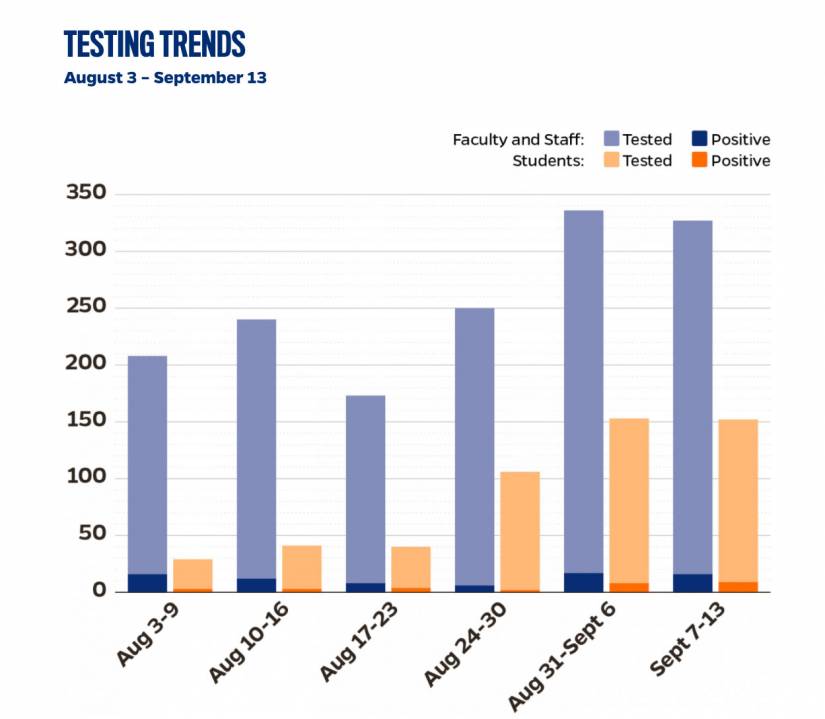 Data is shown for two groups—students, which includes both undergraduate and graduate students, and faculty and staff, which includes post-doctoral fellows, medical residents and fellows, and medical house staff.
Employees or students tested outside of the Johns Hopkins network may not be reflected in the data. Additionally, because testing is primarily limited to symptomatic individuals at this time, the rate of positive tests is likely higher than it would be among the greater Hopkins community or the general population.
Specific information about individual positive tests, including locations, is not currently included, in order to preserve the privacy of Hopkins affiliates. If a Hopkins employee or student does test positive, the Johns Hopkins COVID-19 Call Center contact investigation team will determine whether the individual has had meaningful contact with any other affiliates. High-risk close contacts will be contacted and asked to quarantine.
Any Johns Hopkins community member who feels ill or is concerned about exposure to COVID-19 is encouraged to call the Johns Hopkins COVID-19 Call Center at 833-546-7546, seven days a week, between 7 a.m. and 7 p.m. The JHCCC supports all JHU students, faculty, and staff, although it is primarily intended for people experiencing COVID-19 symptoms who are located within driving distance of the Baltimore metropolitan area.