Johns Hopkins University has selected a final design concept for its new Homewood campus student center, an open, modern, accessible, welcoming facility envisioned as a social engagement hub for all members of the Hopkins community.
"Although we are now dispersed around the globe, the desire for a welcoming place that connects our students to one another and all of us more fully to our broader Baltimore community has not abated," JHU President Ronald J. Daniels said. "In truth perhaps, we need the promise of such a place now more than ever."
When it opens in fall 2024, the Hopkins Student Center will include spaces for relaxation and socialization, co-curricular arts programs, student resources and support services, media and digital media lounges, a performance space with seating for up to 200 people, and a variety of dining options. The facility will satisfy the long-acknowledged need for a true nonacademic gathering spot on the university's Homewood campus.
The university selected the winning design—submitted by Bjarke Ingels Group, or BIG, which is based in New York, Denmark, London, and Barcelona—through an international competition that culminated with design proposals from four prestigious architectural firms.
BIG's innovative concept likens the Hopkins Student Center to a village, with a central living room surrounded by a collection of spaces tailored to the diverse needs of the Hopkins community. The building, approximately 150,000 square feet in all, will feature a transparent façade capped by a cascading roof of solar panels, with spaces for meetings and collaboration, performances and exhibitions, and support from student services staff.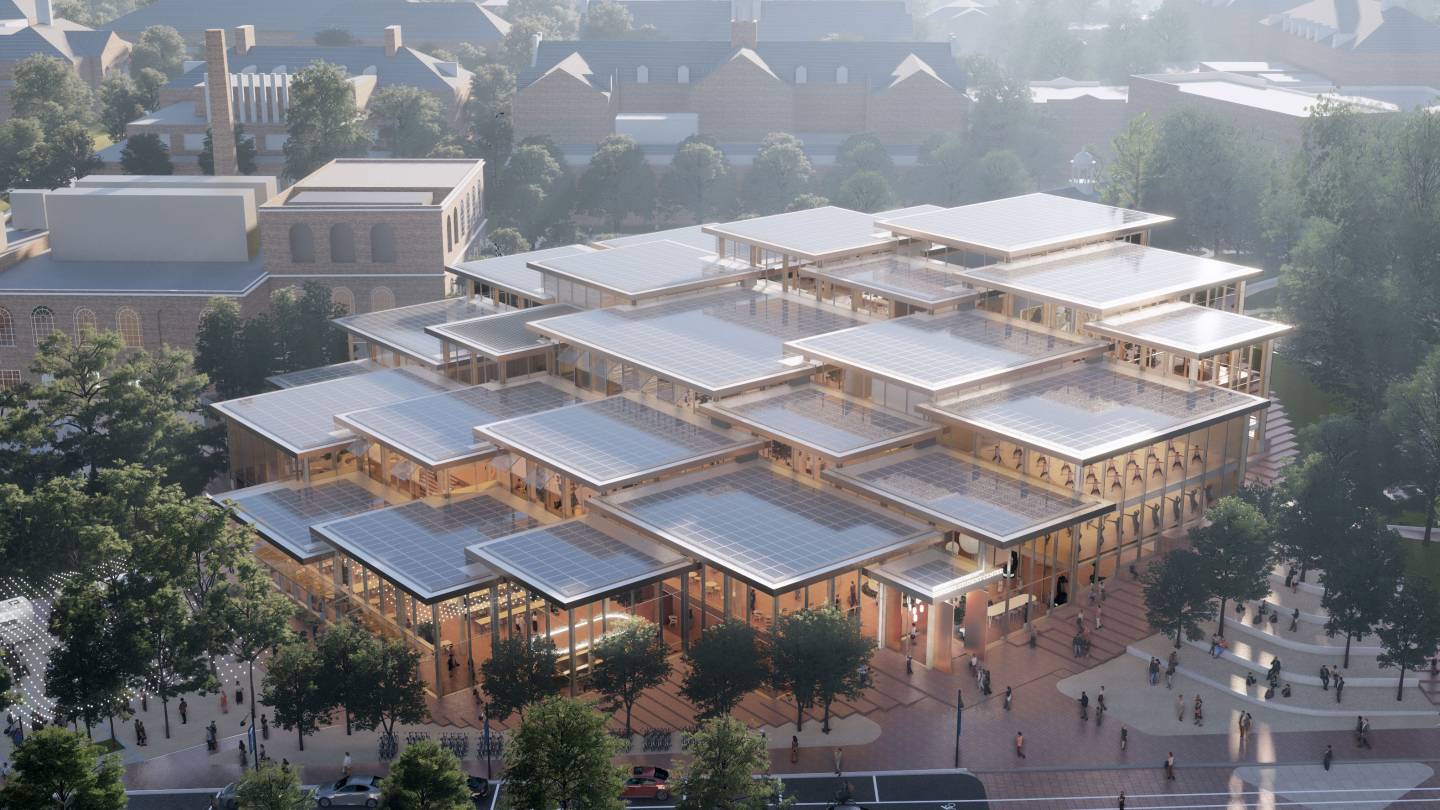 "A space like this, that's dedicated to being social—to just eating and hanging out with friends—simply does not exist," said Jenna Movsowitz, a 2020 graduate of the university's Krieger School of Arts and Sciences. "I think it's going to absolutely change the culture at Hopkins, spark a much more relaxed social culture on campus."
The new student center—located just south of the Beach at the intersection of 33rd and Charles streets—will turn an area of campus that currently includes the Mattin Center and Whitehead Hall into a dynamic hub at the crossroads of student activity. The area will become a natural gateway, connecting Charles Village and the more than 3,500 Hopkins students who live in the neighborhood to the heart of the Homewood campus.
The design transforms the landscape around the building to create outdoor spaces for student activities and events. A central plaza can host pop-up exhibits or performances, as well as vendors and food trucks to enliven the North Charles Street corridor.
Hopkins students have called for a place to convene outside of their academic lives for more than a century. Two years ago in March, Daniels announced plans for the new student center, which is backed by significant philanthropic support. Since then, the university has been engaged in an extensive effort to solicit feedback on the future center's design and programming.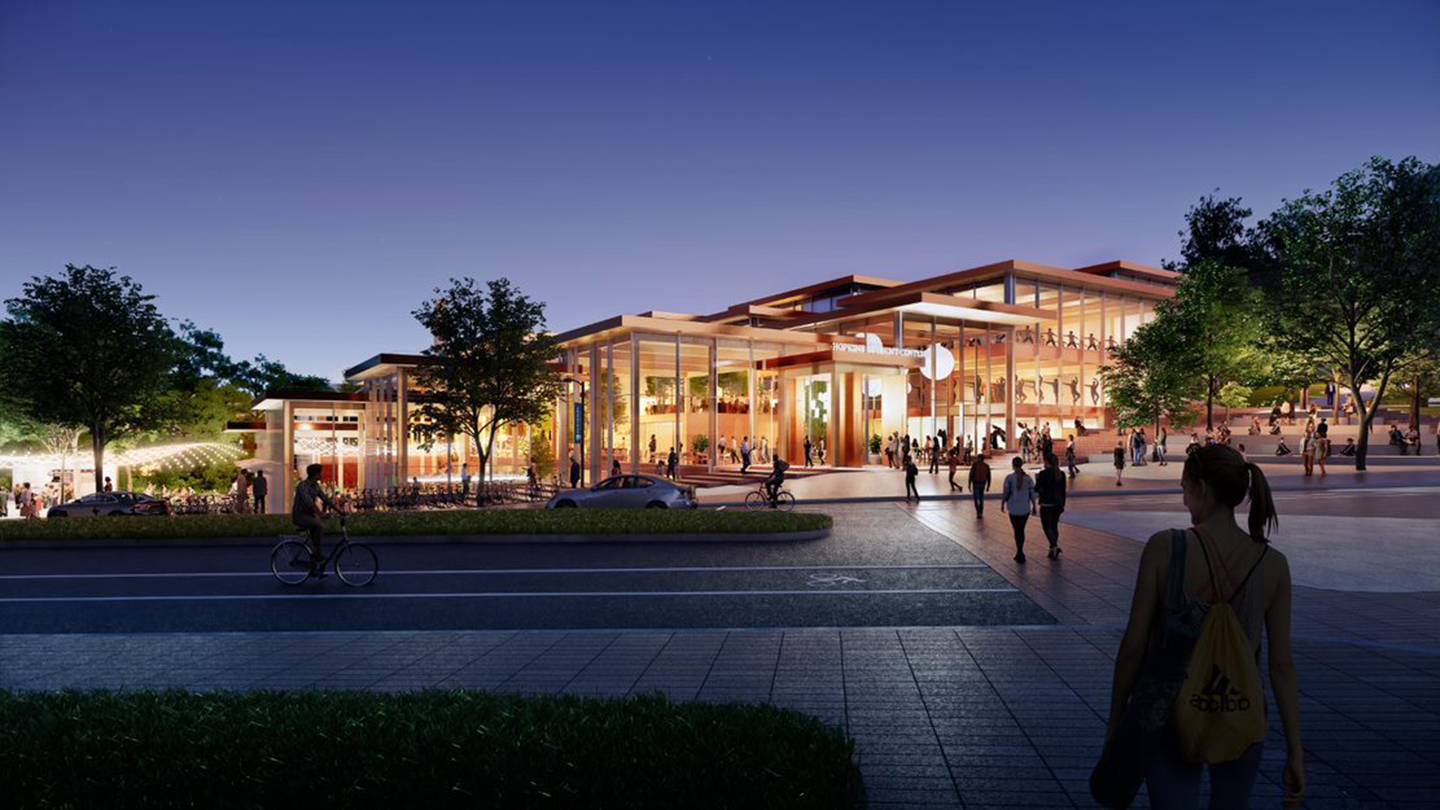 The selection of a winning concept is the culmination of a months-long process led by a special advisory committee chaired by Alanna Shanahan, vice provost of student affairs. Students and student affairs staff were included throughout the process, and more than 1,200 students, faculty, staff, and alumni responded to a June survey inviting evaluation of the four design finalists. Feedback on BIG's concept was overwhelmingly positive, with survey respondents embracing the building's open feel, connections to surrounding exterior spaces, abundance of natural daylight, and integrated features that support the university's sustainability goals.
"The transition from the programming feasibility study to the start of the design process has been incredibly exciting," Shanahan said. "To take what Hopkins students have shared as their aspirations for the building and to see those pieces begin to come to life through a dynamic design process gives me confidence this building will be everything our students hoped for, and more."
As design architect, BIG will work with Shepley Bulfinch as the architect of record and the Rockwell Group for interior design. The project is expected to be complete by fall 2024.
"I sorely wish that we were able to mark this important milestone in the life of the university in person," Daniels said. "But until public health conditions allow us to welcome Bjarke and his team to campus, we will keep the project moving forward as planned and look forward to a proper celebration of everything this dynamic, welcoming addition will mean for Homewood, for the university, and for our city."
Correction: The capacity of the performance space was misstated in an earlier version of this article. The Hub regrets the error.