The Johns Hopkins Libraries are resuming Borrow Direct, a program of the Ivy Plus Libraries Confederation that enables Hopkins faculty, students, and staff to search a combined collection of over 60 million volumes and directly request delivery of circulating items from participating universities.
The confederation had to suspend Borrow Direct in mid-March as partnering institutions—Brown, Columbia, Cornell, Dartmouth, Duke, Harvard, Johns Hopkins, MIT, Princeton, Stanford, the University of Chicago, the University of Pennsylvania, and Yale—closed their campuses and directed staff to work remotely in response to the COVID-19 pandemic. Since July, a working group of representatives from the five Hopkins library systems, including the Sheridan Libraries, Welch Medical Library, Arthur Friedheim Library at Peabody, Mason Library at the School of Advanced International Studies, and the Applied Physics Laboratory Library, have been planning for the resumption of Borrow Direct service.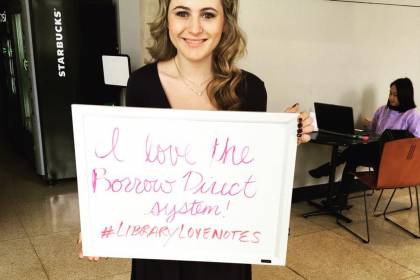 The service is resuming with the six library partners that are ready: Columbia, Cornell, Dartmouth, Harvard, Johns Hopkins, and Penn.
"I am delighted that Hopkins is among the first confederation members to restart Borrow Direct, which has been one of our most popular, frequently-used services ever since Hopkins was invited to join the Ivy Plus Libraries," said Winston Tabb, Sheridan Dean of University Libraries, Archives, and Museums, on behalf of the university's 2020 Research Workgroup. "Since our mission is to support research and teaching at Hopkins, we are really thrilled to be able to restore this key service."
To use Borrow Direct, Hopkins users sign on using their JHED ID to search the catalog, select a no-contact book pickup location, and place a request. The availability of requestable materials will improve and expand as more partner libraries rejoin the lending network.
The service will operate under COVID-19 protocols to ensure the safe handling of library materials. Because many of the partner libraries are facing restrictions in staffing and physical access to buildings where collections are housed, turnaround times will vary. Currently, users can expect to receive materials two to three weeks after placing a request, depending on where items are coming from. Library staff will proactively review the volume of requests and adjust workflows as needed to try to improve overall turnaround time.
Complete guidance is available on the Johns Hopkins Libraries Return to Research page. Questions may be directed to BorrowDirect@jhu.edu.