Johns Hopkins has appointed health equity expert Lisa Cooper director of its Urban Health Institute, where she will execute a new vision for the institute's future as a vital partner in the health of Baltimore City.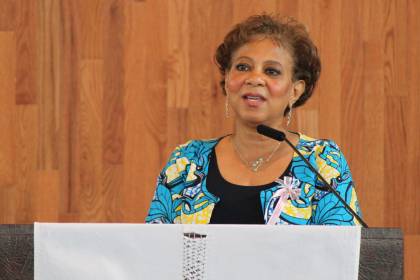 Under Cooper, a Bloomberg Distinguished Professor in the university's schools of Medicine, Nursing, and Public Health, the 20-year-old institute will reframe its purpose to advance health and health equity in Baltimore—a timely mission given the current threat of the novel coronavirus to our city, said Provost Sunil Kumar.
"I believe the renewed vision of the Urban Health Institute can deliver real value for Johns Hopkins University and Johns Hopkins Medicine, and for the health of the people of Baltimore with a focus on the city's most vulnerable groups," Kumar said. "I am especially pleased that Dr. Cooper is willing and able to take on this vital responsibility. She is uniquely prepared for this important role."
Cooper has devoted her career to addressing health disparities through her research and practice. Prior to taking on this role, which became effective April 15, she worked with Joshua Sharfstein, vice dean for public health practice in the Bloomberg School of Public Health; Amy Gawad, the institute's executive director; a steering committee; and others across the institution and the city to set out a new vision for the Urban Health Institute.
"I am delighted by this opportunity," Cooper said. "It is an honor to have my work addressing health disparities validated in such a significant way. My appointment to this position affirms for me the importance that we are collectively placing on the pursuit of health equity in the city of Baltimore."
Under Cooper's leadership, the institute will focus on three overarching goals with activities, administrative structure, and feedback loops for accountability:
1. Facilitating and recognizing collaborations between communities, universities, health care delivery systems, government, and the private sector to build collective capacity for achieving health equity in Baltimore.
Cooper says this work will include training workshops, grant funding, programs such as the Bunting Neighborhood Leadership Program for Emerging Community Leaders, and creating new resources. These include a speakers' bureau of Hopkins experts who could be guests at community meetings to share their expertise, as well as community members to participate as experts in academic programs and seminars.
"We will also disseminate best practice guidelines for community-academic partnerships," Cooper said. "There are a lot of researchers and practitioners within our schools who want to know how to do this work well—how to work with a community advisory board, how to compensate people for their time, and how to work with community groups to translate the research findings into practice."
2. Mobilizing resources in support of promising strategies to achieve substantial gains in the health and well-being of Baltimore residents.
If there's a sustained citywide effort related to health equity, UHI would work with its community-university coordinating council to develop and coordinate a strategy that mobilizes university, public, private sector, and community resources, Cooper said.
3. Promoting dialogue, understanding, and trust among practitioners, researchers, educators, scholars, community leaders, advocates, and residents, to create pathways to health, well-being, and social justice in Baltimore.
Cooper said the institute would act as a convener, using events to bring people together to talk about these issues and to highlight some of the efforts already in place in the city.
"We would also present awards, like the Henrietta Lacks Memorial Award, and use them as opportunities to highlight some of the work that has been funded by the institute as well," Cooper said.
Cooper, a Liberian-born general internist, social epidemiologist, and health services researcher, was one of the first scientists to document disparities in the quality of relationships between physicians and patients from socially at-risk groups. She then designed innovative interventions targeting physicians' communication skills, patients' self-management skills, and health care organizations' ability to address the needs of populations experiencing health disparities.
Her numerous honors for her pioneering research, teaching, and mentoring include being named a 2007 MacArthur Fellow and election to the National Academy of Medicine in 2008. She has also been recognized by several community organizations in Baltimore, and across the United States, for her engagement and advocacy to address health disparities.
Most directly related to the work of the Urban Health Institute is Cooper's role as founding director of the Johns Hopkins Center for Health Equity. She and her colleagues, including more than 40 faculty members across the schools of Public Health, Medicine, and Nursing, have made considerable contributions to advance health equity within Baltimore and across the globe by implementing evidence-based interventions and educational programs, partnering with health systems and communities, and informing practices and policies to improve population health.
Cooper will continue to direct the center, which serves as a model for community-academic partnerships in cities with similar health disparities across the U.S. and globally. The institute and the center, which celebrated its 10-year milestone this year, will work together to create synergies for Baltimore-based efforts to enhance their reach and impact in advancing health and health equity across the city. The institute will also benefit from the center's rigorous approach to community-based participatory research and education and its experience in translating research findings into practice and policy.