The food pickup was scheduled to start at 1 p.m. last Friday, but by 11 a line of cars already snaked several blocks around the Henderson-Hopkins School. By the end, volunteers had handed out 7,000 pounds of groceries to the school's neighbors in East Baltimore—bags full of potatoes, onions, apples, oatmeal, peanut butter, and other basics.
"The demand is so huge. It's overwhelming," said Peter Kannam, principal of the K-8 school. "All of our food was gone by 2:30."
Like all local schools, the Henderson-Hopkins building has been closed for more than a month now due to the COVID-19 pandemic, its 560 students transitioned to online learning. From the outset, Kannam worried what the closure meant for families at the school, which on a typical day provides 1,000 meals to students in need: breakfast, lunch, snack, and dinner.
"The challenge is that East Baltimore is a food desert, and many of our families are food insecure," Kannam said. "So this was the driving thing keeping me up at night: How are my families going to get fed during this challenging time?"
On the first Tuesday of the closure, Henderson-Hopkins proceeded with its existing monthly program, The H.E.A.R.T. Market, which offers school families groceries donated from the Maryland Food Bank. Seeing the food go quickly that day, Kannam and others were convinced that the program should not only continue during the pandemic, but expand.
The principal reached out to Johns Hopkins University, whose School of Education operates Henderson-Hopkins in partnership with Morgan State University. Henderson-Hopkins opened in 2014 as a contract school of the Baltimore City Public Schools system, serving families in and around the Eager Park neighborhood. 
Johns Hopkins University representatives agreed with Kannam that the program should expand, and JHU leadership offered to provide funding for weekly food distribution to school families and any other community members in need for a period of 10 weeks. The Maryland Food Bank upped the ante, working to supply 7,000 pounds of groceries for the week, compared to its usual contribution of 3,000 pounds per month.
"These are extraordinary circumstances, and we know there are people who are struggling," said Alicia Wilson, vice president for economic development at Johns Hopkins; and Rianna Matthews-Brown, director of university initiatives in the president's office. "So when Peter came to us with the idea of expanding the program, there was no question—we wanted to do whatever needed to be done to support the effort. It's obvious there is a real need in this community."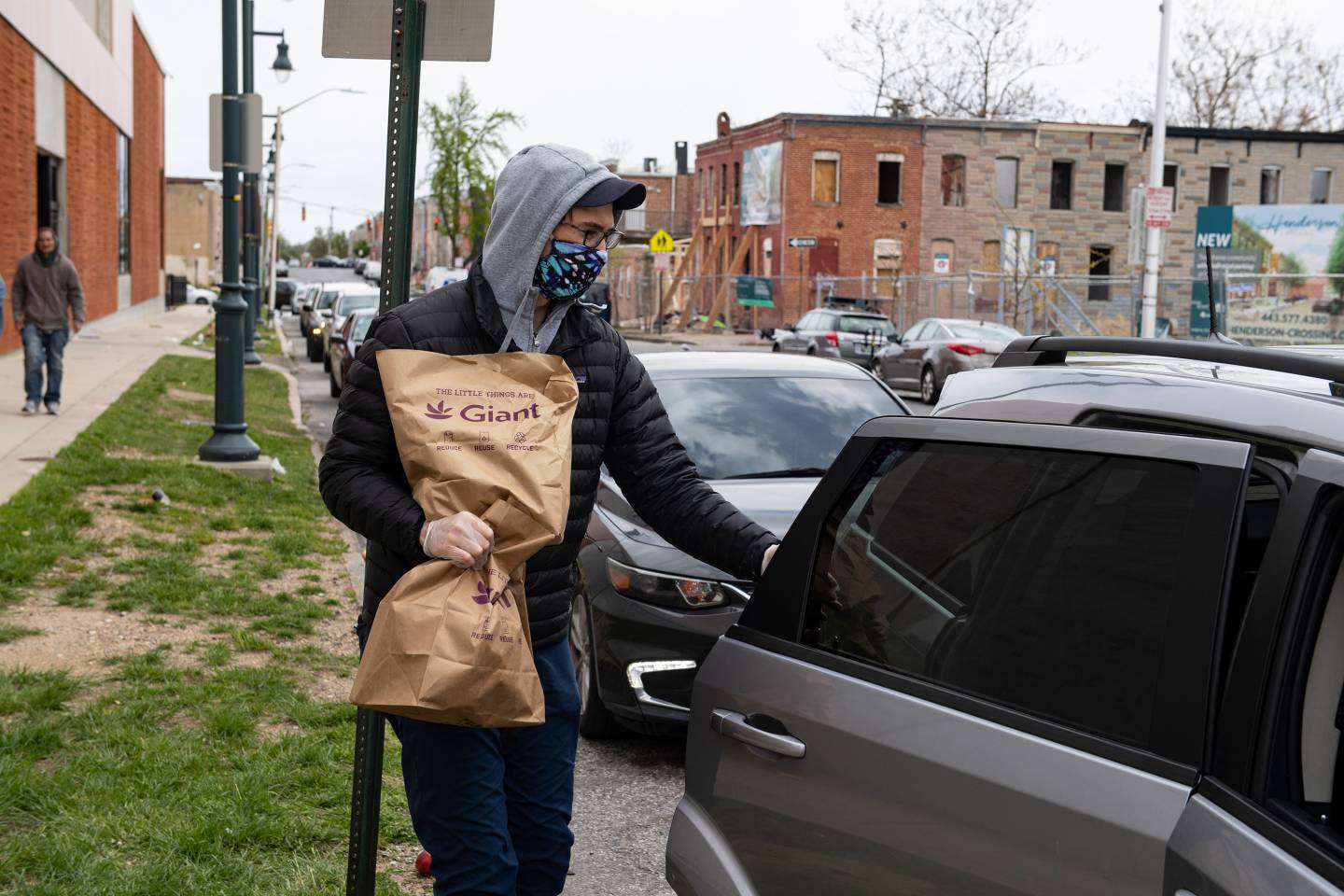 At Henderson-Hopkins, about 10 volunteers, many of them school staffers, bagged and handed out the first round of groceries last Friday. Trained beforehand on COVID-19 safety measures, they wore face masks and gloves, washed their hands frequently, and kept a safe distance from each other. 
Neighbors turned out in droves, arriving by foot and car. In total, the event served 432 families—many but not all of those who lined up. In addition to fruits, vegetables, and non-perishable items, the grocery bags included activity books for kids as well as a flyer with COVID-19 health and safety tips.  
"You got the impression that folks' economic circumstances had drastically changed over the past week," said Henderson-Hopkins vice principal J.D. Merrill, who noted that it was Easter weekend for many families.
At one point, Kannam said, the cars stretched for a half-mile around the school. "It was intense," he said of the demand he saw. "I literally have never experienced something like this in my life."
The Maryland Food Bank has also felt the effects of COVID-19, with donations declining by about 90% during the pandemic, according to Joanna Warner, the nonprofit's communications director. She said the food bank is filling that void through direct purchases from wholesale retailers, but that it is seeking donations to help. To make a donation, visit the Maryland Food Bank website.
"The biggest thing we're encouraging people to do is to help with monetary donations," Warner said, "because that's what we need to make sure our food pantries are full."