Off and on for the past six years, protesters in Hong Kong have taken to the streets to fight for their right to self-governance. On Thursday night, Johns Hopkins students packed Shriver Hall to discuss the ethics and efficacy of these protests with two of the men most closely associated with the movement.
Joshua Wong and Nathan Law are two of the most prominent student activists of the Umbrella Movement, a 79-day occupation of Hong Kong in 2014 that kicked off a wave of pro-democracy protests in the city. At Thursday's event—the first in this year's student-run Foreign Affairs Symposium—they were greeted by a nearly full auditorium of supporters and opponents eager to have their voices heard. What began as a conversation moderated by professor of East Asian studies Giovanna Maria Dora Dore, with Law on stage and Wong joining via Skype from Hong Kong, soon transitioned into a back-and-forth exchange with members of the Hopkins community about the role of civil disobedience in politics.
The protests that launched the Umbrella Movement began in September 2014, after China's top legislative body, the National People's Congress Standing Committee, announced that candidates for the city's chief executive post would be pre-screened by a 1,200-member election committee. Hong Kong and China have a policy of "one country, two systems," allowing the city to retain its capitalist economic system and independent executive, legislative, and judicial bodies, while still remaining subject to the laws of mainland China. The election committee, Wong explained during the symposium, stands in the way of a free democracy in Hong Kong, limiting leadership candidates to figures approved by the Chinese government.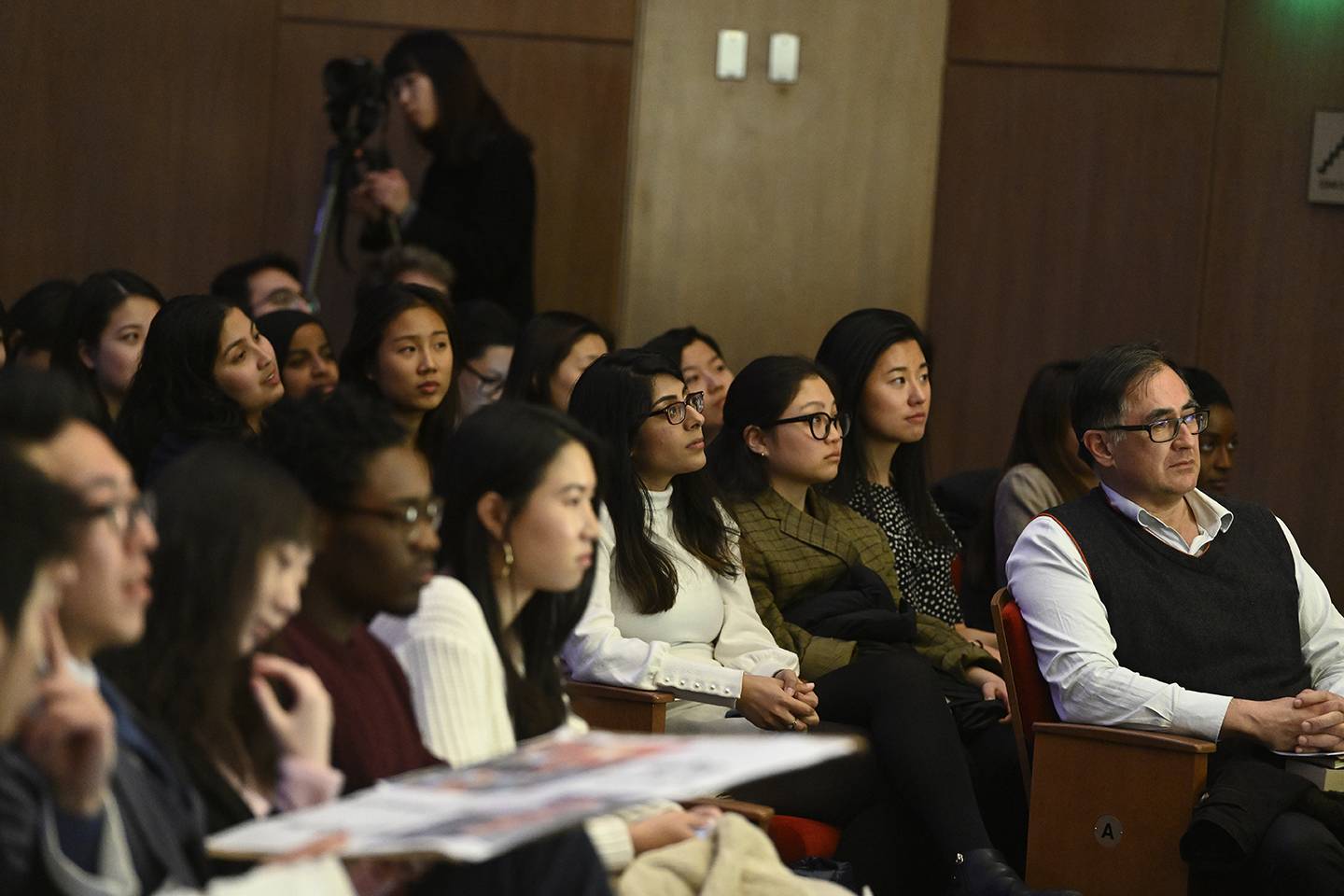 The establishment of that election committee sparked a series of student strikes and occupations of government property by pro-democracy activists. As protestors used umbrellas to protect themselves from pepper spray and tear gas launched by Hong Kong police, the demonstrations became known as the Umbrella Movement. Wong was 17 when the Umbrella Movement began. The leader of a class boycott among Hong Kong students, he soon became one of the faces of the pro-democracy youth activists.
In 2016, Wong and Law helped found the political party Demosistō, which advocates for total autonomy for Hong Kong. That year, Law was elected as the youngest-ever legislative councilor for the Hong Kong Island Constituency. His service in the legislature ended in 2017, when he and Wong were jailed for unlawful assembly during their 2014 protests. As a condition of their imprisonment, Wong and Law are barred from holding political office for five years. Law said Thursday that while he has faith in the power of peaceful assembly and legal power, he believes that sometimes it becomes necessary to step outside of the law.
"We brought forth civil disobedience action. We committed occupations like rallies in violation of the law because we wanted to prove that the law was unjust, that our voices were not being heard," Law said. "Things are getting more difficult because we've witnessed the collapse of our institutions which are supposed to be impartial."
These actions outside the law are controversial in both Hong Kong and China, particularly as protests have grown recently, sparked anew by the introduction of controversial extradition legislation by Hong Kong government. Activists have been criticized for injuries and property damage that have occurred during their protests. About an hour before the symposium event began, more than 75 demonstrators gathered outside Shriver Hall to protest Wong and Law's talk. Carrying Chinese flags and signs urging unity between China and Hong Kong, the protestors spoke out against the violence that has become more frequent as protestors and Hong Kong police continue to clash.
As the event began, the demonstrators and about a dozen counter-protesters moved inside to hear from Law and Wong and engage in a respectful exchange with the famous activists. FAS organizers said they decided to encourage this dialogue by straying from the symposium's usual format.
"The majority of our events are structured lecture style, but we wanted to frame this event differently to create a conversation," said Katy Oh, executive director of the Foreign Affairs Symposium.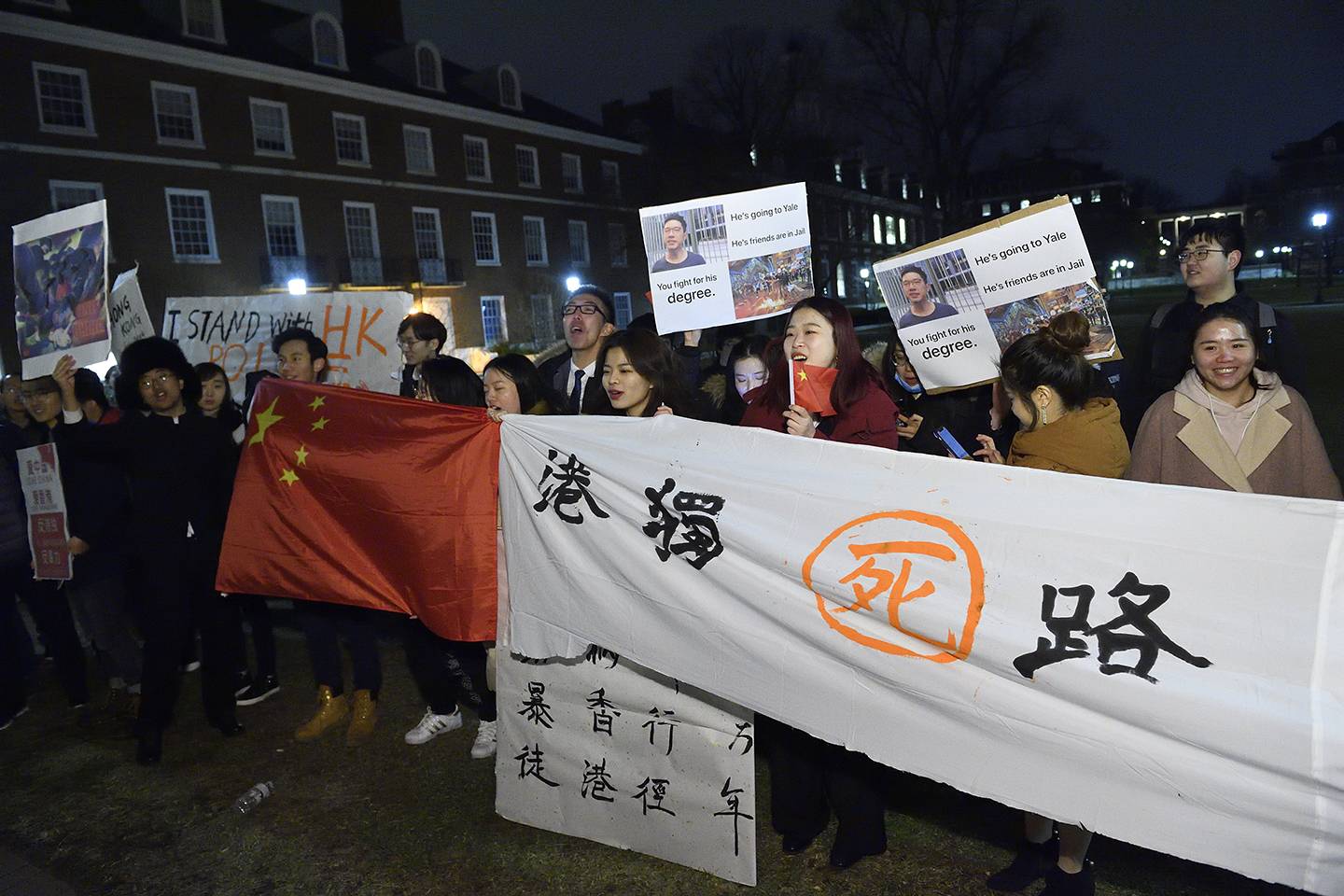 During the Q&A, Wong and Law answered questions about the movement's tactics, inspirations, and goals from both supporters and critics of their efforts. One student who had protested earlier inquired about the Umbrella Movement's leaderless structure, asking if the lack of defined leadership made it more difficult to denounce violence from those in the streets.
"I think that's a fundamental misunderstanding of how protests work," Law said. "We're not going to—for the purpose of stopping violence—go back and invent a leader. That's impossible."
Jonas Zhai, a first-year philosophy and religious studies major, said he helped to organize the demonstration against Law and Wong to send an important symbolic message to them and to the Hopkins community at large.
"I don't expect to change their mind in one night. But it's really important to let people see that we exist on campus, and this is a matter that we care a lot about," Zhai said. "We still love them, but we don't have to agree with their ideologies."
Launched in 1997, the annual Foreign Affairs Symposium is run by students and sponsored by the university's Office of Student Development and Programming. Upcoming events this semester include talks by climate activist Xiuhtezcatl Martinez on March 4, Syrian refugee Muzoon Almellehan on March 26, and writer and activist Angela Davis on April 16.