A group of 13 community members, students, faculty, and staff has been nominated to the Johns Hopkins University Police Accountability Board, which will help directly shape the development and operation of the future Johns Hopkins Police Department.
Drawn from East Baltimore, Homewood, and Peabody—the three campuses and surrounding communities—the 13 people nominated by Johns Hopkins include three community members, three faculty members, three staff members, and four students. Those names will be sent to the Maryland State Senate for confirmation during the 2020 legislative session of the General Assembly, which begins Jan. 8. There will be two additional appointments made by Baltimore's mayor and the Baltimore City Council president for a total of 15 accountability board members.
The nominees chosen by Johns Hopkins are:
Community members
Edward Kangethe, East Baltimore
Sonja Merchant Jones, Homewood
Noah Patton, Peabody
Faculty
Lorraine T. Dean, ScD, Assistant Professor, Department of Epidemiology, Bloomberg School of Public Health
Pier M. Larson, PhD, Professor, Department of History, Krieger School of Arts and Sciences
P. Logan Weygandt, MD, MPH, Assistant Professor, Department of Emergency Medicine, School of Medicine
Staff
Regina Gail Malloy, Executive Assistant to the President, Johns Hopkins Hospital
Jed McCormick, Director of Finance and Administration, Johns Hopkins University
Alexander McLin, Senior Programmer Analyst, Krieger School of Arts and Sciences
Students (undergraduate, graduate, medical resident, post-doc, and fellow)
Shanice Guthrie, Undergraduate, Krieger School of Arts and Sciences
Katie J. O'Conor, MD, Physician, Departments of Emergency Medicine and Anesthesiology and Critical Care Medicine; Fellow, School of Medicine
Pritika Parmar, Undergraduate, Krieger School of Arts and Sciences
Kwame Romero-Sackey, Graduate Student, School of Medicine
The university received 121 completed applications. An eight-member nominating committee with a non-voting chair recommended 40 applications for consideration by university leadership, which narrowed the committee's selections to the final 13 nominees.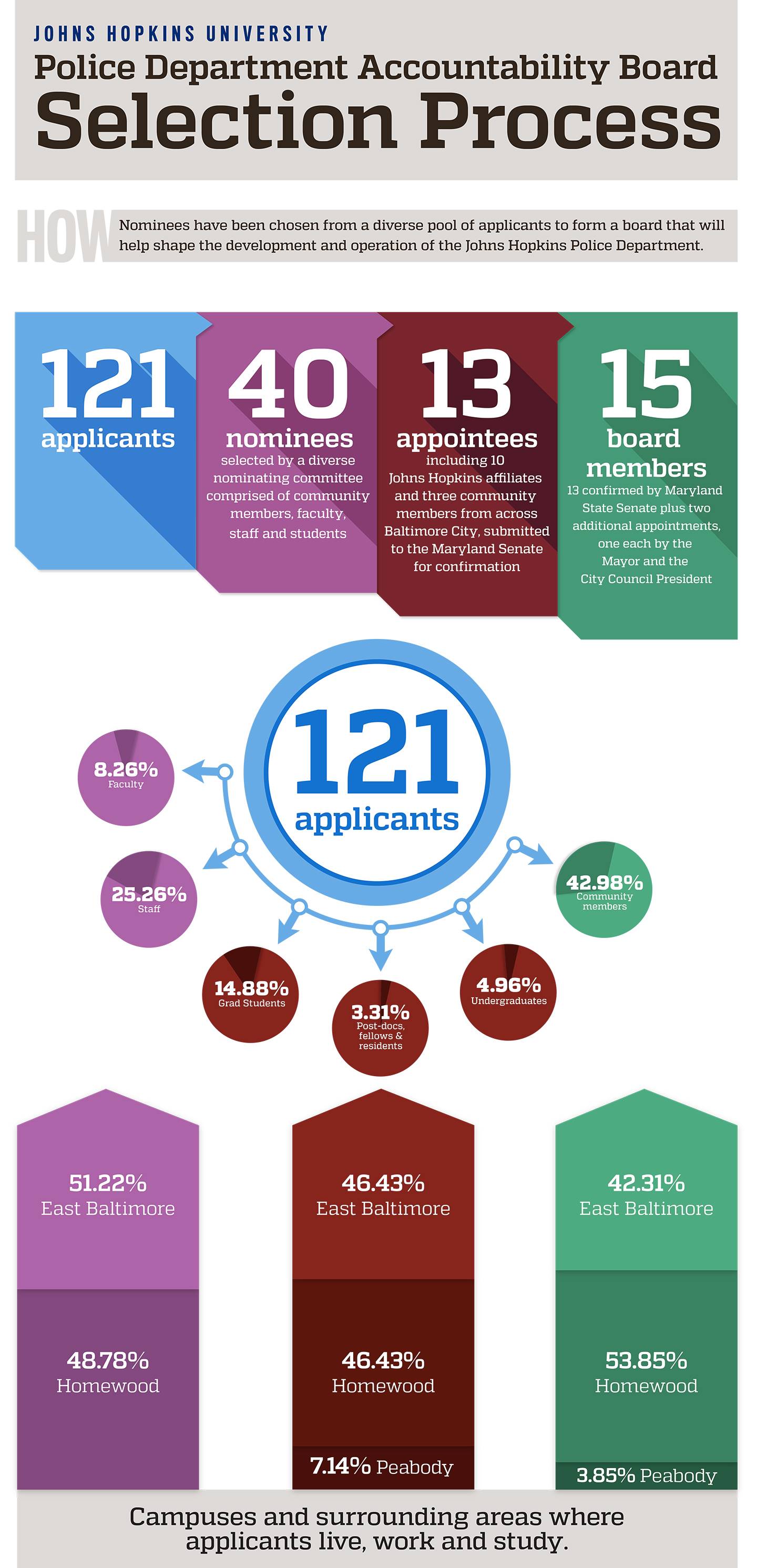 Forming the accountability board is the first step the university is taking in the multi-year planning and implementation of the JHPD, which was authorized by the Maryland legislature this year. The nominees represent a wide array of perspectives, including some who expressed initial opposition to the formation of the JHPD and now want to help ensure the law is followed closely.
The nominating committee was impressed by the thoughtful and thorough effort that went into the applications, said committee member Keshia Pollack Porter, Associate Dean for Faculty and Professor in the Department of Health Policy and Management and the Bloomberg School of Public Health.
"We had amazing people apply who really provided terrific responses to the questions," Pollack Porter said. "I think it's great to see how passionate people are and how many people want to be involved in this initiative."
The application period ran from late October through Nov. 20 and featured a survey to gauge interest, relevant experience, and skills, and to determine city residence—a key factor for eligibility. Applicants were asked to share what they considered their key priorities, whether they could devote significant time to training, and what community policing meant to them, among other inquiries.
The applicant pool was 43% community members, 26% staff members, 15% graduate students, 8% faculty members, 5% undergraduates, and 3% post-docs, fellows, and residents. The applicants represented more than 60 different Baltimore communities. Fifty-five of the applicants lived, worked, or studied in or around the East Baltimore campus, 62 in or around the Homewood campus, and four in or around the Peabody campus. Ninety-one applicants who completed an optional demographic survey said they belong to eight different racial and ethnic groups; they use six different descriptions of gender identity and seven different descriptions of sexual orientation; and are ages 18 to 78.
The nominating committee members reviewed and scored applications individually and then conferred as a group. Names were removed from the materials so the process was blind, Pollack Porter said.
"We were all really confident and excited about the slate of people we nominated," Pollack Porter said. "I was impressed by the narrative that people shared about why they cared about this issue and why they wanted to be a part of this initiative."
Among the slate of nominees are four students, representing a community that will be vital to the formation of the JHPD, said Calvin Smith, the nominating committee's non-voting chair.
"Students are among the most passionate individuals that are interfacing with this new entity that's being created at the institution, and they have very strong opinions about it," said Smith, the university's director of student leadership and involvement. "I think their voices are critically important if we want to build the type of department that would be unrivaled in the world, or unrivaled in the nation, from a higher education standpoint and a medical system standpoint."
Additional steps in the development of the JHPD are awaiting the completion of the current search for a new vice president for security. Once that person is in place, the university will begin discussions with the Baltimore Police Department on a memorandum of understanding, which will be subject to public feedback.
Non-student accountability board members will serve for two years, while student members will serve for one year and must be enrolled for the duration of their term. The accountability board will share community feedback with department leadership, review the police department's metrics involving crime, and assess policies, procedures, and training in order to provide recommendations for improvement. The accountability board will also serve as a mechanism for transparency.
More information about the accountability board can be found on the Public Safety Initiatives website, which includes a form for ideas and feedback.