Urban renewal, clean water in developing countries, and sustainable agriculture are just some of the areas where the Social Innovation Lab's 2019-20 cohort is hoping to make an impact in Baltimore and beyond.
The 10 teams in the cohort were announced Nov. 6 during a kickoff event and reception at FastForward U, the student innovation hub located just blocks from Johns Hopkins University's Homewood campus.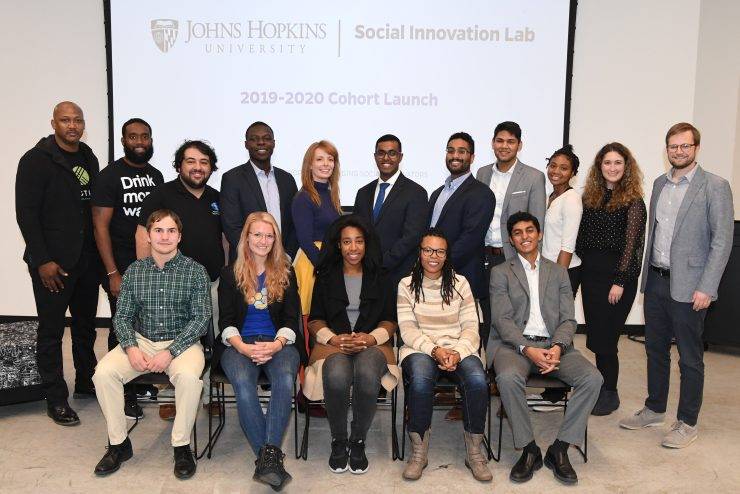 Over the next six months, these teams will receive funding, mentorship, and office space, while participating in a rigorous curriculum geared toward maximizing community impact and sustainability. The cohort will receive consulting help from students at the Maryland Institute College of Art's Center for Social Design and Johns Hopkins Carey Business School.
"I'm excited about this group because I see a lot of growth potential," says Alex Riehm, director of the Social Innovation Lab. "While these organizations will certainly impact Baltimore, many of them have the potential to make a splash nationwide or even globally. By setting our sights high, we'll be able to work toward some ambitious milestones this year."
Click through the gallery below to learn more about this year's Social Innovation Lab cohort.
Each fall, SIL conducts a competitive application process open to Baltimore-area residents and Johns Hopkins University students, faculty, and staff members seeking support for their social venture. Riehm says approximately 60 teams that applied to join the 2019-2020 cohort.
SIL has previously supported more than 80 ventures, including The Portable Alternative Crib initiative, Happy Teacher Revolution, B-360 Baltimore, Urban Pastoral, ClearMask, and Fight Blight Bmore. Combined, the ventures have raised more than $46 million in funding, employ more than 217 individuals in full-time roles, and are making positive impacts in their communities.
Nearly 60% of this year's applicants were not affiliated with Johns Hopkins. Of the teams that were selected, 70% are led by entrepreneurs of color and 50% are led by women.