When Darlene Saporu became the assistant dean for diversity and inclusion at Johns Hopkins University in 2016, she quickly began to devise strategies to attract more graduate students from underrepresented minority groups to the university.
"We needed a signature recruitment event that showcased Johns Hopkins as a viable graduate school destination for students from those backgrounds," Saporu said. "There is so much talent in the Mid-Atlantic area, so I envisioned it originally as a way to bring those students to Hopkins to show off our many strengths."
The result was the Explore Hopkins program, or EHOP, a joint effort between the Krieger School of Arts and Sciences and the Whiting School of Engineering to bring undergraduate students from universities around the country to the Homewood campus to preview Johns Hopkins' graduate programs. Johns Hopkins foots the visitors' hotel and entertainment costs for the weekend.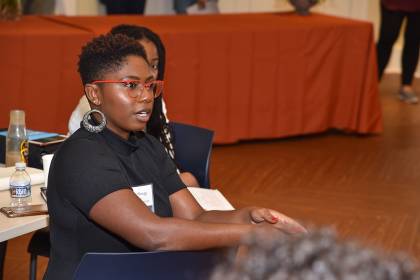 Now in its fourth year, EHOP brought 32 participants to campus last weekend for graduate admissions workshops, a graduate student panel, breakout sessions on pathways to the professoriate, social events, and a tour of campus hotspots.
"This program is an outward expression of JHU's ongoing commitment to expanding diversity at all levels of academic excellence," said Muyinatu Bell, an assistant professor of electrical and computer engineering, who has participated in the program since 2016.
With EHOP having developed a strong foundation in its first few years, Saporu viewed this year as a good opportunity for expansion. Her plan worked, especially in terms of marketing the program outside of the Mid-Atlantic region. Though plenty of this year's participants attend local universities, some came from institutions well outside the region, such as Spellman College, Baylor University, and University of Florida. A few even made international trips from universities in Peru and Puerto Rico.
In addition to expanding who is attending EHOP, Saporu wanted to enhance the program's activities. After interacting with various faculty panels and touring university facilities such as the Center for Bioengineering Innovation and Design Studio and the Hackerman Hall Robotorium, this year's EHOP attendees got to speak one-on-one with Johns Hopkins faculty members they are interested in working with.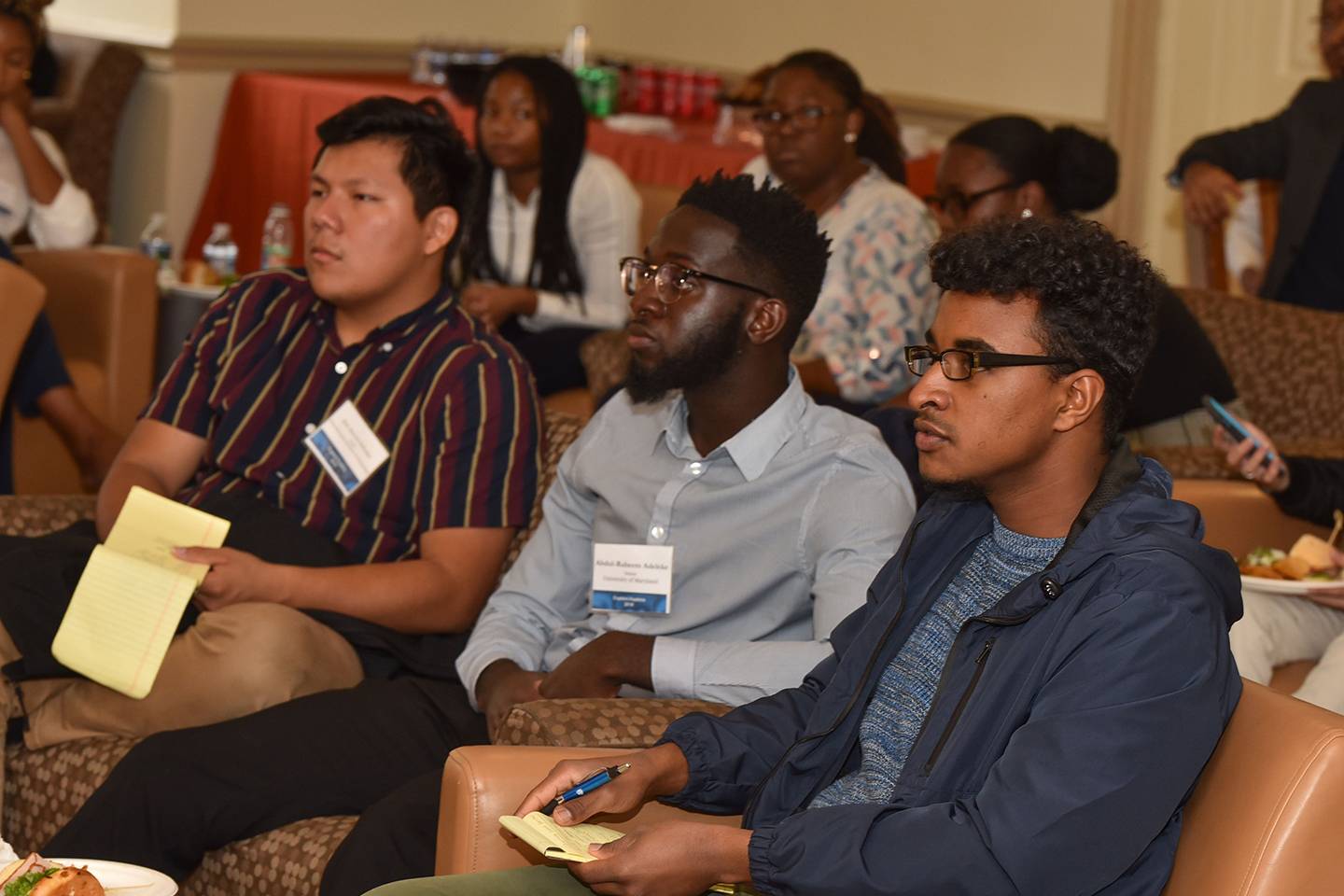 Saporu's hope is that these conversations will make students more interested in attending Johns Hopkins by giving them a better idea of what research they could pursue. The approach worked with Talia Sharpp, a post-baccalaureate at Princeton University who is interested in pursuing work that combines her political science and English backgrounds. She spoke at length with Robbie Shilliam, a professor in the Department of Political Science.
"It was very affirming to talk with Robbie and hear him speak about how open and excited his department is about working with graduate students who are interested in answering big questions, like the ones that I'm pursuing," Sharpp said. "Before talking with Robbie, I'd say that Johns Hopkins was in the middle of my list for schools I wanted to attend. After our conversation, it's at the top."
Having the opportunity to advise prospective students has made it easy for Saporu to find faculty members who are willing to volunteer their time. Though this was the first year that Enrique Mallada, an assistant professor of electrical and computer engineering, worked with the program, he said he was excited to participate.
"I wish I could've participated in something like EHOP when I first came to the United States for my PhD because I struggled," Mallada said. "Having gone through that and eventually realizing that everybody is the same, I think we have to reinforce the message that there is nothing stopping you from accomplishing your goals. This program shows prospective students that we have faculty here who come from similar backgrounds who are eager to mentor and help you succeed."