It was a little after 5 p.m., the usual Tuesday practice start time for the Johns Hopkins field hockey team, and the squad's 30 players stood on the artificial turf with hook-ended sticks in hand. They gathered tight around third-year coach Jane Wells and listened attentively to the scouting report for the upcoming opponent, Centennial Conference foe Haverford.
Wells, wearing a black Blue Jays field hockey T-shirt and shorts on this warm early October day, stood before the semicircle of players and held up a small dry-erase board with numbers she'd scribbled in green marker. The board showed some statistics—shots on goal, corners won—from Haverford's three losses this season, as well as the final stats from the Blue Jays' 2018 win over the Fords.
"Does anybody remember the Haverford game last year?" Wells asked the group.
After a few seconds of silence, someone said, "Vaguely," leading to a few laughs.
"This is where we had our come-to-Jesus moment on penalty corners," Wells said.
"Ah, that's right," the players' facial expressions collectively read. In last year's meeting, Haverford took eight penalty corners—which occur after the defense commits a foul inside the 16-yard scoring arc—to JHU's one in the first half. The Blue Jays flipped the script in the second half, earning eight penalty corners to the Fords' two chances, which helped Hopkins win 2-1.
They would practice both sides of these plays, offense and defense, Wells told them. Someone in the huddle let out an enthusiastic "Woo!", apparently pleased for the chance to practice these set-scoring opportunities.
"You amped, Maddie?" Wells deadpanned, quickly identifying the team's leading scorer, sophomore Maddie Brown-Scherer, as the excited one. "Yeah," she said. Of course she was.
So went the beginning of a typical two-hour practice for this determined yet lighthearted and upbeat bunch that just so happens to be authoring one of the more remarkable turnaround stories in recent JHU Athletics memory.
Three years removed from 2016's 7-10 campaign in which the team failed to qualify for the conference's postseason tournament, the Johns Hopkins field hockey program has realistic expectations of competing for a Division III national title next month. Last season, the Blue Jays earned its first trip to the NCAA Final Four, and the experience left them wanting more. This year's title pursuit has been fun under the consistently light, yet meticulous touch of their head coach, who herself is surprised at how quick the rejuvenation of the program has been.
"Knowing where the team was when I came in, it was a five-year goal for us to compete for a conference championship," said Wells, who arrived at Johns Hopkins in 2017 after 12 seasons leading her alma mater, Rhodes College, in Memphis, Tennessee. "Our five- to eight-year goal was to be in the Final Four. So we had to do some adjusting on our end as we blew expectations out the water. I knew from the get-go that it would go quicker than we expected, but I didn't know that we would make this much progress this quickly."
Last year was the best in program history with 19 wins, the team's first outright conference title since 2003, and a return to national relevance in a sport that has roots in ancient Greece. For the field hockey neophyte, the game is played much like soccer, 11 on each side, except with the necessary hand skills of ice hockey and some of the physical play of lacrosse. And no offsides.
As the team prepares for its next home game on Saturday afternoon against Centennial foe Muhlenberg (Pa.), the Blue Jays are ranked 10th in the nation and boast a 9-2 record overall and 4-0 in the conference. According to Wells, the 2019 squad is "packed to the gills with talent." The players think so, too. In a preseason meeting, the returning players vowed not just to return to the Final Four this year but to take home the trophy, which would be a first for the 45-year-old program.
"Our goal is just national championship this year," said junior co-captain Seema Sajjan. Sophomore midfielder Abby Birk said it another way: "We made it to that [final] Saturday [last year]. Now let's get to Sunday."
Such talk would have been considered wild not long ago, but it's reflective of the fresh attitude Wells has injected into the program.
"It was a big change culturally," said senior midfielder Maddie Stabinski, one of just four players on the current roster who played under the previous coaching staff. "A lot of that stemmed from the players, and Jane and [associate head coach Britt Walker] have helped out, too. We recognize that everything we do will increase our chances of success."
Added Sajjan: "Our motto now is 'Want more. Work more. Be more.' That means putting in an extra step, that one more rep to hopefully get us to the national championship."
The Wells effect was immediate. In her first season, the Jays went 14-5, won the Centennial Conference's regular-season title, and beat a nationally ranked team (Rochester) for the first time since 2011. Wells was named conference Coach of the Year. And on the ever-important recruiting trail, the staff brought in the first of two consecutive deeply talented classes that fit Wells' vision and blueprint of playing fast and physical. Two-thirds of the current roster are freshmen or sophomores.
During the 2018 regular season, the team burst onto the national scene, upsetting top-ranked and then undefeated Messiah in double overtime in the national quarterfinals before losing to national runner-up Tufts in the semifinals, all while starting five freshmen. Midfielder Katie McErlean was named an All-American as a junior. Birk was an all-rookie pick. In the postgame press conference after the NCAA semifinal loss, Wells sounded a positive tone for the future, even in defeat. A "championship mindset," Wells said, "is part of our foundation now."
It's hard to pinpoint one reason why this has all happened ahead of schedule, but just a few minutes spent watching a practice reveals some insight about its culture. As the sun lowered in the sky and early evening shadows crept across the field, upbeat songs like One Direction's "What Makes You Beautiful" played on a portable speaker. Sophomore Texas-native Izzy Thompson enthusiastically jumped into the photographers' view wearing a big smile, stick in the air. "They're not camera-shy," said Walker, the assistant coach who joined Wells' staff after coaching stints at Dickinson and York (Pa.) following a four-year playing career at Ohio University (2012-15).
The practice and game-day tone are light but focused. "When we're in the locker room or on the field, we try to think just about field hockey and really be mindful and present in the moment. It's so easy at a school like Hopkins to think like, 'Oh God, I'm so stressed out, I have this, this, and this to do,'" said Writing Seminars major Stabinski, noting the demanding academic schedules of nonscholarship Division III athletes. "We've all learned to appreciate that field hockey isn't something to be stressed about. It's something to enjoy and to be grateful for, that we're part of something like this."
An emphasis on attention to detail, as players defend and attack in a half-field 5-on-5 drill in front of heavily padded goalies, is apparent. Each practice could easily create a highlight reel. In this one, defender Anna Scott smacks a ball out of midair for a goal. Freshman forward Sadie Abboud snaps a backhander along the turf for another score from near the shooting zone arc. "Practice is so competitive," Sajjan said. "We're going at each other's necks, which is awesome, and it helps us prepare for top teams."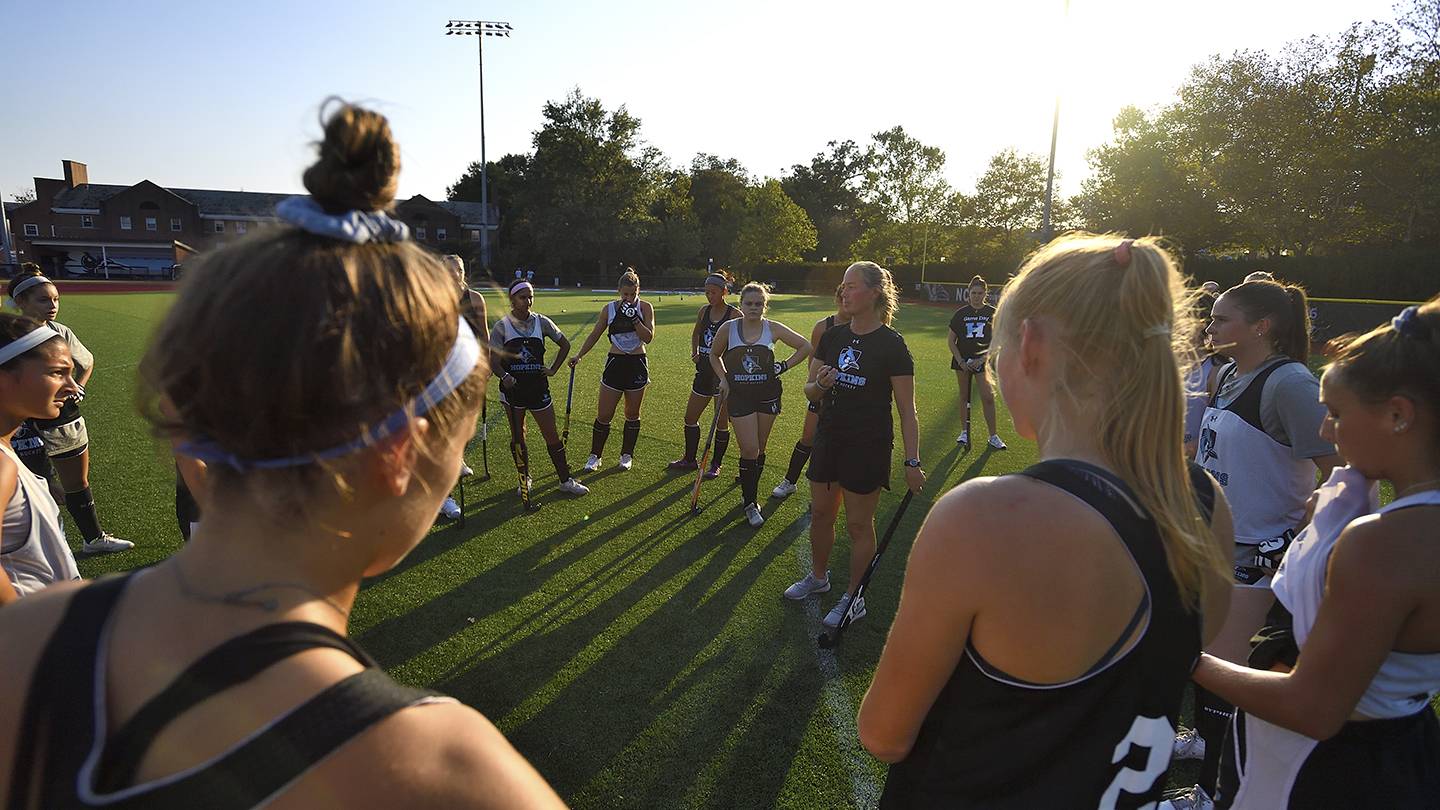 The Blue Jays have outscored opponents 38-12 this season and rank in the top 20 nationally in scoring average at 3.45 goals per game. Birk leads the team in assists (11), which is already third most in a single season in the program's history. The goalie tandem of senior Jodie Baris and sophomore Kaitlin Hall combine for a 1.09 goals-against average.
"I didn't really think a lot about the potential to win a national championship until we went to the Final Four last year," Wells said. "But seeing how hard our athletes are willing to work for it, and how much they want it, how important it is to them, I've been bit by the bug of that elite-level success."
Wells interrupts the flow of fast-paced drills when she sees something that needs correcting. "We're way too upright and soft," she said. "We've got to get lower and wider. Can we do that?" And later, "So many opportunities are within inches for us," in reference to one-touch opportunities. But the former two-sport captain (field hockey and softball) at Rhodes deliberately allows players to make their own decisions, too, often speaking more like a guide.
"You guys can talk strategy about your own team," she said at the start of a 6-on-6 overtime drill when players were split into three groups. "Pick your own formation. I just want you focusing on the defensive piece.
"The ownership of the program always rests with the athletes," Wells said earlier. "I work for them."
Wells graduated with a psychology degree from Rhodes in 2003. Two years later she became the field hockey team's head coach, and later added administrative duties to her job description. Wells says she moved to Baltimore for several reasons: closer proximity to her family in Richmond, Virginia, and to the epicenter of field hockey, as well as the challenge of a more competitive Centennial Conference, considered among field hockey's best in Division III. Having the backing of a full-time administrative staff also allows her to focus solely on coaching.
"I feel so lucky to be here, to have this opportunity to coach these student-athletes. They're just so incredibly brilliant and driven, and they will set their sights on something and work until they get there," she said. "That dedication is really inspiring for me, and it makes me want to work harder to support them in any way I can."
Like after practice on the picturesque Tuesday earlier this month. Wells went back to watch game tape of penalty corner situations and selected potential plays and formations the Blue Jays could run that weekend. The preparation proved prudent.
Four days later, these championship-minded Blue Jays were tied with Haverford in the final minutes of regulation. In a penalty corner situation with 14 seconds left, McErlean slapped a shot that was stopped by the Haverford goalie. But Brown-Scherer—the same one who was pumped for practice earlier in the week—collected the rebound and sent a pass to junior Michaela Corvi, who scored the game-winning goal with just six seconds to play.
The bus ride home would be a lot more upbeat and enjoyable. Just how they like it.